Gerard Troost (1776-1850) was born in Den Bosch, Netherlands and was a world-renowned mineralogist.  He received a Doctor of Medicine degree from the University of Leyden, and of Master in Pharmacy degree in 1801 from the University of Amsterdam.  In 1807, Troost traveled to Paris and studied at the prestigious School of Mines with renowned mineralogist René Just Haüy (1743-1822).  In 1825, he joined the New Harmony social experiment in New Harmony under the encouragement of William Maclure.  In 1827, Troost relocated to Nashville, Tennessee, where he became a professor of mineralogy and chemistry at the University of Nashville.  From 1831 to 1850, he was the State Geologist of Tennessee.  His most enduring contribution to science was his method of conducting geological surveys.  Troost died on August 14, 1850 from cholera in Nashville, Tennessee.
---
---
---
---
---
---
---
---
---
---
David Dale Owen (1807-1860), third son of Robert Owen, gained his geologic knowledge and passion from interactions with William Maclure and Gerard Troost in New Harmony.  In 1836, he was appointed the State Geologist for Indiana (1837 to 1839), and in 1839 he was appointed U.S. Geologist by Congress.  He led federal surveys from 1839 to 1840 and from 1847 to 1851 in the Middle West of the United States. In 1846, Owen proposed that the Smithsonian Institution be constructed of the distinctive red-brown colored Seneca Creek Sandstone.  He also worked as State Geologist of Kentucky from 1854 to 1857; State Geologist of Arkansas from 1857 to 1859; and he returned as Indiana State Geologist from 1859 to 1860.  His geologic studies focused on the economic importance of natural resources, such as ores and coal, to the westward expansion of the United States.  David Dale used several buildings in New Harmony for his geologic studies.  His first laboratory was Community House No. 1 used to store geological specimens, conduct experiments, and house William Maclure's mineral collection from 1826 to 1828.  Soon thereafter, the Harmonist Shoe factory was remodeled and became David Dale's second geological laboratory in New Harmony.   Most notable is the use of the Harmonist Granary as his 3rd laboratory from 1843 to 1856, and the home of the precursor to the U.S. Geological Survey.  His 4th geology laboratory is located next to the Granary, and is easily identified by its geologic themed weathervane modeled after three fossils: a blastoid, Archimedes (cork-screw shape), and a fossil fish.  Of Owen's many publications, perhaps the most significant is the "Report of a Geological Survey of Wisconsin, Iowa, and Minnesota and Incidentally of a Portion of Nebraska Territory" published in 1852.
---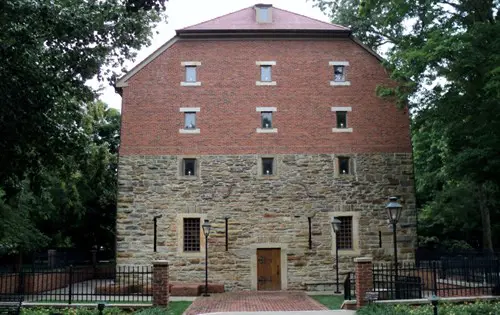 The Granary at New Harmony, Indiana (2014). The Granary served as David Dale Owen's geology laboratory from 1843 to 1857, and was the home of the precursor of the U.S. Geological Survey.
---
---
---
---
---
---
---
---
---
---
Like David Dale Owen, Joseph Granville Norwood (1807-1895) was a medical doctor who became passionate about the science of geology.  He earned his Doctor of Medicine degree at Transylvania Medical College in Lexington, Kentucky in 1836.  From 1847 to 1851, he worked under the guidance of David Dale Owen on field surveys in the Wisconsin Territory and Iowa.  In 1851, Norwood moved from New Harmony and was appointed Illinois State Geologist. In 1858, he was dismissed from the Illinois post because of his political viewpoints, and was immediately offered and accepted the position of State Geologist of Missouri.
---
---
---
---
---
---
---
---
---
---
Richard Owen (1810-1890), fourth son of Robert Owen, worked under the guidance of his older brother David Dale Owen in 1849 to conduct a geological survey of northern Minnesota and the shores of Lake Superior.  Following David Dale's death in 1860, Richard Owen became the second State Geologist of Indiana.  In 1864, he became Professor of Natural Science at Indiana University, where he taught for 15 years.  He also served as the first president of Purdue University briefly in 1872.   Unfortunately, Richard Owen died accidently from ingesting embalming fluid in thinking it was mineral water on March 25, 1890 in New Harmony, Indiana. 
---
---
---
---
---
---
---
---
---
---
Edward Travers Cox (1821-1907) served as an assistant to David Dale Owen in conducting the early geological surveys of Kentucky.  In returning to New Harmony, Cox and Sampson collected and studied plant fossils from Rush Creek.  From 1862 to 1868, there was little geological work conducted in Indiana because of the Civil War.  In 1869, the Indiana General Assembly passed an Act "providing for a Geological Survey …and creating the Office of State Geologist..."  In accordance with this Act, Governor Baker appointed Edward Travers Cox as State Geologist of the newly created Geological Survey.  Overall, Cox completed ten reports for the State, and established the Indiana Geological Survey.  The Working Men's Institute houses the Edward Cox Collection and many of his original samples are on display.
---
---
---
---
---
---
---
---
---
---
Leo Lesquereux (1806-1889) was born in Fleurier, Switzerland and became a world renowned paleobotanist.  In the 1840s he developed a close friendship with famed scientist Louis Agassiz (1807-1873) through his research on the peat bogs of Europe.  In 1848, Lesquereux followed Agassiz to the United States, subsequently residing in Columbus, Ohio, where he conducted bryological research with William Starling Sullivant (1803-1873).   Also, he collaborated with David Dale Owen to compose portions of geological reports focusing on the fossil plants of Kentucky, Arkansas, and Indiana.  Based on these studies of plant fossils in North America and his understanding of European peat bogs, he developed a hypothesis on the origin of coal measures in the eastern United States and Europe.  His most notable work was entitled "Atlas to the Coal Flora of Pennsylvania and the Carboniferous Formation throughout the United States" published in three volumes from 1879 to 1884.
---
---
---
---
---
---
---
---
---
---
Additional Reading
---
To learn more about the Geologists of New Harmony, please read the following papers:
Hendrickson, W. B., 1943. David Dale Owen, Pioneer Geologist of the Middle West: Indiana Historical Bureau, Indianapolis, 180 p.
Kimberling, C., 1996, David Dale Owen and Joseph Granville Norwood: Pioneer Geologists in Indiana and Illinois: Indiana Magazine of History, v. 92, no. 1, p. 2-25.
Straw, W.T., and Doss, P.K., 2008, David Dale Owen and the geological enterprise of New Harmony, Indiana, with a companion roadside geology of Vanderburgh and Posey Counties, in Maria, A.H., and Counts, R.C., eds., From the Cincinnati Arch to the Illinois Basin: Geological Field Excursions along the Ohio River Valley: Geological Society of America Field Guide 12. p. 105-117.
Thomas, S. F., and Hannibal, J. T., 2008, Revisiting New Harmony in the footsteps of Maximilian, the Prince of Wied; David Dale Owen; Charles Lesueur; and other early naturalists, in Maria, A.H., and Counts, R.C., eds., From the Cincinnati Arch to the Illinois Basin: Geological Field Excursions along the Ohio River Valley: Geological Society of America Field Guide 12. p. 105-117.