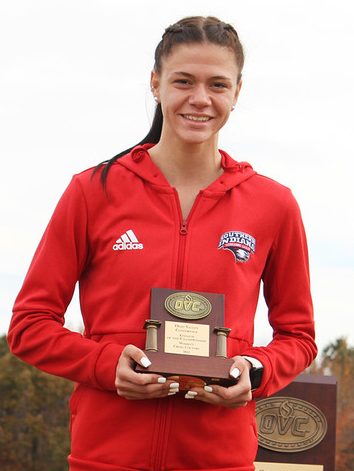 Lauren Greiwe, a senior majoring in Health Administration, is the first student-athlete in USI school history to claim a NCAA Division I conference title.
She finished the six-kilometer cross country race during the Ohio Valley Cross Country Championship on October 29, 2022, nearly 20 seconds faster than the second-place finisher, and the USI Women's Cross Country team finished second overall.
Greiwe was also named the Ohio Valley Conference Cross Country Female Athlete of the Year.
"I just want to thank all my teammates, coaches and family for believing in me and supporting me. I could not be where I am today without them," she said. "It is truly a blessing to be able to represent Southern Indiana in our first ever OVC conference."
Currently, she is a member of USI's Women's Track & Field team, capturing first place in her race at the Bellarmine Open January 20, 2023, to help pace USI to a third-place team finish.
Greiwe says her part-time job as a patient care technician at Deaconess Orthopedic and Neuroscience Hospital helped her choose her current career path.
"I realized I want a career in the health field but am terrified of needles. I deal with patients every day hands-on, and I wanted to take a step back from the hands-on side of health care," she said. "That's why I chose Health Administration."
Greiwe, a graduate of East Central High School in St. Leon, Indiana, started running in the fifth grade.
When she crosses the finish line at graduation in December 2023, she hopes her experience working at the hospital combined with her Bachelor of Science in Health Administration (BSHA) degree from USI will land her a position at Cincinnati Children's Hospital, which is about 20 minutes away from her hometown.
---
 Read More Articles in the Synapse Newsletter: