USI

grad selected as Outstanding Future Educator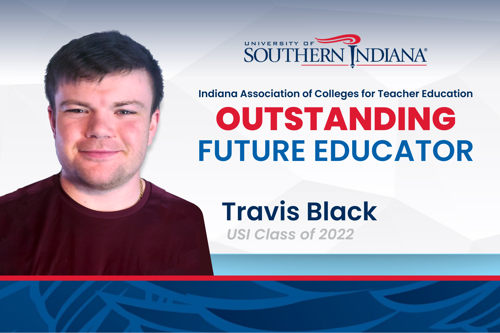 Travis Black, history major and secondary education minor from the Class of 22 at the University of Southern Indiana, was awarded the Outstanding Future Educators Award by the Indiana Association of Colleges for Teacher Education (IACTE) in recognition of his exceptional teaching skills and professionalism. 
Black was nominated by Elizabeth Haig, Adjunct Instructor and his University supervisor during his fall 2022 clinical internship. In response to the news, Black stated, "I am humbled to be chosen for such an honor and proud to be one of a few to represent USI this year. I truly feel that I could not have received better preparation for teaching than at USI. From all my history and teacher education instructors, to Mr. Kahle, my cooperating teacher, and Ms. Haig, my University supervisor, I received the knowledge and support necessary to build the skills needed to teach in today's world." 
During his clinical internship, Black demonstrated a deep understanding of his students' needs and created a welcoming and engaging classroom environment. He used a variety of teaching techniques, including technology, to keep his students focused and on task while encouraging them to be well-prepared and to always do their best. 
"Mr. Black is a great teacher, and any school would be lucky to have him," says Haig. "During his clinical internship, he was willing to accept suggestions to improve his teaching. He is the type of faculty member that will be an asset to his school by helping when needed and striving to improve teaching techniques throughout his career." 
The Outstanding Future Educators Award recognizes exceptional student teachers who have shown outstanding promise as future educators. Black's achievement is a testament to the quality of education and training provided by USI's Teacher Education program. 
---




Elisabeth Kershaw

  
One of the first things you get about Elisabeth is that she is not afraid of hard work. She gets it from her mom, who, as a single woman, worked full-time, put herself through college, and juggled several jobs to support Elisabeth and her siblings.
How did you decide to study sociology?
I was a biology major on a pre-med track and then COVID knocked that out for me. I was working in a COVID ICU for two years—I was hired in 2019, right before everything hit. Bedside care was not for me, so I took a sociology class and a psych class, and I ended up liking sociology a lot. It was a good fit.
What do you hope to accomplish with your degree?
Policy research to help inform government policies and educate the general public—like a cross between public policy and public health. I wanted to be a doctor, but now, in sociology, I have a more holistic viewpoint and I see more opportunities to help people on a broader basis with more impact.
What are your greatest strengths as a student?
I work under pressure really well. Hitting deadlines and getting stuff done is probably my greatest strength. Following through and not half-assing the effort is also a strength.
What programs, internships, clubs or other opportunities have you been a part of here at USI?
I was on the Activities Programming Board and in Delta Zeta as a first-year student, but it was right around then that I was hired into an ICU, and I have not had time for campus involvement since. I juggle 3-4 jobs—a steady one at CVS, a couple of seasonal jobs, a supplemental one in case I need extra cash to make rent and a campus job as a supplemental instructor.
If given all the resources needed, describe a research opportunity you would love to be a part of.
I would like to research controlled substance policies, specifically around substances classified as Schedule 1 drugs. If I could, put it out in front of lawmakers to guide policy decisions. That would be really cool.
What are one or two of your proudest accomplishments here at USI?
I have made the Dean's List—twice--while working 35 hours a week. I am also proud of the networks that I have been able to build with faculty here. I have a great rapport with my department and other professors on campus.
Who made the biggest impact on you as a student prior to coming to USI? Who here has positively impacted your success as a student?
My instructors at Southern Indiana Career and Tech Center in high school. I was in the health sciences education program there. They really put the expectation of a freshman-sophomore workload on me in high school, which gave me grit to get through biology classes here. And here it was Dr. Williams, for sure, and the entire department. They have been awesome understanding what goes on in a college student's life outside of school.
What are three essential strategies for other students to succeed in college? 
Get to know at least one person in every single one of your classes; check your emails every day; read all the way through your syllabus—sometimes they put extra credit points in there.




Caroline Jalain, 

Assistant Professor of Criminal Justice
Caroline Jalain comes to us from France via Louisville with a few other stops along the way. She thinks it is very important for you to learn a foreign language.
What strategies did you use to be successful as a student in college? 
Maintaining work-life balance. I work out a lot, so incorporating exercise into my daily routine was helpful. It was usually group exercises at a gym—having people to work out with keeps you accountable. 
When did you decide you wanted to study criminal justice? 
I started off studying law, so I went to law school in France; in my last year of undergraduate work, I did an exchange program for a year at the University of Southern Mississippi. That is when I started taking criminal justice classes.  
Have you ever had any other job besides teaching college?  
I taught high school law and public safety in Mississippi between my master's and Ph.D. 
How would your colleagues describe your teaching style? 
Enthusiastic and dialogue-based—I have a lot of conversations with students during class time. My approach is very Socratic: I am not teaching at them. 
What do you think are your greatest strengths as an instructor? 
My passion for what I teach, along with my French background and legal training, set me apart. I am fortunate to be able to share my knowledge by teaching a lot of legal classes at USI.  
What are your current research interests? 
I study specialty courts, specifically, Veterans Treatment Courts; and courtroom actors (i.e., prosecutors and defense attorneys). 
What do you bring to the department that is uniquely yours? 
A unique experience. Not everyone can say they were born and raised in France and then came here and used their experience to teach criminal justice classes.  
What characteristics do you prize the most in your colleagues? 
I like how we all work well together. We have a very strong department, can lean on each other, ask questions and learn a lot from each other.  
What are one or two of your proudest professional accomplishments here at USI? 
Firstly, being able to get grants to have students work with me on research and introduce them to the research process. I even took a student to a conference to present research with me. 
Secondly, being a member of the College of Liberal Arts Interdisciplinary Committee. I really like it because we, in academia, tend to live in silos. Unless you try to collaborate with people outside your discipline, it is unlikely. Through the committee, we are given opportunities to know people outside our discipline, and learn the way they teach and their research interests. It is a great opportunity. 
What do you wish you could import 
Two things: I would include studying abroad as a mandatory rite of passage. It is important for students to have an eye-opening experience where people do not speak the same language or have the same culture. I would also emphasize foreign languages more. It helps you learn differently. 
---


College of Liberal Arts Achievements
Click here to see more achievements.


Carly Cato, a political science major with a pre-law minor, has been awarded the Law Scholar Award. This esteemed award offers a minimum half-tuition scholarship to the IU McKinney School of Law, and Cato is one of only two USI students to receive the honor. Cato has shown a remarkable aptitude for law, and her academic achievements have set her apart as a deserving recipient of the Law Scholar Award.
---
Midori Matsuura, a political science major, has been honored with the prestigious USI Trustees Distinguished Merit Award. This award recognizes Matsuura's exceptional achievements in her field of study and highlights her dedication to academic excellence.
---
Audrey Kidwell '08, a distinguished graduate of USI, has been named this year's Women's History Month community honoree by Tallahassee Community College. Kidwell graduated from USI in 2008 with a double major in political science and international studies and has since become an influential leader in her community. Her outstanding achievements have earned her this esteemed recognition as a role model for women, demonstrating her commitment to excellence and dedication to empowering others. 
---
Dr. Kelly Kaelin, Assistant Professor of History, has been awarded a summer stipend grant from the National Endowment for the Humanities (NEH) to use toward work on her book, Moravian Missionaries, Gender and Race in the 18th-Century Caribbean. The book discusses women's participation in the 18th-century Moravian churches of the Caribbean.  
Kaelin's project is one of 258 others from across the country awarded grants and stipends from the NEH. The NEH summer stipends are for scholars who will enable archival research for more than 100 publications.
---
Dr. Matt Hanka, Associate Professor of Political Science, recently appeared as a guest on the PBS show, Shively and Shoulders, on WNIN. In the episode, Dr. Hanka provided expert analysis and insight on the Evansville mayoral primary election. The episode is available to watch on YouTube.
---


A Word From the Dean
​Del Doughty, PhD
Dean, College of Liberal Arts
This month's column is about two random days in March that caught me by surprise and led to some reflection on my personal and professional lives. 
One Wednesday evening, near the end of the month, I had the privilege of leading the conversation at a dinner party hosted by Indiana Humanities. It was a gathering of about eight or nine people, varying in background by age, ethnicity, occupation and geographic origin. We gathered to discuss the question, "Are we being good ancestors?" It was part of a program run by Indiana Humanities to spark a conversation on what some might call "effective altruism." While we were meeting here in Evansville, seven other dinner table conversations were happening at venues across the state. It was great fun. First, I love the format. Most of the time when we academic types try to organize a conversation, we think of doing so in terms of conferences, seminars, lectures or panels, and we tend to measure our success by the number of people who attend. This was not that. This was people sitting down to a meal together to explore a big philosophical question. Anthony Bourdain would have loved it.  
Among my takeaways from the evening:   
When it comes to ancestors, we first think of genetics; that is, we tend to think of ancestors as those who pass on DNA to us—great-grandparents, for instance, and great-great grandparents and beyond. But for many of us, ancestry is tied to place as well—the place where your family or "your people" come from. When someone says, for example, "We're Midwesterners" or "My family comes from the Mississippi delta," they are signaling that wherever they are now, they bear a legacy of those places as part of their identity.  
Our favorite ways to connect with our ancestors is through food, music and rituals, most of the latter around holidays. Food is an obvious one, perhaps, but very powerful. Those family recipes that are handwritten on faded, softening index cards? You are going to want to be careful with those if you want to be a good ancestor. Generations to come will cherish them. 
And, as for our own goodness as ancestors, we agreed that it is mostly about preservation. If we want future generations to remember us well, we need to preserve the environment so that they have access to clean water, healthy soil and fresh air, but we also need to be vigilant about keeping and passing on memories.  
The next day, a Thursday, marked Opening Day for Major League Baseball. I have been a baseball fan, off-and-on, my whole life, but mostly "off" lately. Baseball has gotten too boring and slow. I just have not had the patience to sit down and watch a game in years. But this year, something was different, and it made me curious enough to clear a little time after dinner to watch the last few innings of a game between Houston and Chicago. Recognizing that the game had stagnated, and that it was losing fans, leaders in MLB have made some innovations to the game:  There is a pitch clock now to keep things moving, and pitchers can only throw to first base twice to keep runners from stealing without a penalty. It is hard to tell after watching a game or two if these and other changes will attract more fans, but the pace feels crisper. More to the point, good for baseball for making some changes that will adapt the game to contemporary culture. Baseball has long had an obsession with policing what it thinks of as the integrity of its game. Change comes slowly and begrudgingly. Lower the pitcher's mound a few inches? Play games at night, under lights? Allow a designated hitter to bat for the pitcher? Every potential change, no matter how small, seems to be met with charges of a conspiracy to blemish the Platonic ideal of the game. 
I think the reason that these two things—the dinner party one night, the baseball game the next—hit me the way they did is that, as an academic, I am invested in preserving the past and handing it on to future generations. I owe a debt to the members of my academic guild who have come before me, and I want to honor the memory of my professors by doing for others what they did for me. If I do not keep tradition, I feel like I am violating the integrity of something sacred. However, if I get too focused on maintaining the integrity of my discipline and do not let it evolve, I will begin alienating those very people of the next generation that I purport to care about. It is a hard balance to strike, but it is important to get it right. 


---