Sigma Iota Rho
Sigma Iota Rho: Eta Psi Chapter
Honor Society for International Studies
"The purpose of Sigma Iota Rho shall be to promote and reward scholarship and service among students and practitioners of international studies, international affairs, and global studies and to foster integrity and creative performance in the conduct of world affairs."
Learn more about the organization at sigmaiotarho.org
Why Should you Join? 
 "Along with the tangible list of benefits members enjoy life-long relationships with fellow SIR peers, personal growth, professional development, activities that deepen one's understanding of international affairs, and, simply, having fun with like-minded people!"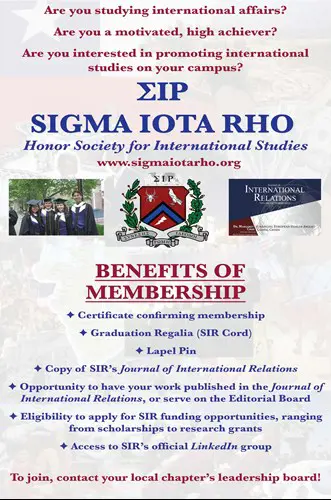 Membership Information
Completed course work in global studies including courses in relevant subject areas of anthropology, economics, foreign languages, geography, history, political science, and other related disciplines;
Attained a junior standing and completed at least twenty-one (21) hours of course work toward the Global Studies major or minor, including at least two courses at the 300 or 400 levels;
Attained a cumulative grade point average of 3.3 or higher in all courses, and a grade point average of at least 3.4 in global studies courses;
Must maintain full-time student status of at least twelve (12) hours to be a voting member or hold an office.
---
Membership Forms
Students interested in joining Sigma Iota Rho should print the form above and turn in the completed form with a check or cash payment of $45 to:
Sukanya Gupta, Ph.D.
Associate Professor, English
Director, Global Studies
sgupta1@usi.edu | Orr Center 3032