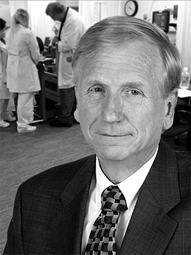 John M. Lawrence '73 is well known for his passion for saving rare books and manuscripts. However, he also is passionate about preserving the dreams of USI students pursuing careers in the health professions, including nursing and food and nutrition.
A certified public accountant, Lawrence established a scholarship in 2006 in memory of his late wife, which has helped 28 students so far realize their dreams of becoming nurses.
Nichole Taylor and Damon Weaver are the most recent recipients of the Melissa Faye Lawrence Endowed Memorial Nursing Scholarship. They both plan to graduate in Spring 2022.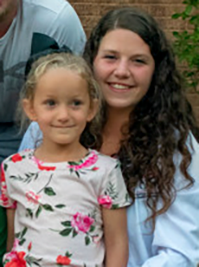 Nichole Taylor grew up in Newark, Delaware, but has lived in Indiana for the past nine years. She is the mother of three children, 5-year-old twin girls and an 8-year-old son.
"I was inspired to become a nurse because of the important role the nurses played when my children were in the neonatal intensive care unit (NICU)," she said, adding that one of her twins was transferred to the NICU at Riley Hospital for Children in Indianapolis. "If I ever meet Mr. Lawrence in person, I will first and foremost tell him, 'Thank you,'" she said. "I want him to know that without him, I would not be able to finish my degree and graduate on time. I will tell him how much it means to me to be able to have the opportunity to succeed and provide for my family. His generous scholarship allows me to be able to achieve my dream of becoming a nurse!"
Taylor said in five years, she would love to be working in the NICU and eventually become a nurse practitioner. "Because of this scholarship, I am able to take the first step in that journey," she said.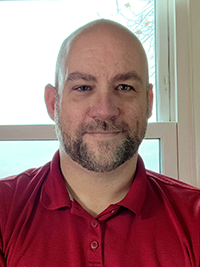 Damon Weaver also is an adult learner in the USI Nursing Program. He commutes to USI from Owensboro, Kentucky, where he lives with his wife and children. The scholarship has relieved some stress about paying for a nursing education. "With COVID hitting, my wife was required to take a pay cut. As classes became more difficult, I had to drop down to working part-time," he said. "The financial impact of the scholarship really helped calm some financial concerns."
Weaver says his short-term goals are to work in the intensive care unit. "I am currently a paramedic and want to experience the continuation of care for the critical patients I have been bringing to the hospital for the past 12 years," he said. "I have met some incredible people and helped people who were in a very difficult place. I was able to spend only a short amount of time with them in the ambulance. Over time, this made me want to experience the next step of their care and be able to have more interaction with patients."
He said he was extremely grateful to Lawrence for the nursing scholarship he received because "his generosity had a great impact on me."
This year Lawrence also funded a new scholarship for the Food and Nutrition program at USI and will be creating an endowment for a second scholarship this coming year. "These scholarships will benefit students pursuing careers related to nutrition and healthy living," said Dr. Julie McCullough, Associate Professor and Chair of Food and Nutrition. "We are grateful for Mr. Lawrence's ongoing support of our College and especially his interest in supporting USI students who are studying to be nutritionists and dietitians."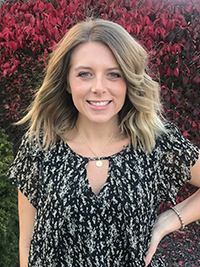 The 2022 recipient of the Food and Nutrition Scholarship is Holly Hawkins, who is majoring in food and nutrition with a concentration in dietetics.
"I am absolutely overjoyed to receive this scholarship," said Hawkins. "It is an honor to be selected as the first recipient of this new scholarship in the Food and Nutrition Program!" 
Hawkins, originally from Mt. Carmel, Illinois, transferred to USI in 2019. She has been an active member of the Food and Nutrition Student Organization, recently serving as president-elect and now as president.
When Holly was in elementary school, something happened which impacted her future career choice. "Growing up, my younger brother became my inspiration," she said. "He was diagnosed with cancer just a few weeks after birth. I watched how the healthcare field positively influenced not only my brother's life, but also the life of every family member and caregiver around. I knew I wanted to be a part of that."
After graduation in May 2022, Hawkins will apply for a dietetics internship and eventually earn her registered dietitian credentials. "In five years, I hope to see myself with a master's degree completed and working as a registered dietitian in the Evansville area," she said. "This scholarship not only helps further my career goals from a financial aspect, but also serves as encouragement. Finding out about Mr. Lawrence, and how our program impacted him to such a degree he chose to create an entire scholarship motivates me. I have chosen a career field I not only love, but one which is valued as an essential part of our community as well."
Lawrence, a native of Evansville, graduated from Reitz Memorial High School in 1969 and earned a degree in accounting from USI in 1973. A CPA with special expertise in forensic accounting, he continues to oversee the accounting firm he founded in northern Ohio more than 30 years ago. He maintains a residence in Newburgh, Indiana.
He also has a scholarship for nursing students in memory of his aunt, Carole Anne Dipple, and the Melissa and John M. Lawrence Excellence in Teaching Award for faculty in the College of Nursing and Health Professions. Each semester, he provides healthy snacks for the College's students preparing for finals. He has honored his revered former professors by establishing scholarships and awards in the name of Dr. Daniel C. Scavone, the late Dr. Helen R. Sands and her husband, the late William H. Sands.
Like those Medieval and Renaissance manuscripts in his extensive collection, the stories being written by USI graduates and current students are part of Lawrence's personal legacy. "It is a priority of mine to honor the University which gave me so much and to say 'thank you' for all the great things USI has been to me in my life," he said. "Additionally, I see the motivation, hard work and determination of the students in the various fields I am supporting. In this regard, I feel inspired to be an indirect part of their eventual success. In helping a student achieve their goals, alumni leave the ultimate legacy of success."