Message from the Dean
Welcome to the Fall Semester! We have lots of good news to report, including an $18.5 million renovation that will provide new labs and technology and 100% first time licensure exam pass rates for May 2023 graduates in Nursing, Dental Hygiene and Respiratory Therapy. Congrats to students and faculty for this incredible achievement!
USI has an outstanding reputation for excellent and affordable healthcare education, and it's only getting better!
Dr. Julie McCullough, Dean
College of Nursing and Health Professions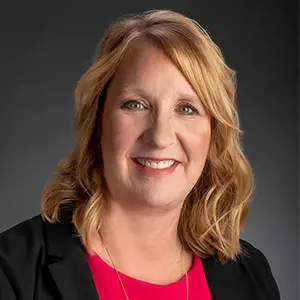 Congrats on 100% Pass Rates!
Three programs in the College of Nursing and Health Professions have exciting news! Every member of the Class of 2023 in Dental Hygiene, Nursing and Respiratory Therapy passed their post-graduation licensure/credentialing exams.
Dental Hygiene
This class of 25 has something to smile about! They achieved a perfect first attempt pass rate on all four licensure exams: the National Board of Dental Hygiene Examination and all three components of the ADEX exam.
Nursing
All 78 Bachelor of Science in Nursing (BSN) students passed the National Council Licensure Exam (NCLEX®) exam on their first attempt. Our first-time RN licensure pass rates are consistently above the national average.
Respiratory Therapy
These 12 USI graduates can breathe easier now that they all have passed the NBRC Therapist Multiple Choice (TMC) exam, earning the Registered Respiratory Therapist (RRT) credential.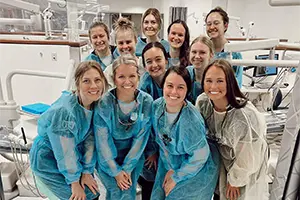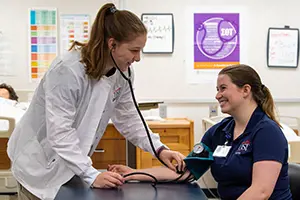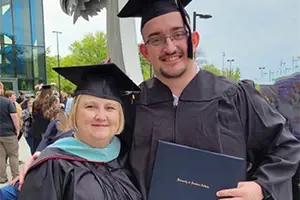 HP Center is Receiving a Facelift!
An $18.5 million renovation of the USI Health Professions Center began in early May, promising not only a fresh look for portions of the interior of the 29-year-old building, but more importantly, state-of-the-art laboratory equipment to enhance student learning and highlight the latest in healthcare technology. The renovations also poise many programs for future growth.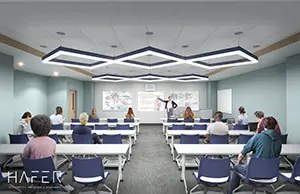 OT White Coat Ceremony
Congratulations to the students in the Occupational Therapy Class of 2024 for receiving their White Coats. This annual ceremony marks the beginning of clinicals for the second-year students who are on their way to becoming licensed occupational therapists.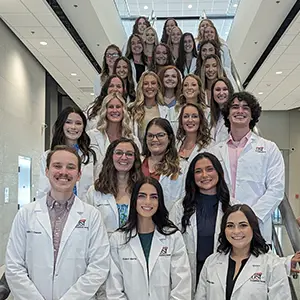 OTA Students Begin Buddy Program
USI's Occupational Therapy Assistant program is collaborating with a local independent living facility for the Buddy Program, a mutual learning experience in which OTA students will gain insight into the challenges of aging while the older adults learn new tips for maintaining independence during daily activities.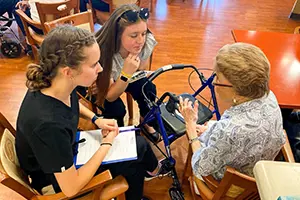 News from the GWEP
Learn how the USI Geriatrics Workforce Enhancement Program (GWEP) is working to improve health outcomes for older adults in southwest Indiana.
Dementia Live offers a unique inside-out understanding of dementia and aging for students, direct care workers and family caregivers.
This experience takes about 30 minutes and will be offered from 10 a.m. to noon on September 18, October 16 and November 6.
The GWEP has donated a variety of Memory Care Kits that can be checked out at the Evansville Vanderburgh Public Library. Are you caring for someone living with dementia? Head to your local library for a kit that contains books for you and activities suitable for those experiencing brain change.
October 10-12 at USI
The GWEP is hosting a free trainer certification course with Teepa Snow and the Positive Approach to Care (PAC) team to help long-term care staff create real care connections. This training will empower you to educate others about dementia, enhancing your impact within the community. Pre-work includes seven hours of video with quizzes. Don't miss this opportunity!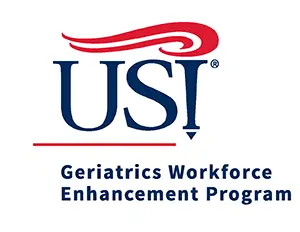 ---
Faculty & Staff News
---
New Employees
Megen Brown
Instructor
Nursing
Ellie Bush
Academic Advisor
CNHP Advising Center
Leah Flake
GWEP Gerontology Curriculum Coordinator
Leslie Kirkwood
Instructor
Nursing
Ami Lloyd
Nursing Recruitment
and Retention Coordinator
Abigail McIntosh
Instructor
Nursing
Dr. Theresa Marcotte
Assistant Professor
Nursing
Emily Ozee
Academic Advisor
CNHP Advising Center
Dr. Stephanie Rexing
Assistant Professor
Occupational Therapy
Jordan Thomason
Instructor
Diagnostic Medical Sonography
Not pictured: Dr. Kara Doucet, Instructor in Nursing
---
Faculty and Staff Awards, Recognition and Congratulations
2023 Excellence in Teaching Award
Each year, students and faculty in the USI College of Nursing and Health Professions are asked to nominate a full-time faculty member for the 2023 Excellence in Teaching Award. This award was established to identify two faculty members who have contributed significantly to the quality of teaching in the CNHP and recognize and encourage outstanding teaching. Congratulations to this year's recipients: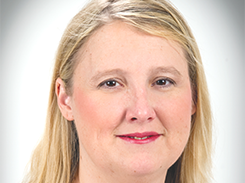 Jody Delp, Chair of Respiratory Therapy and Clinical Assistant Professor: Jody has earned three degrees from USI, including an associate in respiratory therapy, a bachelor's in general science and a master's in education, plus she is currently pursuing her doctorate. She works as a respiratory therapist at Deaconess and has been teaching at USI since 2012. In January 2021, she was named Chair of Respiratory Therapy.
---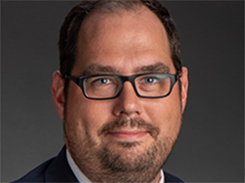 Zack Ward, Assistant Professor of Health Administration: Before joining the USI faculty, Zack worked at Owensboro Health, where he oversaw medical education and the hospital's residency program. He earned a bachelor's degree from Kentucky Wesleyan and his master's and doctorate from Western Kentucky University. As a graduate student, he was a visiting scholar at the American Board of Family Medicine.
---
New Job Titles Around the College
Dr. Julie McCullough began her new role as Dean of the College of Nursing and Health Professions on July 1. This appointment and several faculty and staff retirements have resulted in a few changes in titles and job responsibilities around the College. Here's a quick rundown:
Dr. Julie McCullough, Dean
Dr. Jennifer Evans, Assistant Dean for Nursing
Dr. Kim Hille, Assistant Dean for Health Professions
Dr. Mikel Hand, Chair of Graduate Nursing
Dr. Kathy Riedford, Director of BSN-DNP APRN
Michelle Wakefield, Director of MSN/Post-MSN APRN
Dr. Ryan Butler, Chair of BSN
Emily Holt, Chair of Dental Assisting and Dental Hygiene
Dr. Beth Young, Chair of Food and Nutrition
Amy Doninger, Senior Administrative Associate to the Dean
Cara Dunn, Director of CNHP Advising Center
---
Appointments and Elected Positions
Dr. Joy Cook, Associate Professor and Chair of the Radiologic and Imaging Sciences Program, has joined the Board of Directors of the Southwest Chapter of the American Red Cross.
Amy Wilson, Clinical Associate Professor and Chair of Diagnostic Medical Sonography, was elected secretary of the Board for the international Society of Diagnostic Medical Sonography (SDMS).
Dr. Katherine Peak, Clinical Assistant Professor and Vascular Clinical Coordinator, was elected to serve on the Society of Diagnostic Medical Sonography's nominating committee.
Conference Attendees
In June, Beth Thompson and Carly Andrews attended the 2023 ASPE Annual Conference in Portland, Oregon. The trip was funded by the USI GWEP as part of an initiative to incorporate standardized patients into the gerontology curriculum.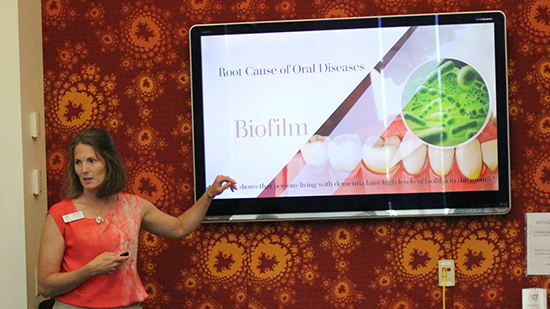 Faculty Achievements
When faculty in the College of Nursing and Health Professions are not teaching and advising students, they are conducting research on important healthcare topics and sharing their knowledge with others.
---
Alumni Update
---

USI Partners with Pollux Systems
A revenue cycle management company headquartered in Evansville, Pollux Systems, Inc., has created a deep-rooted connection with the University of Southern Indiana–particularly the Health Services, Health Administration and Health Informatics and Information Management (HIIM) programs.
Pollux Systems, Inc., provides billing solutions, credentialing services and claims management for physician practices of all sizes, both regionally and nationally. "Currently, between Pollux Systems and our sister company, Gemini Technology Solutions, we have 12 USI graduates on our teams," says Songa Byrns, Director of Client Relations. "We have found our most successful employees come from USI, and we have hired four recently who started out as student interns here."
---
Upcoming Continuing Education Opportunities
---
For more information,
visit our website
or contact the USI Center for Health Professions Lifelong Learning: