McCullough Appointed Dean
of College of Nursing and Health Professions
Dr. Julie McCullough, Interim Associate Provost for Academic Affairs, was appointed Dean of the College of Nursing and Health Professions (CNHP) at the University of Southern Indiana, effective July 1, 2023.
McCullough served as Interim Associate Provost for Academic Affairs since January 2023, and from 2017 to 2022, she was Assistant Dean of Health Professions in the CNHP. She also served as Chair of the Food and Nutrition Department and is an Associate Professor of Nutrition.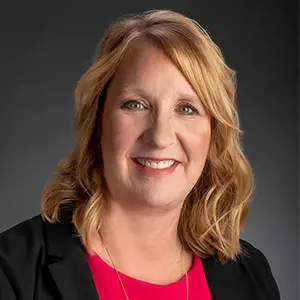 Sparking an Interest
Two students from out of state were undecided on a major until they explored courses in USI's Health Services program. They said learning how medical care is delivered in the United States was what put them on a new career path at USI.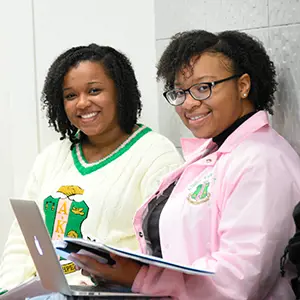 Nursing Students Bring Home the Hardware!
Congratulations to Dr. Marilyn Ostendorf, Clinical Assistant Professor of Nursing, and USI Nursing students on two exciting wins! On April 10, they won the 2023 Critical Care Challenge sponsored by the Greater Evansville Chapter of the American Association of Critical Care Nurses. The team also captured first place at the National Council Licensure Examination (NCLEX) Challenge sponsored by the Kentucky Nurses Association on March 21.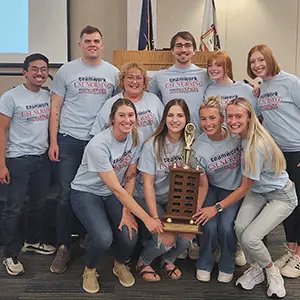 Summer Reading Program
USI's Master of Health Administration (MHA) program is sponsoring a virtual book discussion of Brian Alexander's critically acclaimed book, The Hospital, on June 21 and July 19.
The Hospital was included on USA Today's list of "5 Books Not to Miss." It is described as an intimate portrait of a struggling small-town hospital and America's growing health crisis.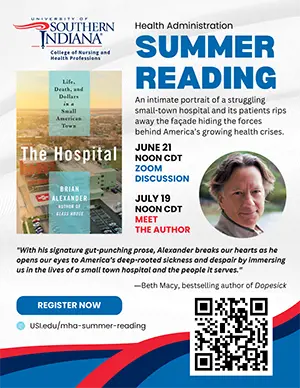 Some Heroes Wear White Coats
Three Posey County teens recently visited USI to thank a member of our Nursing faculty for her quick response when they were injured in a three-vehicle accident.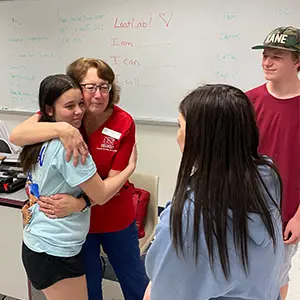 Pulling Together for Oral Health
Juniors in our Dental Hygiene program conducted a donation drive at the University of Southern Indiana to benefit Aurora Evansville, which helps individuals and families experiencing homelessness.
The project was spearheaded by Brooke Terry, who was inspired by a dental hygiene lecture on culturally competent care.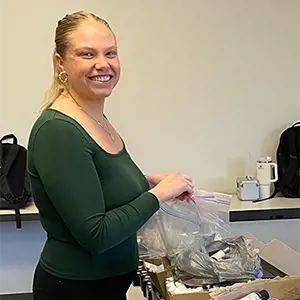 Cracking the Code for Prospective Students
During the Spring semester, USI students conducted a code blue simulation during the University's "Admitted Students Day." The event was an outstanding example of interprofessional education, that included students from Nursing, Respiratory Therapy, Occupational Therapy Assistant and Radiologic and Imaging Sciences. The USI students then fielded questions from the audience and met with the admitted students and their families in small groups to help them explore majors in the College. Kudos to all involved for helping build the future healthcare workforce!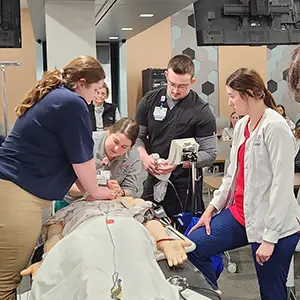 New Equipment Keeps Students
on the Cutting Edge of Technology
Congratulations to Amy Wilson, Clinical Associate Professor and Chair of Diagnostic Medical Sonography (DMS), and Dr. Katherine Peak, Clinical Assistant Professor, for receiving the 2023 Faculty Development Award for the College of Nursing and Health Professions! They used the monetary award to purchase a 3D/4D transducer to use with the program's new ultrasound machine.
---
USI's Radiologic and Imaging Sciences program now has two new X-rays machines to keep students up to date with the latest digital technology. A representative from Konica visited campus to demonstrate how these portable machines are used in various healthcare settings, such as patient rooms, ICU, ER and surgery.
"They produce digital X-ray images that show up on the screen of the machine as you take them," said Dr. Joy Cook, Program Chair. "Students will have the benefit of learning to use this technology, which will make the transition to clinical training easier for them as they will have had the experience within our program."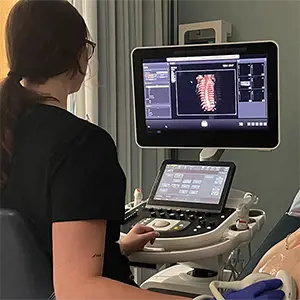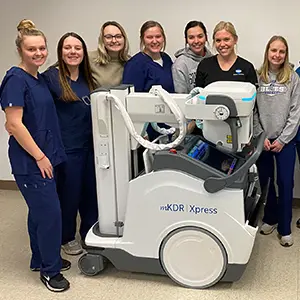 News from the GWEP
Learn how the USI Geriatrics Workforce Enhancement Program (GWEP) is working to improve health outcomes for older adults in southwest Indiana.
This fall, the GWEP is launching a new Social Services Designee Certificate to prepare students for a career working with older adults while meeting the staffing needs of Indiana nursing facilities.
The GWEP is collaborating with Deaconess and the Evansville Vanderburgh Public Library for an exciting new telehealth project to increase access to care for older adults, especially those with limited internet access.
The GWEP held a brain health event this spring that featured a giant inflatable brain, a "rural roadshow" with Teepa Snow and other initiatives to make southwest Indiana more dementia friendly.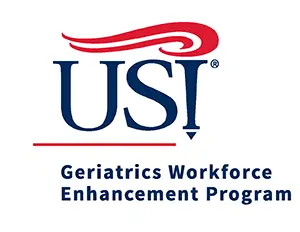 ---
Faculty & Staff News
---
Retirements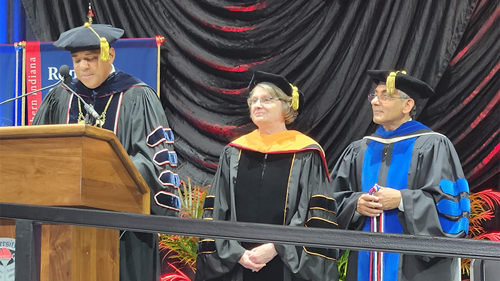 Interim Dean Receives Emeritus Cords
Dr. Connie Swenty DNP '11, Interim Dean for the College of Nursing and Health Professions and Professor of Nursing, received her emeritus cords from USI President Ronald S. Rochon and Provost Mohammed Khayum during USI's 2023 Commencement ceremonies.
Dr. Swenty is retiring at the end of June after nearly 17 years of service at USI. For the past 18 months, has been at the helm of the College as Interim Dean.
She earned her nursing diploma from Cox College, her BSN from Drury University, her MSN from Clarkson College and her DNP from USI.
In addition to Swenty, three members of the Nursing faculty and the director of our College Advising Center are retiring in May and June. We salute all of them for their dedication to USI students and outstanding service over the years.
Dr. Mellisa A. Hall
Professor of Nursing
Chair of MSN Program
18 Years of Service

Dr. Karen L. Parker
Assistant Professor
of Nursing
23 Years of Service

Dr. Lori A. Phillips
Assistant Professor
of Nursing
5 Years of Service

Connie Walker
Director of Advising
CNHP Advising Center
14 Years of Service


Faculty and Staff Awards, Recognition and Congratulations
Early Career Faculty Grant Recipient
Dr. Jenna Thacker '11, OT '12, Assistant Professor of Occupational Therapy (OT), received a $5,000 Early Career Faculty Grant from the University of Southern Indiana Provost's Office. These grants are awarded each year to encourage early career faculty to pursue promising research, creative and engagement projects for one consecutive 10-week summer term. Thacker intends to study functional dry needling (FDN), which she says is "growing like wildfire" in the field of physical therapy (PT). FDN is a technique for muscle stimulation using a needle, and it is used as a therapeutic procedure for patients with pain, decreased flexibility or decreased muscle function.
---
Promotion
Amy Wilson MS '09, Chair of Diagnostic Medical Sonography, will be promoted from Clinical Associate Professor to Clinical Professor, effective August 15, 2023. She has been a sonography educator at USI for nearly 20 years. She earned her bachelor's degree in Medical Imaging Technology from Indiana University School of Medicine in 1994.
---

OVC Outstanding Faculty-Commitment to Student Success Award
Emily Holt, Clinical Professor of Dental Hygiene and Dental Assisting, received the Ohio Valley Conference Outstanding Faculty-Commitment to Student Success Award.
---

Faculty Earning New Degrees and Certifications
Dr. Jennifer Fehrenbacher
Assistant Professor
Dental Hygiene/Assisting
Degree Earned:
Doctorate in Education
from Liberty University

Dr. Keri Montgomery
Instructor, Nursing
Degree Earned:
Doctor of
Nursing Practice
from University of Alabama

Dr. Amanda Orr
Instructor, Nursing
Degree Earned:
Doctor of
Nursing Practice
from Indiana University

Dr. Katelyn Russell
Assistant Professor, Nursing
Post-Master's Certificate:
Psychiatric Mental Health
Nurse Practitioner
from University of Southern Indiana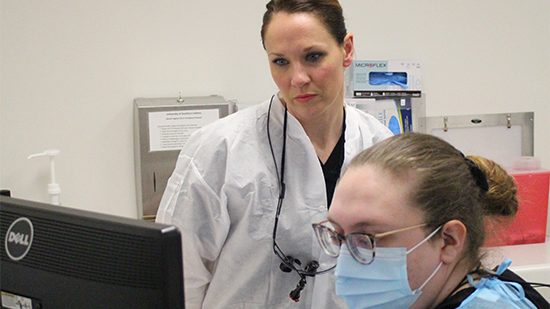 A Day in the Life
Ever wondered what goes on in the USI Dental Clinic? In this short video, Adjunct Natalie Hoon shares the benefits of being a part-time instructor at USI, including the flexibility of spending summers with her children.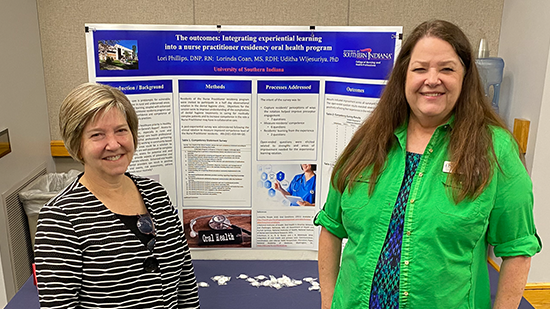 Faculty Achievements
When our faculty members are not teaching and advising students, they are conducting research on important healthcare topics and sharing their knowledge with others.
---
Student News
---
Jody Delp Perseverance Award  
The road to a college degree is not always a straight path. This was the experience for Kyle Criger, a member of the USI Respiratory Therapy Class of 2023, who received the inaugural Jody Delp Perseverance Award because of his resolve in overcoming adversity.
---
2023 Grad Gives Reflection at Commencement
Dalton Mills, an undergraduate Nursing student and an Infantry Officer in the Army National Guard, was chosen to give a reflection during USI's Commencement ceremonies on May 6. He says he felt honored to represent the Class of 2023.
---
Spotlight on Student-Athletes
Two student-athletes in the College of Nursing and Health Professions made a splash during their freshman year as members of USI's first Swimming and Diving teams! Our inaugural swimmers were featured in the newest issue of USI's Illume magazine.
---
Rising Stars Shine Bright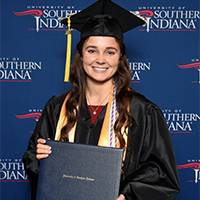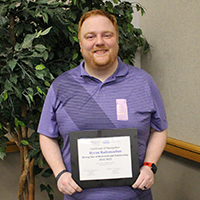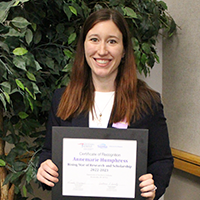 Two Doctor of Nursing Practice (DNP) students received the Rising Star of Research and Scholarship award from Sigma Theta Tau International Honor Society of Nursing. They both were invited to give a virtual presentation on their DNP projects at the National Sigma Healthy Work Environments Conference 2023, held February 10-12.
AnneMarie Humphress worked with mentors Dr. Mikel Hand and Dr. Ryan Butler, on her project, Empowering Nurses to Increase Caregiver Confidence in End of Life Symptom Management.
Byron Rademacher worked with Dr. Charlotte Connerton on his project, Dignity Therapy as a Non-Pharmacological Anxiety Intervention in End-of-Life Cancer Patients.
A third student nominated for the Rising Star Award is Cassandra Knepp, who earned her BSN degree in December 2022.
---
Building Healthy Communities: AHEC Scholars Attend Conference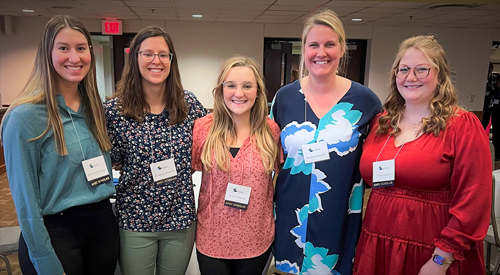 Three USI students in the AHEC Scholars program attended the 2023 Indiana Area Health Education Center (AHEC) Statewide Conference, held April 14 in Indianapolis. This year's theme was Building Healthy Communities: Self-Care is Patient Care.
Do you know a motivated and empathetic health professions student who wants to make a difference in their community? AHEC Scholars is a two-year healthcare fellowship for students at Indiana colleges and universities.
---
Alumni Update
---
2023 Nurse of the Year
Alexandra Gilmore '17 was named the 2023 Nurse of the Year at Baptist Health Floyd in New Albany, Indiana. She has worked in the hospital's intensive care unit for six years.
---
Mrs. Southern Indiana
Kristy Denton '12, MHA '15 says the USI Health Services program is where she began her journey to become licensed as a nursing home administrator.
---
Grad Speaks at Sigma Induction Ceremony
Jordan Morrison '14, MSN '20 was the guest speaker for the induction ceremony of new members of the USI Omicron Psi Chapter of the International Honor Society for Nursing – Sigma Theta Tau, held March 20. He and his wife, Kristen '15, are both USI Nursing grads, and they enjoyed catching up with Dr. Connie Swenty after the ceremony.
Sigma extends membership to students in baccalaureate or graduate level programs who have demonstrated superior academic achievement and to nurse leader candidates exhibiting exceptional achievements in nursing.
For more information,
visit our website
or contact the USI Center for Health Professions Lifelong Learning: