Freshman Residence Halls
USI Housing and Residence Life offers residence halls for freshmen with convenient amenities. Refer to the map to see where each hall is located.
Newman and Governors halls accommodate over 340 residents; O'Bannon and Ruston halls over 400. All four halls are freshman-only. Newman and Governors halls are in close proximity to the Recreation, Fitness, and Wellness Center and directly across the boulevard from Rice Library. O'Bannon and Ruston halls are near the Screaming Eagles Valley Complex and the Art Studio. O'Bannon houses the first-year Theme Living Communities. Halls are available on a first-come, first-served basis, and tend to be a popular option for students. Students assigned to the residence halls must choose either the Red, White, or Blue Eagle meal plan.
Overview
Secure building access
Interior hallways
Elevator
Four person/two bedroom suites and one person single bedrooms 
Couch and chair in two bedroom suites; chair in one bedroom suite
Kitchenette with sink, under-the-counter refrigerator (provided), and storage cabinets
Overhead lighting with ample outlets for individual lamps 
Individual temperature control by suite
Vinyl wood flooring and carpet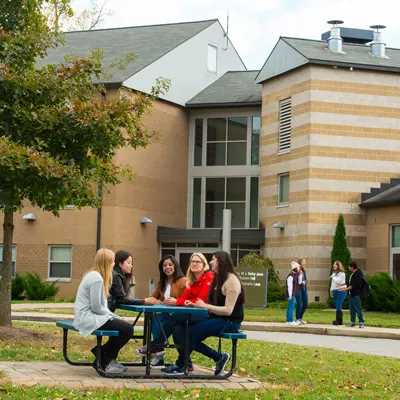 Two Bedroom Suite
Private bathroom in each bedroom
Two desks and chairs 
Two standard twin size beds with mattresses
Two closets - one for each resident. In Newman and Governors, there is additional shelving that is along one side of each closet. 
There are two windows in each bedroom in the two bedroom suites. Corner suites will have one bedroom with four windows and one bedroom with two windows. 
One Bedroom Suite
Private bathroom
Desk and chair
Standard twin size bed with mattress
Dresser
Closet
There is a floor to ceiling glass panel with a window in the middle in single rooms in Newman and Governors. There are blinds that cover the entire glass panel and window. There is one window in single rooms in Ruston and O'Bannon with blinds. 
Technology
Rooms are equipped with Ethernet connections and wireless Internet access (resident must provide Ethernet cord). There is no specific cord length as it depends on how residents choose to arrange the furniture in the rooms.
Students are welcome to use their preferred streaming services and devices to watch favorite shows, movies, etc.
Additional Amenities
Six computer labs in each hall
Large first floor lounge
Lounge space on second and third floors in Newman and Governors
Lounge space on lower level, second and third floors in O'Bannon and Ruston
Vending machines and a pay printer in lobby
Laundry room on second floor
Ice machine on second floor
Mail and package services are available to residents in the HRL office
Helpful Tips
Beds raised to their highest have a space of 30" high underneath for storage. Lofts and bed risers are prohibited.
Beds can be bunked. Metal pins are in each bedroom to do so. Residents are responsible for bunking beds.
Residents provide their own dishes, cooking utensils, microwave, etc.
Residents may hang curtains at windows but should only use tension curtain rods. It is recommended that residents wait until they move in to measure windows for curtains since dimensions may vary among buildings. Blinds must not be removed from windows.
Halogen lamps/light bulbs not permitted.
Residents are responsible for cleaning their suite and must provide their own cleaning supplies and trash cans.
Residents provide their own shower liner and curtain. Shower hooks are provided. Residents must provide toilet paper, towels, toiletries, etc.
Closet doors slide open.
Laundry rooms use both coins and Eagle Access Card. Laundry is $1.50 to wash per load and $1.25 to dry per load.
For additional packing tips and list, visit Packing List.
Two Bedroom Four Person Suite
Corner Two Bedroom Four Person Suite
Note that the kitchenette, common room and bathrooms are the same as a two bedroom four person suite. The difference is there are four windows in one bedroom.