The Arts Center houses the Graphic Design computer labs, 2D design, illustration and drawing studios, the Woodworking studio, the Sculpture studio and metal foundry, the Jewelry studio, and the Photography Darkroom and Lighting Studio. The Art Studio houses the Painting and Printmaking studios, and the Dowhie Ceramics Center houses the Ceramics studio.
The design labs are located in the Arts Center building.  There are three digital computer classrooms dedicated to Graphic Design, Interactive Media Design and Digital Photography.  
iMac Computers
Wacom Cintiq Pro 24 Pen Display Digitizers
Epson Scanner 4490
Epson Scanner GT 20000
HP Color Laser Printers
HP BW Printers
Epson Pro Stylus 9900 48" Printer
The Dowhie Ceramics Center is named for Professor Emeritus Lenny Dowhie and his wife Anne Dowhie.  The Center opened in 2009, and is a dedicated stand-alone facility for the exploration and creation of pottery and the ceramic arts.  The 3,310 sq. ft.  facility is well equipped and is connected to a terrace providing outdoor work space and room for a variety of kilns. Through a wall of windows, the Dowhie Ceramics Center offers a stunning view of Reflection Lake and the surrounding wooded area that students enjoy while working on a vast array of objects ranging from traditional pottery to contemporary sculpture.
Equipment in the Dowhie Ceramics Center includes:
Soldner Professional clay mixer
Bailey MXP double auger pug mill
20 Shimpo VL-Whisper potter's wheels with ergonomic stools
North Star Super 24" slab roller
Bailey extruder
Dedicated Glaze room with extensive chemical stores
Two digital scales and one triple-beam scale for glaze formulation
Ventilated spray booth and compressor for glazing
Decal printer for iron based decals
Three programmable electric kilns for bisque and mid-range glaze work
Cone 10 gas reduction car kiln
(SP.18) * Fast-Fire modified wood kiln
(SP.18) * Down-Draft cone 10 soda kiln
(SP.18) * Two cone 10 gas text kilns
Natural gas raku kiln
Space for experimental kiln building
Adequate shelving for each level of ceramics course work
Large screen and projection camera for classroom instruction
Arians 22 ton wood splitter
Husqvarra 445 chain saw
The drawing studios are located in the Arts Center building.  There are two classrooms dedicated to drawing and 2D design.  As a drawing student, you will have access to the following equipment and facilities to assist you in your course of study:
Drawing easels and drawing benches
Spacious dedicated drawing areas
Art-o-graph projectors, paper cutters, and mat cutters 
Drafting tables
Track lighting
Exhibition areas to show your work
A variety of still life materials
Drawing boards
Models for figure drawing
A replica human skeleton for figurative work 
The Jewelry Studio is one of the studios located in the lower level of the Arts Center building.  It comprises 625 sq. ft. of space dedicated to Jewelry and Metalsmithing. It is in the process of being fully renovated.  Renovations will include an updated ventilation system, as well as improved storage, workstations, and classroom layout. These renovations are scheduled to be complete in March of 2015.  As a jewelry student, you can have experiences with design, metal working, soldering, enameling, casting, and assemblage. The following equipment will be available in the Jewelry Studio to facilitate these studies:
Kerr Centrifugal Casting Machine W/Accessories
Two Electric Kilns
Oxygen/Acetylene Torch set
Two Soldering Torch sets
Three Soldering Stations
Two Hydraulic presses
Bonny Doon Dies, assortment
Durston Bracelt Forming Mandrels
Durston Cupola Punch set
Three Fordom Flexshaft Tools w/accessories
Pepe 4" Guillotine Shear
Pepe 8" Precision Shear
70 lb. Anvil w/Stump
Silhouete Die Kit
Swanstrom Disc Cutter
Lil' Trimmer Saw
Two Rolling Mills
Fretz Super Set Miniature Stakes
Fretz Forming Stake set
Assorted hammers
Jewelers Saws
Ring Mandrels
Plier assortments
Midas Electroforming equipment and supplies
Enameling Powders and tools
Redwing Buffing Station w/dust collection
Buffing accessories assortment
The Painting Studio (AS 108) is one of two studios located in the Art Studio building, located between the Arts and Ceramics Centers.  It boasts 1933 sq. ft with a 78 sq. ft spray booth and a 77 sq. foot store room all of which are dedicated exclusively to painting.  As a painting student, you will work with both oils and acrylics.  You will learn and practice various painting techniques including old masters, impasto, hard edge, mixed media, and experimental applications. The following equipment and features are available in the Painting Studio to facilitate these studies:
Heavy duty easels, stools and painting tables
Special room ventilation
Dedicated painting spaces for upper level students
Individual lockers and storage areas for painting students
Painting racks for large and small scale paintings
Spray booth
Clerestory windows for even, natural lighting
Track lighting for still life and special set-ups
Safety cabinets for proper storage of solvents and chemicals
Equipped tool cabinet
Chop saw for stretcher building
Smartboard technology
Darkroom
Portable Silver Reclamation Pumping Station
Film Washes
Film Drying Cabinet
Plastic Film Developing Tanks
Metal Tanks for Film Developing
Beseler Enlargers with Timers
Print Washers
RC Print Dryers
Lighting Studio
Silver-Dome Hot Lights
Large Boom-Light Stand
Small Soft-Light White Cube
Steel Rack for Paper Roll Storage
LED Light Panels
Strobe Light Setups
Photo E-Box Plus
Hot Light
Photography Equipment
Light Table
Dry-Mounting Press
35 mm SLRs
Tripods 
Medium Format Film Cameras
35mm DSLRs
The Printmaking Studio is one of two media areas located in the 'Art Studio' building.  This dual-purpose, smart classroom and studio space has over 2200 square feet dedicated exclusively to printmaking processes.  As a student in the area, you will learn intaglio, relief, screen-printing, lithography, and monotype printing techniques.  In addition to hand tools, the following large equipment is available in the Printmaking Studio to enable these studies:
Etching and Relief
Charles Brand etching press- 50" x 30"
American French Tool etching press- 36" x 18"
Hotplate and ventilated etching tanks
40" wide plate shear
NuArc exposure unit for photo-intaglio and photo-Lithograph plates
48 x 36 Paper soaking sink
Lithography
Conrad lithography press- 48" x 30"
Graining sink
Lithographic limestone collection
Hydraulic lift cart for large stones
Screen printing
Portable screen printing stations
Intermatic exposure unit for screens
Power washer and wash out station
General Use
4 ½ ' x 5' work tables
Lockers and flat files for personal storage
CNC Router (located in the Arts Center)
Art & Design students can curate, design, or submit work for small exhibitions in the Student Gallery.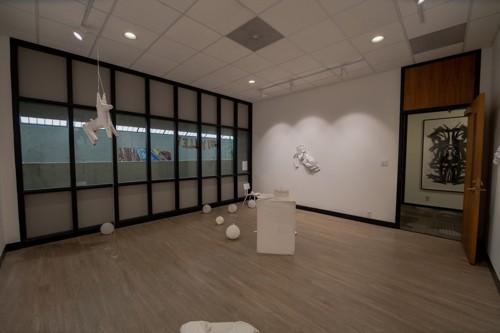 The Woodworking Studio is one of the studios located in the lower level of the Arts Center.  It boasts over 3000 sq. ft. of space dedicated to woodworking.  There is a large common room with ample work space for students.  Advanced students share a smaller a workspace in which each student has a personal work area of his or her own.  Several woodworking benches are placed in the studio for those interested in traditional hand tools.  The Woodworking Studio has a full complement of power and hand tools and a dedicated finishing space.  Students in the Woodworking area create an incredibly vast array of objects ranging from traditional furniture to sculpture.
The following equipment is available in the Woodworking Studio:
SawStop Table Saw
Powermatic Lathe (36" bed)  
Powermatic Drill Press
Domino Joiner Tool
Delta 24" Planer
Powermatic 10" Jointer
Grizzly Oscillating Edge Sander
Powermatic 20" Band Saw
Powermatic 16" Band Saw
12" Makita Mitre Saw
Kreg Router Table
Oscillating Spindle Sander
Jet Hollow Chisel Mortising Machine
Powermatic 6" Disc/6" Belt Sander
Delta 12" Mitre Saw
Jet Slow Speed Grinder and a set of Shapton Stones for sharpening
ShopBot CNC Machine
Boss Laser Cutter
The McCutchan Art Center/Pace Galleries, located in the lower level of the Liberal Arts Center, contributes to the education experiences at USI by providing a professional exhibition space to present the work of art majors, alumni, faculty, visiting artists and the University's permanent collection.