---
Student Journal of Arts and Letters
---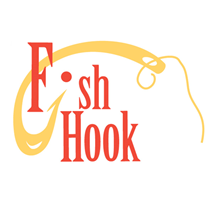 FishHook is the University of Southern Indiana's student-run art and literary journal, showcasing the top poetry, fiction, nonfiction, and visual art of USI students. 
We at FishHook strive to promote artistic expression across all areas of the student body, and we are dedicated to providing opportunities for USI students to show off their favorite original works. Each year we publish a new and unique edition of our publication, and we are thrilled to start searching for new additions to our 2023-2024 publication! 
Pick up a FREE copy within the Orr Center or the third floor of the Liberal Arts Center.
---
---
a note on FishHook...
The student editors of FishHook believe strongly that USI's student art and literary journal ought to be just as unique and inviting as the work it publishes.
A fishhook speaks to Evansville's sense of place, tucked as we are in a crook of the Ohio River, and serves a rich metaphor for the process of being lured, hooked and changed by the images (whether visual or verbal) of our student literary journal.
Like a hook pulled from a river trout's mouth before the fish is tossed back into the water, the fishhook does not pull cleanly free; the barb catches, leaves an echo of its shape in the cheek of the fish.
And that, gruesome as it may sound, is how we, the editors of FishHook, feel good literature and art leave us: changed forever, with an echo of its image and voice deep in our flesh.
We hope you will enjoy this twelfth issue of FishHook as much as we enjoyed compiling it. And, more than anything, we hope you will get hooked!
-The Editors
---
---
Submission Information
Do you have a piece of writing or piece of art that you are super proud of? If so, the FishHook team would love to see it!
Submissions are OPEN for FishHook Volume 13. A Contributor Release form

must be filled out before submissions can be considered for publication.
Send your submissions to
fish.hook@usi.edu
. (Written submissions should be submitted as Microsoft Word files, and images should be sent as 300 DPI .tiff or .jpg attachments.) Include your name, address, telephone number, and a
Contributor Release Form
.
Volume 13 submissions are due by Friday, January 12, 2024. 
Due to the solar eclipse, there will be a brief submission period from April 8, 2024, through April 19, 2024.
Artists whose submission bears the image of a real living person are required to have their models complete and sign the Model Release Form prior to acceptance of their work.  Please ask your model to visit this site and either print the release and mail it to the address at the top of the form or turn it in via email with an electronic signature to Fish.Hook@usi.edu
---
Current Editorial Staff
Editor-in-Chief: Denise McKenzie
Editorial Staff:
Kaitlen Wood
Emalee Jones
MonteLee Norton
McKenna Love
---
Most Recent Volume below, and more about past volumes can be found here. 
Free Digital Copy of Volume 12 can be found here.
---
Become an Editor!
FishHook editors review poetry, fiction, non-fiction, and art submissions to filter what goes into the publication. The only requirement for FishHook editors is the successful completion of ENG 101.  Complete the application online or pick up an application outside the FishHook office, OC 3029. Submit your application at the office or email it to FishHook.

---
More Student Lead Organizations 
Student Publications and Media  |  Student Organizations
---