Our Student Spotlight page showcases some of the accomplishments of our English department students and alumni. If you would like to be featured on our page, please reach out to Dr. Oana Popescu-Sandu at 812-465-7053 or by email.
2023 Spring English Awards 
Spence Farmer
OUTSTANDING GRADUATING SENIOR
Nathan Ruppel
OUTSTANDING LITERATURE MAJOR
Caysie Armstrong
OUTSTANDING ENGLISH TEACHING MAJOR AWARD
Brenna Swaney
OUTSTANDING PROFESSIONAL WRITING AND RHETORIC MAJOR AWARD
Denise McKenzie
OUTSTANDING CREATIVE WRITING MAJOR AWARD
Asher Corne
OUTSTANDING COMPOSITION STUDENT WRITING AWARD
Jaydon Pritchard
BEST STUDENT WRITING AWARD
Alice Graves
BEST STUDENT WRITING AWARDNIOR
| | | | |
| --- | --- | --- | --- |
| Spence Farmer accepting award at the English Awards Day Potluck | Denise McKenzie posing with award at the English Awards Day Potluck | Caysie Armstrong posing with award at the English Awards Day Potluck | Nathan Ruppel posing with award at the English Awards Day Potluck |
| Alice Graves posing with award at the English Awards Day Potluck | Jaydon Pritchard posing with award at the English Awards Day Potluck | | Dr. Popescu-Sandu Chair of the English Department being presented a Faculty Excellence Award by College of Liberal Arts Dean Del Doughty |
Student Teachers and the Pandemic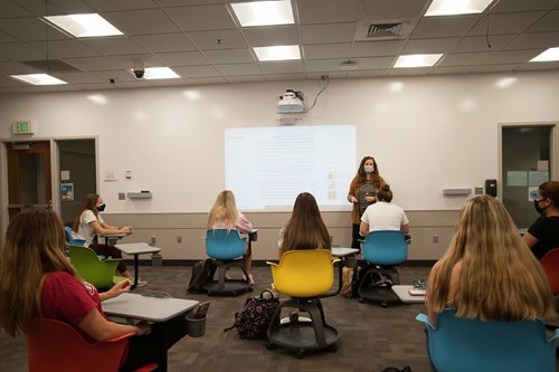 COVID-19 regulations and safety measures drastically impacted the way elementary and high school students attend and interact with teachers. For the 53 USI student teachers in the Fall 2020 Semester, this impact stretched beyond the classroom into every detail of their experience. Read about the challenges and opportunities these student teachers faced.
---

Kennedy Salts
English Major, Concentration in Professional Writing and Rhetoric, 2019
When I was a kid I wanted to be one of three things when I grew up:  a paleontologist, a marine biologist, or I wanted to be a writer like Stephen King. Unfortunately for me, I can't do the math to save my life, but on the flip side I'm good at writing and I adored putting pen to paper, or fingers to keys as it is nowadays. I loved it so much that I decided to major and eventually get a degree in it. My name is Kennedy Salts and I'm a 2019 graduate with a Bachelor of Science in Professional Writing currently living the dream as a copywriter for Shoe Carnival.
Now, I may not be a household name and write adored horror novels for a living (yet), but I do get to do what I love every single day! From content like product descriptions to writing fun and engaging copy for website pages, my days are spent using my natural skills and talents that were fine-tuned and refined at USI.
I started my career with Shoe Carnival in January of 2020 primarily as an eCommerce Content Writer/Drop Ship coordinator of sorts, greeting each day with the same amount of gusto that I did when I walked into any of my English or literature classes. Then - as we all know - Covid-19 took the country hostage and I had to transition from being in the office (I was still in my training period) to working from home, doing my best to keep myself afloat in this brand new role I had just come into a few short weeks before. Through trial and error, lots of tears, teaching myself my new role, and maddening meetings on Microsoft Teams I was able to not only come out of it all with a unique working experience and mad management skills, but I also had an instrumental role in crushing a company goal and record of making $7M in my department alone. But my favorite thing I gained during that whole mess:  I was given more writing roles!
Today I'm responsible for some of Shoe Carnival's social media posts, several blog posts, a majority of the product descriptions online, and the copy found on Shoe Carnival's web pages like their Sneaker Shop page just to name a few. Working in eCommerce is a unique and incredibly interesting experience that I wouldn't trade for much. My team and coworkers are incredible and I couldn't imagine weathering the storm that was 2020 any other way.
At the end of the day, I'm so appreciative and grateful that I had amazing professors who taught me and pushed me to be a better writer. Without them, I don't know if I would have had the success that I've had this early on. With everything I learned from them I was able to score a fantastic career with a company that appreciates me and treats me well, I'm able to give my two boys the life they deserve, and, truth be told, the stars are the limit for me.
For a 25 year old, I'm not doing too bad and I really am living my childhood dream of being a writer. If I was to give any advice at all I would advise you, dear reader, to not give up on a dream no matter how big or how small. Dream your dreams and do whatever it takes to make them your reality, you only get one life so why not have fun with it and do what makes you happy?
---

Kyle Ellis
English Major, 2018
I'm Kyle Ellis, and I'm a 1L law student at the Indiana University Robert H. McKinney School of Law in Indianapolis. I attended USI from 2016 to 2018, graduating with a bachelor of arts in English with a concentration in creative writing.
After graduating from USI in 2018, I returned to my hometown, Fairfield, IL, to work as a newspaper reporter for the Wayne County Press. The Press is a beloved local institution with a history dating back before the Civil War, and I was honored to get a byline in it.
As a reporter, I found immediate use of the writing skills I had picked up as an English major. I was constantly working under pressure to make deadlines. My job also involved interviewing local elected officials, archival research, and more than a little creativity in getting to the stories I needed to report. My studies in English and creative writing more than prepared me for all of this and, more importantly, gave me the confidence to do it with style.
When my time at the Press came to an end, I eventually found myself in Indianapolis. After some false starts, I began working for the Indiana government through the Indiana Legislative Service, which is a nonpartisan government agency responsible for proofreading all the legislative documents produced by the General Assembly. Working through the pressures of a legislative session was tough, but it nurtured my sense of civic duty, and, as I discovered I really enjoyed living in Indy, I found myself applying to law school in the city. With the support of friends I had made at both the Press and at the Statehouse (networking is important folks!), I was admitted and began my journey into the legal profession.
I haven't been studying law long, but I've really enjoyed my time here so far. My advice to English majors is to keep your horizons broad and have the audacity to go for things you think might be out of your reach. You'll surprise yourself. I know I did.
Erica Denison
English Teaching Major, 2020
Since graduating from USI in December 2020, I have been working as a substitute teacher in my local area. I have also been finishing my TOEFL (Teaching English as Foreign Language) certification. After I am certified, I will apply to schools abroad to teach English as a foreign language. I am between a few locations, but I aspire to teach in South Korea or Japan starting with Fall 2021. 
Update: Due to Covid travel restrictions and a close to home job offer, I am now working as the 3-5 grade writing teacher at Holy Family School in my hometown. I still hope to travel abroad for teaching, and plan to teach over the summer time. 
---

Hope Baker
English Major, 2020
I recently got my dream job as an assistant English teacher in Japan! I will be working for a company called Altia Central, which is based in central Japan. I will graduate from USI with an English Literature degree and a minor in global studies. Through my love of English, and children, I knew I wanted to become an English teacher and through the global studies program and my study abroad experience in Nagoya, Japan, I knew exactly where I would like to teach English. Thanks to the global studies program I was able to find a job that truly called to me. I realized how much I love learning about the world, and how I can continue to do this by getting a job in another country. By combining my English major and global studies minor I got the best of both worlds with becoming an assistant English teacher within Japan. I have done a ton research on recruiting companies in Japan, and besides the JET program, Altia is one the of the best recruiting companies in Japan. While there is not a lot of information on this company, I found Youtubers who have videos talking about their experience with Altia, blogs, and have even got into contact with people previously employed.
Through several years of research, because one should not take lightly uprooting your life to move across the world, I decided Altia was the best fit for me. I applied for the position on September 1st, 2020 and had my first interview September 3rd. Typically, interviews are done face-to-face but because of COVID we had to do it over Skype. It was very focused on getting to know me, and what I believe is needed to be an assistant English teacher. Then, I got asked to send in a 5-minute demo lesson along with a survey, that showed how I would interact with the class.
September 27th was my second interview, which involved going over my demo lesson, the survey, and then a Japanese language interview (this is not required for most recruiting companies, Altia happens to prefer you know basic Japanese). After this interview they informed me that they were going to contact my references, and then on October 29th, I got offered the position. Their reply time was remarkable considering the time difference. I also felt like this company truly cares about their employees and want the best for the children we will be teaching. Ultimately, this helped me decide this was the company for me. I would highly recommend this company or teaching English in Japan!
---

Samantha Enders
English Major, 2018
Hi! My name is Samantha, and I'm an Editorial Assistant for the Finance and Accounting Trade Publishing team at Wiley. Every day I get to work with an amazing team of editors and help authors make their book dreams a reality, but none of it would have been possible without the education and experience I received at USI.
As an English Professional Writing and Rhetoric major with a minor in Literature and Entrepreneurship, the classes I took were instrumental to my professional success after college. When copyediting book content, I use the lessons learned from my intro to grammar classes; when crafting an email to an agent about an author's contract, I recall the best practices I learned in my technical writing course. Even just chatting with an author before a marketing call, I use the novels and short stories I read during my classes on British literature and Shakespeare to spark conversation. And not only did my English degree at USI prepared me in nearly every way for my current job, but because of it, I received my first internship with the company that lead to where I am now.
When I graduated in 2018, I was struggling to find a job. Book publishing is an incestuous industry, and it's often hard to get your foot in the door, especially if you are looking to break into one of the big-name companies. However, with my degree from USI, letters of recommendation from a couple department faculty members, and examples of the work I completed over my four years (such as publishing a book with a local elementary school, which I brought along to my interview!), I was offered an internship that turned into a full-time job offer. Now I am well on my way to becoming a full-time editor, managing and acquiring my own authors.
So if you are considering becoming an English major but are nervous that it isn't "practical," my advice is to go for it. Take the leap. You will have a family of English department professors, fellow students, and alumni to support you and prove that you can do whatever you set your mind to.