Scoreboard

Athlete Q&A: Maya Etienne '23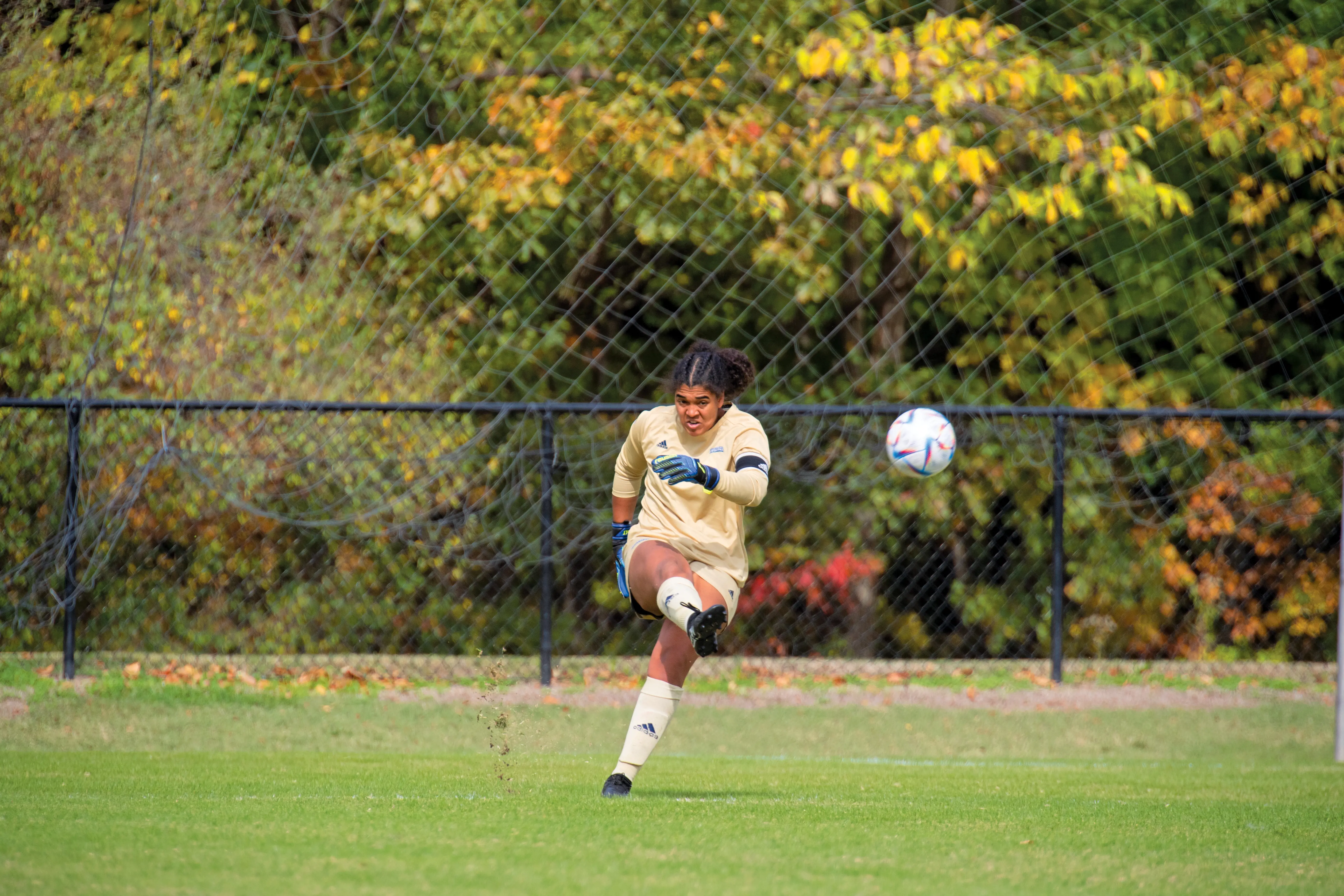 WHAT IS YOUR MAJOR AND GRAD YEAR?
My major is computer information systems, and my graduation year is the Spring of 2023.
WHAT IS YOUR FAVORITE PRE-GAME HYPE SONG?
Cloudy Day by Tones and I. I love the song and have the best memories of my teammates dancing to it.
WHAT DOES IT MEAN TO YOU TO BE A USI STUDENT-ATHLETE?
I had the choice to play soccer in college but didn't know if I wanted to or not. I was nervous but I knew I wasn't done playing soccer. Coming to USI was the greatest decision of my life. I am a studious individual, but I value the memories, people and time I've spent at USI. The people here and the campus itself became my family. I am so proud to be a USI athlete and I will cherish these last four years for the rest of my life.
WHAT'S THE BIGGEST LESSON YOU'VE LEARNED SO FAR IN YOUR USI ATHLETIC CAREER?
I've learned not to dwell in the past. Thinking about the last mistake I made only gets me stuck inside my own head, and it affects my performance. Instead of analyzing every single mistake, I had to learn from them and move on.
WHAT IS THE BIGGEST MISCONCEPTION YOU GET ABOUT BEING A STUDENT-ATHLETE?
The biggest misconception I get is that being an athlete is my identity. Soccer is just one small piece of my identity. I am more than just the goalkeeper for the USI Women's Soccer team.
HOW DO YOU BALANCE ACADEMICS AND ATHLETICS?
My secret is time management. In high school, I played on a club team that was two hours away from my house. I did my schoolwork in the car on the way to practice. Afterward, I'd be exhausted but sometimes I had to finish my schoolwork on the way home. Balancing classes and my performance on the soccer field isn't always easy, but my determination has always helped me succeed.
WHAT'S YOUR GO-TO POST-MATCH MEAL/SNACK?
Clementine mandarins. I love fruit and the little oranges always brighten my mood no matter the outcome of our games.
REFLECT ON YOUR FAVORITE GAME AND WHY.
One of my favorite games is one we lost. The whole game we were tied 0-0 until the last few seconds of the game. It was a tough game and we all wanted to win so badly. Each of my teammates played their hardest, leaving everything they had on the field. When the final whistle blew, all these different emotions hit me. It was my final season playing for USI before graduating and I was going to miss my teammates. Then a huge sense of pride overcame me. I was proud of how we'd played and proud to call every one of my teammates family. I never want to forget how proud and honored I felt to play with my teammates that day.

WHAT IS THE TRAINING PROCESS LIKE FOR SOCCER?
In season, we train three days or five days for two hours, depending on if we had a game on Thursday or not. As goalies, we go through drills to keep up with our footwork and handling, focusing on technique, and to correct a mistake made in the previous game. After an hour, the goalies join the rest of the team to work on correcting what went wrong in the game as a team. This prepares us to do better in our next game. Two days before our next game, we watch a recording of our opponent's past game, going over their strengths and weaknesses to see how we can gain control of the game.
WHAT'S YOUR INNER THOUGHT PROCESS WHEN PLAYING A GAME?
As a goalkeeper, I see everything in front of me and I'm trying to communicate what I see to my teammates. While doing that, I am anticipating the opponents every move. At the same time, I'm cheering my teammates on, like a parent on the sidelines screaming, "Go on take her!" or "OMG, she's open, she's open, switch the field!"