World Languages and Cultures Spotlights
The students and alumni of World Languages and Cultures Department enjoy so many great experiences during their time with USI and after they graduate. Our Student Spotlight page showcases some of those students and their stories. If you would like to be featured on our page, please reach out to Dr. Jessica Jensen at 812-465-1292 or email jgjensen@usi.edu.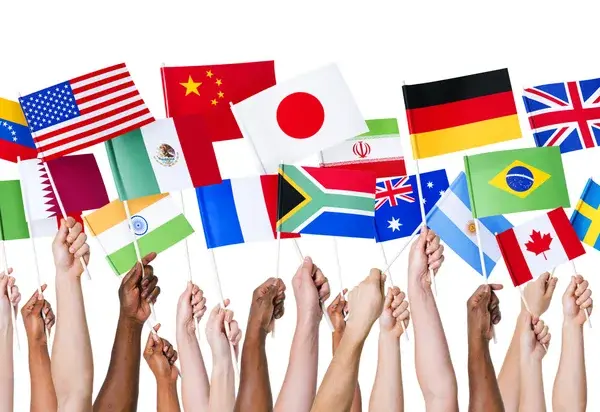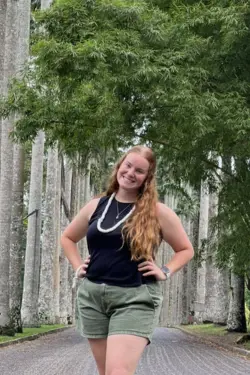 Audrey Fox
Class of 2023
World Languages and Cultures Teaching Major- French
Aix-en-Provence, France Spring Semester 2023:
"I studied abroad in Aix-en-Provence, France for my spring semester in 2023! Because this program is designed to teach French to international students, I was simultaneously able to learn from a French-native and professional, while also meeting and practicing the language with people from all over the world. All of my classes were in French and focused on strengthening my language level and knowledge of the culture. Additionally, I had many opportunities to travel throughout Europe during my semester! In total, I visited five different countries and ten cities in France. This opportunity was so unique and transformed my outlook on the world and culture as a whole!"
Accra, Ghana Summer 2023:
"I was also blessed to take a university trip to the coast of Ghana with a few other students and some University staff and mentors. This trip was nothing short of life-changing! We learned so much about African history, and how it is still impacting our world today. We were also immersed in the culture of Ghana through food, song and dance, and in conversation with Ghanaian students and educators. Another aspect of this trip I really cherish was the incredible bonding that happened with our mentors and the other students on the trip. As a whole, this experience is not one that I take lightly, and will forever have an impact on my mind and heart."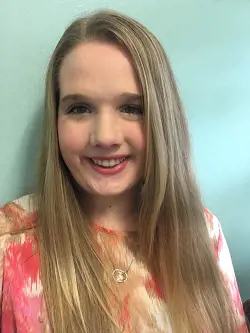 Mercy Fulton
Class of 2021
Mercy Fulton graduated with a French Teaching Major in 2021. During her time at USI, she received the prestigious and competitive Walter Jensen Scholarship for Study Abroad from the American Association of Teachers of French. In Spring 2020, Mercy studied at the Université de Caen in France. Recently, Mercy taught French at a middle school in the Chicago area.
Lily Casavant
Class of 2021
Lily Casavant graduated in 2021 with a double major in German and Communications. As a student at USI, she used German to secure her internship at Disney World in Florida. Currently, she works as the Director of Development at the Signature School in Evansville, IN.
Jaelyn White
Class of 2020
Jaelyn White graduated in 2020 with a double major in French Studies and Political Science. During her undergraduate studies, she studied abroad through ISEP in Caen, France. Throughout her studies at USI, she discovered a passion for language and culture that has become invaluable in her career. 
After graduation, she joined USI's M.A. in Second Language Acquisition, Culture, and Policy with an expected graduation in 2023. In 2022, she began working as a Global Talent Acquisition Sourcing Partner for TELUS Agriculture & Consumer Goods. TELUS Agriculture & Consumer Goods delivers actionable digital solutions and data insights that connect the global supply chain, driving more efficient production processes and improving the safety, quality, and sustainability of outputs, all in a way that is traceable and clear to the end consumer. 
As the Global Sourcing Partner, she is on the front end of talent acquisition, she works to attract and maintain global talent for a variety of roles throughout the organization. She consistently works alongside her global counterparts, uses the French language in a corporate setting, and builds on her skills. Jaelyn writes: "Without my professor's dedication to my education during my undergraduate degree, I am certain that I would have never discovered my deep passion for linguistics and second language acquisition and implementation."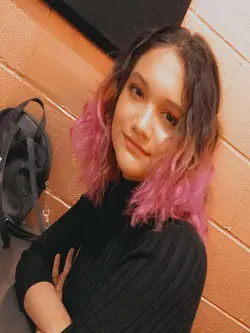 Abigail Loya
Class of 2020
Abigail Loya, triple majored in French Studies, Anthropology, and International Studies. Abby received the highly competitive Benjamin A. Gilman International Scholarship to help support her semester studying abroad in France while at USI.
Abby was accepted in the Teaching Assistant Program in France (TAPIF) for Fall 2020 and returned for a second year in Fall 2021.
She writes: "If not for the French program at the University of Southern Indiana, I would have never had this opportunity to be living in France doing something amazing and rewarding. I would have never been able to study abroad without the help of the marvelous French professors at USI which in return introduced me to the beauty of northern France, Normandy. Without being in the French courses at USI, I would have never been able to speak casually when thrown into different and new environments; I only relied on reading and writing beforehand. The French program improved my confidence and my overall ability with the French language, enough to where I can live super comfortably in France without everyday guidance of the English language. And I really do appreciate my time with the French program and professors at USI!"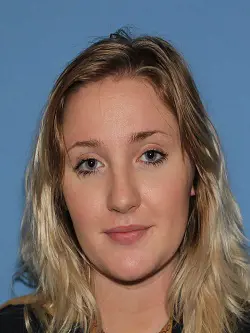 Lauren Harrison
Class of 2019
Lauren Harrison, Class of 2019, graduated with a degree in French Studies and Psychology. During her time at USI, she studied abroad at the Université de Caen (France). Lauren recently completed her Masters in Social Work at USI.
She writes: "My French classes were some of the best classes I had ever taken, and I continued to learn something new every time I came to class. Not only was the professor informative and kind, but she wanted you to learn, and wanted you to succeed, and that made a huge difference. The French Studies program also granted many opportunities, one of those being a chance to study in France. I was there for almost a month, and planned it out so that I could travel to Paris, and Bayeux, before going to Caen to study at the local university. I continue to use French to this day, and I hope to never lose what I have gained from the French Studies Program!"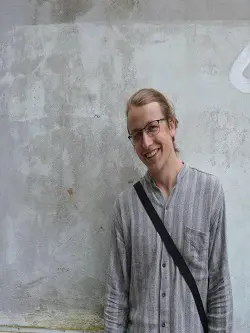 Keegan Roembke
Class of 2019
I am a German Studies, International Studies, and Economics major and I graduated in Spring 2019. German has been the catalyst for some life-changing experiences that I never thought would happen coming into USI. I studied in Graz, Austria, in the Spring of 2018, taking courses in German. Here, I also researched and wrote a thesis on Austria's post-World War II history of migration. I plan to study in Leipzig, Germany, for my Master's in Global Studies, and find a career in journalism.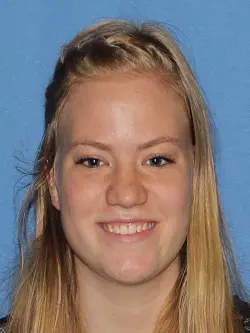 Camilla Hornkjøl
Class of 2019
Camilla Hornkjøl graduated with double major in French Studies and International Studies. Currently, she is pursuing a Masters degree in Environment and Development at the University of Oslo (Norway). In Spring 2021, she participated in an exchange and studied abroad using her French skills at the Université Laval in Quebec City. Recently, she completed internship at UNESCO in Paris.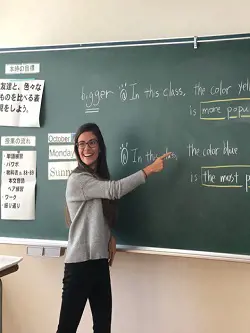 Phillis Brown
Class of 2018
After receiving her degree at USI in Economics with a minor in French, Phillis Brown graduated with a Master's degree in Second Language Acquisition, Policy and Culture in 2018.
After graduation, she was accepted into the Japan Exchange and Teaching (JET) Program. Her degrees from USI directly prepared her for her work teaching English to junior and senior high school students in Kyoto Prefecture, Japan. Coming into this position with a background in teaching methodologies, theories, and having had hands-on experience in the classroom allowed her to transition into this role with confidence and ease.
After the JET Program, she joined the Peace Boat, a Japan-based international NGO which promotes peace, human rights, and sustainability through a passenger ship that travels the world. She served as an English Language Instructor, helping students gain the necessary communicative language skills for their voyages. She is currently an Global Engagement Advisor at Texas A&M University.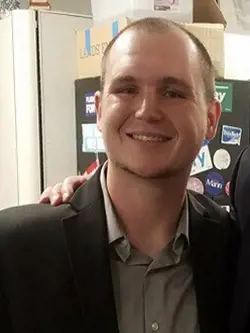 Jourdan Seib
Class of 2018
I'm a 2018 graduate of the German program, receiving my B.A. in German as well as a B.S. in Sport Management. I am currently working on my M.S. in Athletic Administration at Indiana University - Bloomington and I will be furthering my education with pursuing a Ph.D. this fall. My research interests lie in the sociological impact of commercialization on sport. While at the University of Southern Indiana, I was able to work with two amazing faculty members in Dr. Silvia Rode and Dr. Bartell Berg. If you are looking for faculty who truly care about the experiences of their students while also receiving a meaningful and first-class education, picking USI's foreign language department is a choice that will ready you for a global market that is only continuing to diversify. The faculty provided students like myself with the tools and education that prepared me for the real world. Most importantly, they allowed for me to have a well-rounded experience that has enabled me to communicate with cultures different than my own, which is the goal of any foreign language learner. My experiences of learning about different cultures and how they interact with one another while in the German program, at University of Southern Indiana, helped mold my future research interests and put me where I am today. Vielen Dank Dr. Rode und Dr. Berg!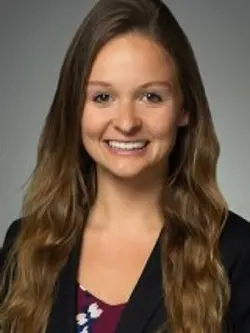 Paige McClellan
Class of 2018
I am originally from the west side of Evansville. I graduated from Reitz High School in 2014 and decided to continue my education at the University of Southern Indiana. I knew I wanted to be an accounting major, and after having a great experience taking German classes at Reitz, I was also interested in perhaps completing a German minor.
 I met Dr. Rode on campus during my orientation and we had a brief conversation. I left our conversation hooked on German, but especially hooked on Dr. Rode. I ended up being a German major, in addition to an accounting major. I am so glad I made that decision because it allowed me to take courses in both the College of Business and the College of Liberal Arts. You might not think that these two majors go together, but actually they shaped me into a well-rounded person and opened my eyes to new ideas and mentalities. Plus, being able to study abroad for a month in Germany and France didn't hurt.
I graduated from USI with what ended up being two separate degrees (one German, one accounting) in April of 2018. I am currently a tax associate at BKD, a public accounting firm, in their Evansville office. I have passed my Certified Public Accounting exam and will be officially a CPA very soon.
My education at USI and the connections I made there have proved to be invaluable to both my career and my personal development. I am forever grateful that I met Dr. Rode that day and chose to continue my education at USI.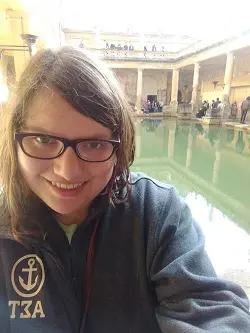 Jackie Jarocki
Class of 2018
Jackie Jarocki, Class of 2018, graduated with degrees in Anthropology and International Studies and a minor in German. During her time at USI she studied abroad and worked closely with the international office. Jackie is currently working on a graduate degree in History and Heritage at Aberystwyth University in Aberystwyth, Wales, UK. Jackie is also working on a student-led heritage relief programme with the Welsh government.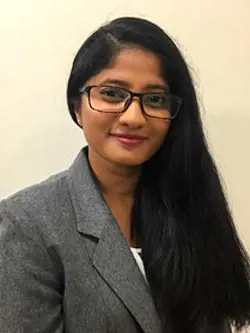 Tharushi Wattewewa
Class of 2018
French Studies and International Studies major, Tharushi Wattewewa, Class of 2018, taught French at the Midtown International School in Atlanta, GA. Midtown International School is a school for not just gifted learners but everyone who is impatient to learn. Tharushi reported that her students loved playing games, doing presentations, and reading. 
Today, Tharushi continues to demonstrate her passion for languages and cultures and traveling the world. She is currently a Masters student in the field of Tourism Development at the  Technische Hochschule Deggendorf.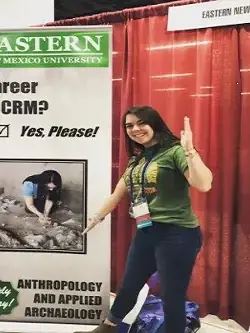 Taylor McCoy
Class of 2017
Taylor McCoy graduated from USI in 2017 with a degree in anthropology and a minor in arts and heritage administration, also with taking extra classes in Spanish and human resources. During her time at USI she participated in Gamma Phi Beta, interned at Cultural Resource Analyst, INC., and volunteered for the Boys Scouts of America along with other organizations. Taylor is currently working on an MA in Archaeology at Eastern New Mexico University in Portales, NM. He master's thesis project is titled A Geospatial Analysis of Blackwater Draw Locality 1 Archaeology. In addition, Taylor has worked as a Graduate Assistant at ENMU, at the ENMU Agency for Conservation Archaeology, and at the Blackwater Draw Site. She has also volunteered at Blackwater Draw museum.
Ashlynne Bender
Class of 2017
German Studies major, and Sociology minor, class of 2017, Ashlynne Bender, used her skills for understanding people to work in Human Resources in Talent Acquisition for a Fortune 500 company upon graduating. After a year of loving her work, she took her passion for German, and new passion for talent, and moved to Leipzig, Germany, to begin a 1 year training program for the German American Chamber of Commerce California, where she worked as a Senior Program Coordinator, connecting international students to internship opportunities in the United States. After the completion of her training program, Ashlynne began her position as Assistant Director of Student Placement for Indiana University's Hamilton Lugar School of Global and International Studies, where she prepares students studying languages, international studies, etc., for their professional careers around the world. Ashlynne is excited to continue to help students understand the importance and versatility of language and international studies skills, and how these skills contribute value to various jobs and careers.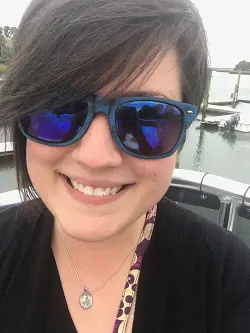 Jessica N. Keller
Class of 2017
Jessica N. Keller, Class of 2017, graduated with degrees in Anthropology and International Studies and minors in Spanish, Psychology, and Gender Studies. While studying at USI, she worked as the Spiritual Diversity Project Intern and as a Student Research Assistant for the Sociology department. Jessica also spent a summer serving in Costa Rica as a Global Engagement Intern. She is currently completing a master's degree in Applied Anthropology at the University of North Texas.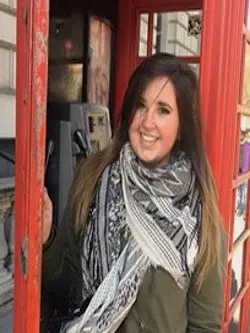 Emily Smith
Class of 2017
French Studies and International Studies major, Emily Smith, worked as a Project Manager at OSK Marketing's New York City branch. She began working here through an internship she learned about from the World Languages and Cultures Department, which then developed into a full-time position. She had the opportunity to put the international exposure and competence she gained USI (in her coursework and while studying abroad for a semester in France) to great use! Pictured here in Los Angeles and London, Emily enjoyed the opportunities this position afforded her to see and more fully experience the world. Currently, she is senior producer at We are BMF, a global-integrated creative marketing agency.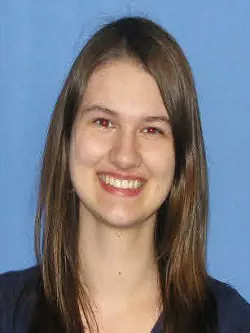 Natalie Kobe
Class of 2017
French Studies Teaching major, Natalie Kobe, Class of 2017, taught French for several years at the Signature School in Evansville, IN before joining Washington University School of Law in 2021. She is currently a J.D. Candidate and will be completing her studies this fall.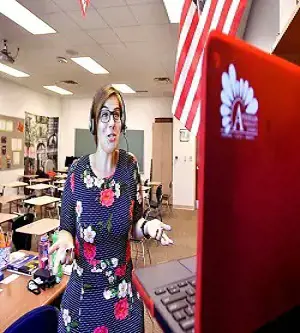 Lauren Prazeau
Class of 2016
Lauren Prazeau, French Teaching Major, Class of 2016, taught French at the Cap Cana Heritage School in the Dominican Republic. Lauren has benefited from a wide variety of international experiences. As a student at USI, she studied abroad in France for a semester and served as a paid international engagement intern teaching English in Rabat (Morocco). After graduation, she taught for a semester as a middle and high school French student teacher at the International School of Panama before joining Cap Cana Heritage School. Lauren also taught French at Greenfield-Central High School in Indiana and then abroad in Malta. Recently, she began working in charter sales for a Switzerland-based aviation company, Comlux.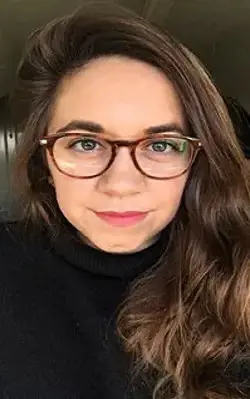 Rachael E. S. Porteous
Class of 2016
French Studies and History major, Rachael E. S. Porteous (née Schumm), Class of 2016, is currently pursuing her PhD in Scottish Renaissance History at the University of Glasgow. She continues to use her French skills as she conducts research for her dissertation on "The continuity of playing through the reigns of James IV, James V, and Mary Queen of Scots." Rachael received her Masters in 2017 and recently taught a course entitled "Scotland in the Millennium".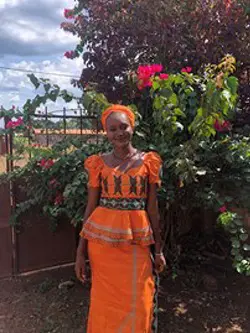 Tiguidanke Diakaby
Class of 2015
French Studies and International Studies major, Tiguidanke Diakaby, Class of 2015, recently completed the Masters in International Education program at NYU Steinhardt School of Culture, Education, and Human Development. She also volunteered in the Peace Corps (in Tibati, Cameroon) for 2 years. Currently, she works in Chicago as Outreach Coordinator with a community action agency, CEDA. 
Anthony Lang
Class of 2015
Graduating with a B.A. in German at USI helped me not only ignite my historical and linguistic passion and discover my own heritage (through being able to read and translate documents), but also allowed me to communicate with German coalition forces while training as a Commissioned Army Officer. German also allowed me to 'shrink the globe' and share my love of Star Wars with fellow fans within the 501st Legion. Through studying German with Doctors Rode and Berg, I gained the confidence to make mistakes, learn from them and become better from them; public speaking became easier; my confidence grew and I truly believe I am who I am today because of the level of effort and care they put into me achieving my education.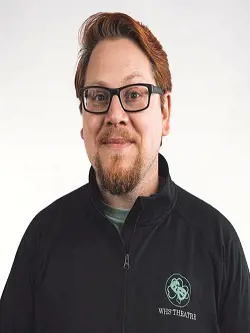 Lance Grubb
Class of 2015
French Studies Teaching major and MASPC masters graduate, Lance Grubb, is currently teaching French at Westfield High School in Westfield, Indiana. He leads the Globalizing the Classroom PLC which focuses on increasing culture in the classroom and directed the first ever "Global Fair: Passport to the World" event at WHS to promote the diversity of the student population through food, music, and dance. When he isn't teaching, he also is the staff sponsor of WHS French Club, which focuses on developing students' communication skills and cultural understanding outside of the classroom. This student-led organization has more than doubled in size since his start in 2017. As if teaching full-time, leading a PLC, and sponsoring French Club wasn't enough, he is also the new Co-Director for the WHS Theatre Department, which is performing Les Misérables, High School Edition this spring. Lance says that he uses what he learned from his years at USI to increase the intercultural competence of his students while making language learning a fun and exciting experience for all. Through participating in this diverse Master's program, he feels that he was able to tailor his degree to meet his future goals while experiencing the wide variety of classes that USI has to offer. His advice to students thinking about the Master's program is to go for it because the program offers you a unique experience to broaden and enrich your future.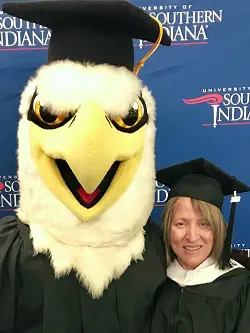 Christi Atherton
Class of 2014
French Studies and English major, Christi Atherton chose to continue her education in USI's Master of Arts in English program. However, she was able to tailor the program to her interests in French by focusing on French literature in many of her class projects. Her knowledge of French was especially crucial when an opportunity arose to study a set of French correspondence held untranslated for many years in USI's Rice Library. These letters, which had been donated by Evansville native and WWII veteran Kenneth McCutchan, led Christi to develop an independent study class to translate the letters and read French and English literature associated with the letters and time period. She chose to pursue this project for her graduate thesis work, which focused on the French correspondents and their experiences, successfully completing her Masters in 2018. Christi is now expanding her research on the project—research which may include a trip to France!—and hopes to publish her work in the future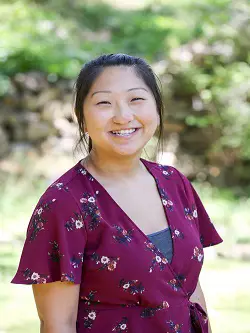 Kristin Gates
Class of 2010
German and International Studies major, Class of 2010, Kristin Gates moved to New York after graduation for an internship with a German PR & marketing agency, where she was able to apply and enhance her German skills daily. After a business trip out west left her hooked, she relocated in 2016 to Montana to work in marketing for the Montana Office of Tourism. She was recently accepted into a masters program in history at the University of Montana and hopes to pursue the next chapter of her career in public history.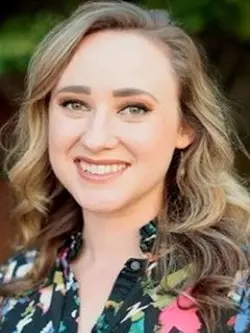 Heather Offerman
Class of 2009
Heather Offerman graduated from USI in 2009 as a Spanish major and psychology minor. Heather went on to teach Spanish courses and complete her Master's (2014) and PhD (2020) degrees in Spanish Linguistics at Purdue University, with a two-year contract in between both degrees teaching Spanish and English courses at a university in China (2015-2017). She worked at Davidson College in North Carolina as the Lower Division Coordinator and a lecturer of Hispanic Studies. Currently, she is Assistant Professor of Spanish at the University of Arkansas. Her research focuses on phonetics, phonology, second language pronunciation teaching, second language acquisition, and curriculum development.
In her time at USI, she enjoyed taking an array of literature courses from Dr. Hitchcock and Dr. Huerta, as well as grammar and history with Dr. Latorre, which helped to broaden her worldview and philosophically challenge her way of thinking. She eventually found her love of linguistics taking a course in Spanish Diction with Dr. Rosas Mayén her senior year. The faculty at USI were crucial to her success in her career through their support and encouragement of graduate school and of her endeavors to become a professor."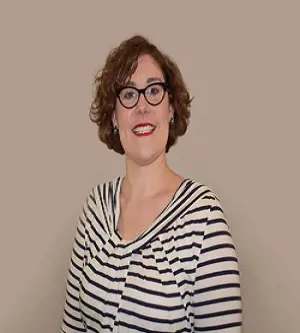 Danielle Cundiff
Class of 2009
Danielle Cundiff graduated from USI in 2009 with a degree in biology and Spanish. She then went to medical school at the University of Pikeville Kentucky College of Osteopathic Medicine. After graduating in 2014, she started family medicine residency at Union Hospital in Terre Haute, IN. Danielle traveled to Ecuador on a medical mission trip while in residency where her degree in Spanish helped communicate with the locals. Currently Danielle is a practicing family physician as well as assistant chief medical officer at Valley Professionals Community Health Center, a rural Indiana community health center, near her hometown. Throughout Danielle's time at USI her experiences through the Student Ambassador Organization and other clubs helped her gain immense leadership abilities that help her in her role now.