The purpose of the USI Geriatrics Workforce Enhancement Program (GWEP) is to improve health outcomes for older adults in underserved communities of southwest Indiana by developing a workforce to maximize patient and family engagement and integrate geriatrics into primary care.
---
Explore the GWEP
---
Meet the USI GWEP
The University of Southern Indiana GWEP is helping provide innovative models of care and education that support growth and development across the lifespan.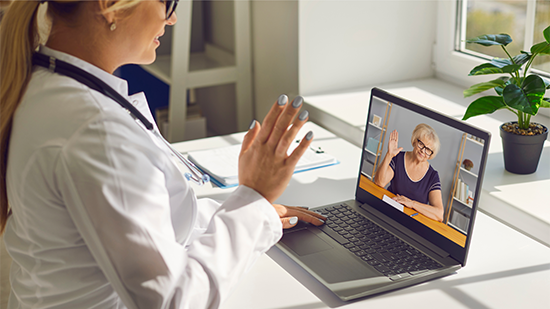 Telehealth Initiative
The GWEP is launch an exciting new telehealth project with Deaconess and the Evansville Vanderburgh Public Library on May 15 to improve access to healthcare for older adults.
---
Announcements
---
Help us Celebrate National Caregivers Month!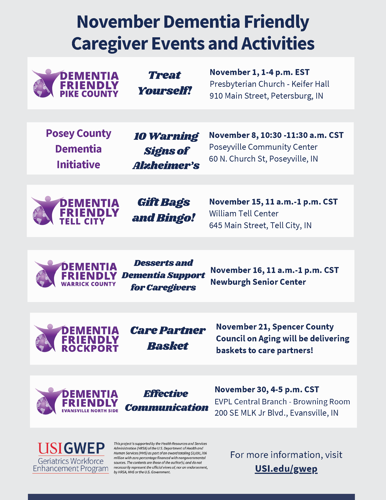 The USI GWEP is helping local Dementia Friendly Communities plan events to celebrate National Family Caregivers Month.
Download the full schedule and check our events calendar for more events and resources for caregivers.
Learn more about Dementia Friendly Communities in southwestern Indiana!
---
New Social Services Designee Certificate
Starting this Fall, the College of Nursing and Health Professions will offer a 15-credit, five-course Social Services Designee Certificate. In the Social Services Designee program, students will gain the knowledge and understanding of the health care social worker, their purpose and function, including regulation and processes applicable to public and private sectors. This certificate can be obtained in conjunction with any field of study at USI. Click here to learn more.
GWEP-CC Case Study: The Journey to Age-Friendly Primary Care

A case study written by the USI GWEP has been published to Geriatrics Care Online (GCO) as a new resource to other practices interested in the Age-Friendly movement. The authors are Dr. Kevin Valadares, Professor and Chair of Graduate Health Administration at the University of Southern Indiana, and Robin Arnold, GWEP Clinical Quality Improvement Analyst with Deaconess Clinic, Evansville.
Becoming an Age-Friendly Health System entails providing a set of four evidence-based elements of high-quality care, known as the "4Ms," to all older adults in your system: What Matters, Medication, Mentation, and Mobility. In the USI GWEP's case study, Valadares and Arnold focus on the What Matters component of the 4M structure through a multimodal advance care planning (ACP) initiative within a primary care clinic.
Learn more about the GWEP and ACP
Graduate Certificate - Administrator-in-Training (AIT) Residency Program
The first two students to enroll in USI's Graduate Certificate – Administrator-in-Training (AIT) Residency Program have passed the National Long Term Care Administrators Board (NAB) exam on their first attempt and have accepted jobs as health facility administrators in southern Indiana.
---
New Activity Professionals Certificate
The Activity Professionals Certificate Program aligns with the University of Southern Indiana (USI) mission/strategic plan and USI's federally funded Geriatric Workforce Enhancement Program (GWEP) initiative by increasing the educational programs to prepare students for a career working with older adults.
This program enables USI students to acquire a certification by successfully completing four classes. The certification increases their knowledge and marketability while supporting the workforce needs in the state of Indiana.
The USI GWEP reached out to its network of academic nursing program partners and nursing home partners to develop a strategic proposal of the use of FY 2022-23 Nursing Staff Training in Nursing Home Care Supplemental Funding.
The Nursing Staff Training in Nursing Home Care supplemental funding will support several initiatives focusing on nursing homes:
Dementia Curriculum: A Dementia-Focused Nursing Home Orientation designed for certified nursing assistants, nurses and other nursing home staff members. Learn more
Age-Friendly Curriculum: Coming soon
Nursing Home Staff Education, Recruitment and Retention: Our nursing home partners will utilize the dementia curriculum and the Age-Friendly curriculum, and one staff member from each nursing home will receive the Dementia Live® coach certification. To address resilience, partnering nursing homes will select one staff member to be trained as a Mental Health First Aid Instructor. After receiving the instructor status, these individuals will host a course for nursing home staff members focusing on mental health concerns.
---
Meet the Team
---
---
This project is supported by the Health Resources and Services Administration (HRSA) of the U.S. Department of Health and Human Services (HHS) as part of an award totaling $3,691,706 million with zero percentage financed with nongovernmental sources. The contents are those of the author(s) and do not necessarily represent the official views of, nor an endorsement, by HRSA, HHS or the U.S. Government.