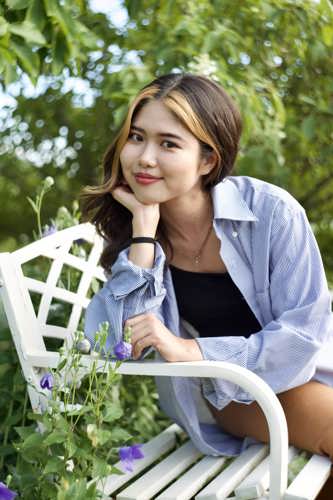 Written by Miyu Arakaki, Student at the University of Southern Indiana and Graduate Assistant at the GWEP  
I am currently studying business for a master's degree with a data analysis concentration. I chose this subject because I became interested in the field of business after I finished my undergraduate degree with a major in liberal arts in Japan. While attending my undergraduate university, I realized that utilizing data and information is essential to success in this rapidly changing society.   
My role at the GWEP includes overseeing the budget and funds for a variety of projects and allocating resources to implement new events or projects. I also manage the Twitter account of the Bronstein Center and advertise the GWEP's events and activities to students.  
I utilize what I have learned from my marketing and accounting classes for my work with the GWEP. For example, I have learned how to attract people through social media and how to reach out to students who may have some interest in the GWEP's projects. Moreover, I work on improving the GWEP's budget tracking system, and I implement new methods to make it more efficient and easier to understand.    
The experiences and knowledge that I have gained from working for the GWEP help me in so many aspects of my life. As a student, along with taking business classes, I am also the president of the Japanese Club. In this role, I try to organize the club in a similar way that the GWEP is organized, with students and faculty working together in an open and cooperative environment. I have been so impressed with how GWEP employees work together closely while remaining transparent through regular staff meetings. My entire GWEP experience has aided me in my studies, especially accounting, marketing and business management areas.  
I would like to utilize what I have learned in my future career by implementing the GWEP's methods of working on projects through cooperation and mutual respect between with team members, especially when tracking data and information carefully and accurately. I recently received a job offer from a steel trading company in Chicago, where I will start working after I graduate. That job's duties include bridging the gap between suppliers and local merchants and being accountable for tracking inventory and other information related to sales. Due to the responsibilities of this job, I have been working on improving my abilities in cooperating with team members and keeping track of large amounts of data and information. I feel as if my work with the GWEP has been beneficial in helping me create strategies I may use to perfect my ability in these fields.