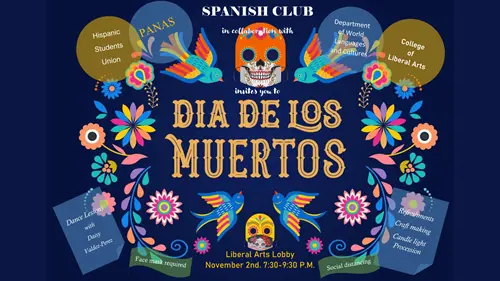 Día de Los Muertos Celebration
After a year of presenting the seminal holiday of Dia de Los Muertos virtually to the campus community, Drs. Norma Rosas Mayen and Manuel Apodaca-Valdez, both professors of World Languages and Cultures, were happy to celebrate the custom in person in 2021. See the photo story here.
10th Annual Day of the Dead Celebration
October 2019
Interview with Associate Professor of Spanish, Dr. Manuel Apodaca-Valdez
World Languages and Cultures
The Day of the Dead (Spanish: Día de Muertos) is a Mexican holiday celebrated throughout Mexico, in particular the Central and South regions, and by people of Mexican heritage elsewhere. The multi-day holiday involves family and friends gathering to pray for and remember friends and family members who have died, helping support their spiritual journey. In Mexican culture, death is viewed as a natural part of the human cycle. Mexicans view it not as a day of sadness but as a day of celebration because their loved ones awake and celebrate with them.
---
Q: Why do people celebrate the Day of the Dead in other countries?
The Day of the Dead, or Día de los Muertos, is embedded in roots of Mexican culture; it is an ancient tradition that is more than 500 years old. It began in the Mesoamerican culture especially among the Aztecs, the last empires of the Aztecs, and the Mayans.
It is part of Catholic tradition and other Christian religions and celebrated in places like Mexico, Guatemala, Salvador, Honduras, and the United States, of course, because there are many Hispanic and Mexican American people that live here. They want to continue with this tradition because it's part of their heritage.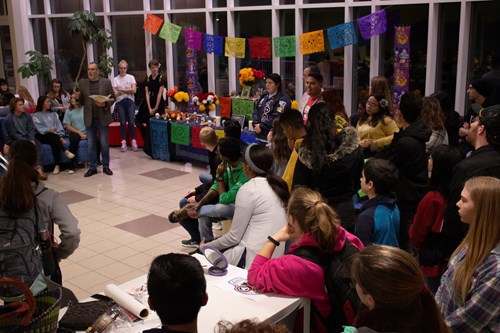 A large crowd attended the 2019 event
Q: Do only people in Mexico and of Mexican heritage celebrate this holiday, or do other countries in Latin America celebrate it also?
The Day of the Dead begins November 1st and, in most countries (especially Western countries) it is common to find big celebrations. Latin America, Europe, and Canada also celebrate but in different ways, not necessarily in the way of the Mexican tradition.
In Mexico, Central America, and the southern United States, the Day of the Dead tradition includes setting up colorful altars (called frendas) to the dead which include flowers, photos, mementos, and food. We combine tragedy with celebration because it is a combination of recognizing death and life at the same time. One moment someone might be crying and in the next they could be dancing! In Spain, it is not celebrated in this way, rather, Day of the Dead is treated as more of a religious celebration. People are visiting the cemeteries, bringing flowers to the dead, praying, and setting out candles.
In both celebrations, it presents a different view than the traditional way of understanding death by American people of Anglo-Saxon backgrounds. For them, there is a fear of death, but the Hispanic Mexican American and Mexican-Central American people do not fear it the same way. It is almost like they feel an attraction to death because of the mysterious enchantment it casts over people. They prefer to not see death as something terrible.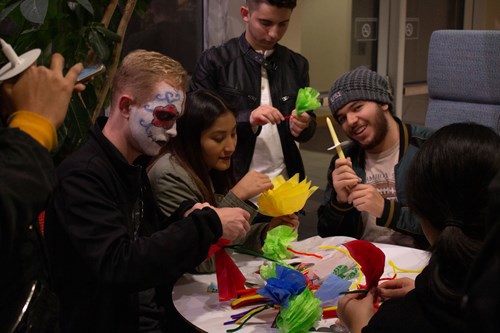 The Day of the Dead event includes many traditional crafts as a part of the celebration
Q: Why is celebrating this holiday so important to people?
Several reasons: love of the departed and passed away, it is an expression of love and recognition, especially for family. You may have in mind the memory of those you loved very much, and they are not with you except for those two- or three-days people believe the dead really come back and visit and celebrate with us. The second reason is that this event is an expression of cultural identity for many Mexican and Mexican Americans.
Q: How many years have you been hosting the Day of the Dead Celebration at USI?
This was the 10th year we have held the event, with support from the College of Liberal Arts and help from organizations like the Multicultural Center, the International Club (iClub), and the Student Government Association.
The attendance, there was a very good turnout of students, faculty, people from outside of USI, families, people from the community, and even students from local high schools.
We provided fruit, punch, and cookies at our event but, more typically for the Day of the Dead, people will eat the Bread of the Dead. It is a big loaf of sweet bread and has eggs, flour, and is decorated on the outside with bones or dolls especially for this holiday.
Each year, groups of students in the Spanish Club make sugar skulls and invite other students to decorate the skulls with icing. Unfortunately, you could not eat them though! There was also paper flower making, coloring, and Latino dance lessons such as the Salsa, Bachata, Merengue, and Latino country music dancing.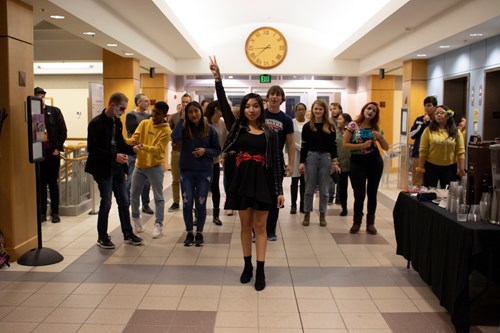 Latino dance lessons are provided to attendees
Q: In your opinion, why is this event important for USI students to know about and celebrate?
To me, this event fosters diversity and cultural awareness on campus. This is important because our mission at USI is to create more diversity on campus. This event is organized by minority student organizations like the Hispanic Student Union, international students, and Latinos Unidos, giving these students a way to express and communicate their culture. You can tell the students really enjoy this event, and they play a large role in organizing and planning this event.
Q: Did you add anything new to the celebration this year opposed to previous years?
This year we organized a candle procession and walked to the labyrinth to encircle it, staying very silent for about 15 minutes to honor all the victims of the mass shootings. I said a few words during the procession and I could tell the students were very engaged in this activity. I, myself, am concerned with all the mass shootings that have happened during the last 10-20 years that I have been living in the United States. I am worried about it in schools especially; these shootings have been some of the most criminal things I've ever seen and experienced.
Other countries I've been to, such as India and places in Latin America, have gun control. Here, we have almost no regulations compared to these other countries. People need to be more conscious about this issue. We need to spread awareness about this problem.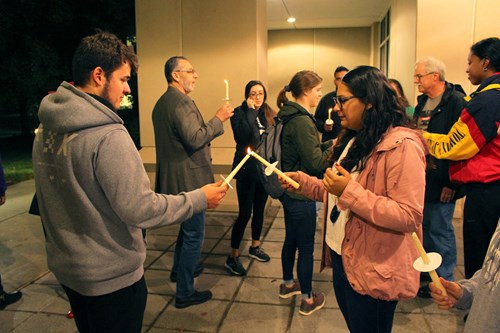 New this year was a candlelight procession honoring the victims of mass shootings
Q: Do you think people taking iconography from the Day of the Dead and incorporating it into Halloween is offensive? An example of this would be people painting the sugar skulls on their face as a costume.
Not at all. The combination of influences from Halloween and Day of the Dead, although they are two different traditions, is happening more and more – especially in America. They borrow a lot of ideas and concepts from each other. As a matter of fact, in the past it was uncommon to see face painting. This only became fashionable in the past two decades or last fifteen years because the Day of the Dead had been replicated and portrayed in different ways in westernized movies, such as the James Bond movie, Spectre. This movie actually inspired Mexico City to host a parade during their celebration of the Day of the Dead.
Looking again at the borrowing of ideas, the popular movie Coco took a lot of aspects from Day of the Dead traditions, such as music and character designs. The movie did a good job of recognizing the original celebration. It also reinvented and elaborated on the original tradition. For example, the movie incorporated alebrijes which are sculptures of fictional and magical characters. In the movie, the dog Dante was an alebrije that came to life. Alebrijes are figures that before Coco, were not as frequently recognized as part of the Day of the Dead tradition but now they are. This borrowing and trading of elements from one culture to another is called "transculturation." This is a normal process of the evolution of cultures.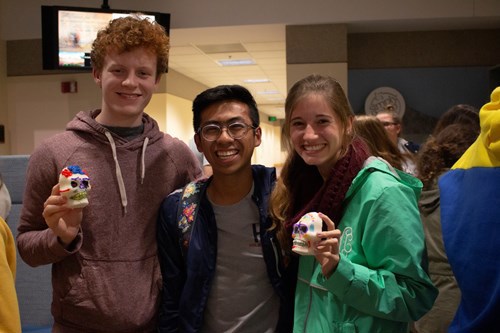 Students pose with their sugar skull creations
---
Written by Leah Flake