Carrying the Charms: Review of Ada Limón's The Carrying and Keetje Kuipers's All Its Charms
Amie Whittemore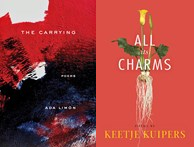 Reviewed: Ada Limón's The Carrying (Milkweed Editions, 2018) and Keetje Kuipers's All Its Charms (BOA Editions, Ltd., 2019)
I have never wanted to be a mother and find little solace in the idea of setting up house with a domestic partner; yet, despite my psychic distance from the experiences of parenthood and partnership that ground Ada Limón's The Carrying and Keetje Kuipers's All Its Charms, I found both collections radically comforting as they situated domesticity, its pleasures and challenges, as feminist responses to the environmental and social threats that abound: caring for each other, for ourselves, for our families and home-scapes are forms of resistance in both collections.  
Both poets deal with parenthood and pregnancy, and the speakers in both books are cognizant of their role as daughters as well as (would-be) parents/caretakers and how these roles inform each other. In "The Raincoat," Limón's speaker recounts a childhood of back problems, and how "My mom would tell me to sing /songs to her the whole forty-five-minute / drive to Middle Two Rock Road" and back.  Later, the speaker finds herself on her way to "another spine appointment, singing along / to some maudlin but solid song on the radio" realizing this is the marvelous gift of mother-love—the ability to care for herself. This inner strength fortifies other relationships that infuse the collection, particularly that with the speaker's husband, but also with in-laws and step-parents, with neighbors and animals.  
In the epistolary poem "Spring Letter from the South," Kuipers's speaker writes to her mother of a visit to the southern United States where
                                                    …magnolias
collapse their heavy bosoms against
                each roof's pitched elbows. Everything
the baby does—proclaiming song-words
                       to the birds, commanding trees
                                    to hold still or spill their guts—
is magic I haven't given up on yet.
The speaker in this poem highlights one of the central anxieties in All Its Charms: how do we, as a species, embrace the uncertain and difficult future, while harboring within us multiple pasts—prismatic and tender as they are painful? For her and Limón, the love of family, particularly of mothers, provides a sustaining balm.
However, these speakers' relationships to their mothers are complicated by their own desires to become mothers themselves: in Limón's collection, her speaker comes to grip with multiple failed attempts at becoming pregnant. Kuipers's book also spends some time with the pursuit of pregnancy, particularly as a nontraditional mother (as part of a lesbian partnership) though, for her, this process results in the birth of a daughter. In "Would You Rather," Limón's speaker reflects on her and her husband's reaction to their childlessness, after a game of "would you rather" with her nieces and nephews:
You said our Plan B was just to live our lives:
more time, more sleep, travel—
            and still I'm making a list of all the places
I found out I wasn't carrying a child.
In this poem, as in others, "carrying" carries with it a double meaning; the speaker is carrying an absence as much as a presence: the weight of grief counterpoint to the absent weight of a child. How do we carry both? Limón's speaker is tentative in offering solutions, the poem swirling into questions as it reaches its end, where the speaker remembers seeing a seal below the Golden Gate Bridge, "the last time" she learned she wasn't pregnant. She asks her husband if he remembers the seal "alone in the churning waves between rock and shores? Didn't she seem happy?" Is seeming happy the same as being? Does the speaker seem happy, alone as the seal is alone, with all she carries? In this poem, and in both these collections, happiness is rejected—or if not quite rejected, set aside—as an end-goal. Happiness is insignificant in the face of tragedies, near (as in "A New National Anthem" in Limón's work) and far (as in "Donetsk" in Kuipers's). Passion, devotion, anger, growing things, being present—all these seem more urgent and sustaining than happiness in these women's poems.
Limón's poem "Maybe I'll Be Another Kind of Mother" elaborates on the question of motherhood as the speaker, reflecting on a group of mothers "talking about their kids, their little time-suckers," notes that she'll "be elsewhere, having spent all day writing words / and then at the movies, where my man bought me a drink." Here, the speaker settles into her life, even if it's not the one she envisioned, and this comfort is reflected in the formal shift between "Would You Rather" and "Maybe I'll Be Another Kind of Mother." The former is a series of often-indented couplets, which are often interrupted by other stanzaic lengths/structures, indicative of the turmoil at the center of the poem; the speaker is not at ease here. "Maybe I'll Be Another Kind of Mother," with its taut couplets, speaks to the solace of the union the speaker has with her husband, with this life where branches give way "to other green branches, everything coming back to life." Still, it ends in a single line, a paean to grief's persistence.
As the seal and tree in these two poems suggest, Limón is in close conversation with the nonhuman world; Kuipers similarly engages closely with landscape (a theme worthy of further investigation in both collections, for those of you with time and inclination). In "Landscape with Child," the speaker admires evening's approach with her daughter: "The bats come on at dusk, playing between / the pine trunks, shadow puppets cast against / the lake's silvering surface. I hold you: harp / and harpist..." Through the metaphor of "harp and harpist," Kuipers limns the complex relationship of parent to child: while a harpist doesn't birth a harp, it figuratively comes to life in the harpist's hands, trembling into song; furthermore, without a harp, what is a harpist? This examination of identity and purpose is the poem's central conflict. Later in the poem, Kuipers writes "Your absence / is impossible, unimaginable. // You can't ever be gone from me." In this moment, these two collections arrive at the same locus of loss: the longing to be a parent merging with the longing to always be one, the child never born converging with the child who will someday die.
Both poets' speakers confront the loss of a child at an angle as well, in poems that memorialize the death of young people tangential to their lives.  Limón does so in "The Dead Boy," where the speaker and a friend discover a young man dead of an overdose in his dorm room: "Later I found out his name was Griffin, / part lion, part eagle, named for the king / of the creatures, named the guardian / of riches." And though he carried such a symbol-rich name, Limón's speaker continues, "I did not / feel like I was laying down a lion, or a king, / or an eagle, but a poor suffering son..." Similarly, Kuipers's speaker mourns the death, by suicide, of a young woman in her community in "On the Haunted Hayride with Audrey:" "Audrey, I don't have to be your mother / to be furious with you," she tells the dead girl. In these twinned moments, we see these women commune with other mothers, see them offer other sorrows as counterpoint to their own: whatever they have lost, neither of them has had to bury a child, and for both, that type of loss is nearly unspeakable, edged with anger: Limón "hate[s] these words and the drug that dragged" Griffin to his death; Kuipers wants to yell at Audrey's ghost: "get down from there / this minute! Stop scaring me half to death." These deaths then serve as reminders of the randomness of life, in both its bounties and its burdens, these deaths as inexplicable as the riches Limón and Kuipers explore in other poems.
While these poets acknowledge loss as woven into life, they also suggest that continuing to live remains our only solace. In "Picking Huckleberries as the World Ends," Kuipers writes,
                                               ...It's not the end,
love, though when it comes, I hope we'll shelter in
the consolation of touch, that human habit you and I
have fallen out of. If there's another way to live
on this earth, let us be brave and find it together.
Here, and throughout the collection, like Limón, Kuipers finds comfort and security in domestic partnership; indeed, both their collections feature a poem titled "Wife." However, these comforts are not without their complexities. Limón's speaker in "Wife" examines the patriarchal history the word ferries with it and thus her discomfort with it: "Wife, why does it / sound like a job?" or wife, "A word that could be made / easily into maid." Kuipers's poem is also a feminist examination of wife-hood, as her speaker meditates simultaneously on being a wife and addressing her wife,
my body over the stones making a robe
of seamless understanding: a comfort not  
unlike forgiveness. Tell me if this is the promise
you've been waiting to untie like a knot.
In both these poems there is a slipperiness of being identified with a role and the failures that come with trying to fulfill those roles. In dealing with these intricacies, both poets shift from self-examination toward addressing the beloved: Limón's speaker "cries / in the mornings," and
         ...wants to love you, but often
isn't good at even that, the one who
doesn't want to be diminished
by how much she wants to be yours.
Here, the speaker fears being subsumed/consumed by the role and by her failures within it (which is reflected, formally, by the choice to contain these anxieties in a single stanza, the division between spouses physically obscured on the page), as well as by her own need to belong with the husband, despite the fraught associations she has with wife-hood. Kuipers's speaker experiences a similar, though more lyrically imagined, conflict, opening the poem: "Butterfly wing, shark's tooth, quill. // What if I don't want to be human anymore…?" In this poem, Kuipers's speaker seeks seamlessness, with the world as well as with her wife, while acknowledging that such communion doesn't come easily or without tension, which is also evoked formally: the poem oscillates between couplets and single lines, reinforcing the poem's central tensions between connection and distance.
In reading these collections in close proximity, I found myself charmed and carried. Charmed by these poets' wit, their deft handling of both personal and political material, and carried by what are, despite the sorrows embedded in both texts, are joy-rich, nurturing books. Both are dedicated to life's ongoingness, as indicated by the many poems in both collections that are titled with present participles: four poems in Limón's collection feature a single present participle (i.e. "Trying" and "Mastering") as a title and five poems in Kuipers's collection begin with a present participle (i.e., "Digging Out the Splinter"). These are books written from the juicy, terrible, wonderful thicket at the center of life. If, as W.H. Auden suggests in "September 1, 1939," "we must love each other or die," Limón and Kuipers are on board for the task, feisty and bold, ready to employ their muscular love—for self, family, others, and world—with honesty about its limitations and the verve to overcome them.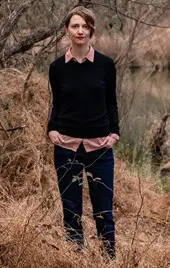 Amie Whittemore is the author of the poetry collection Glass Harvest (Autumn House Press). Her poems have won multiple awards, including a Dorothy Sargent Rosenberg Prize, and her poems and prose have appeared in The Gettysburg Review, Nashville Review, Smartish Pace, Pleiades, and elsewhere. She teaches English at Middle Tennessee State University.