Amy Woolard's Neck of the Woods
Reviewed by Mary Ardery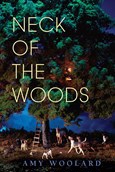 While Amy Woolard delights with wordplay in Neck of the Woods (Alice James Books, 2020), this is first and foremost a book of substance. There is something lurking in these poems of the American South, especially a history of violence.
One of the defining features of the book and Woolard's idiom is that things aren't what they seem. She makes frequent use of familiar phrases, slightly altered. In "The Blueprint," there is an echo of the Big Bad Wolf when the walls of a house are all "the better to lose yourself again // My dear." In "Get Lost," there is an echo of fellow Southerner Flannery O'Connor when we read: "A good porch is hard to leave." In "Person Familiar with the Situation," one of the book's final poems, we get: "Our history repeals itself." The cumulative effect of these slightly altered phrases is intentional. Woolard is making a familiar world unfamiliar. She is opening our eyes to the violence we don't see because we're accustomed to it.
The South is so alive as a character in the book partially because the setting is so often personified. "The fat rain ... gives its best advice" in the poem "Leading." A truck's windshield is "smitten with insects" in "Get Lost." The weather and manmade objects have agency and feelings. What's frightening, and the crux of the book, is when the opposite happens. Woolard's similes show people, specifically girls, with their agency stripped away. In "No Place Like Home," we're presented with "prom- // Fluffed girls like sugar roses on grocery / store sheet cakes." Not only have these girls been likened to inanimate objects, they've become edible, delicious, something the wolf would surely devour.
In the three-page titular poem, we get a morgue-like callback to that image: "Frosting on a cold cake. Both girls breathless in their own bodies now." Earlier in the poem, we read: "Two girls ride ruthlessly / Beside one another—one filthy as a story, the other filthy // As a storyteller." Both girls are implicated by the shared descriptor, but the idiomatic tone suggests that "filthy" is the label of society more so than it is the speaker's opinion, as if their crime is simply for existing as girls. Though when that fine distinction of "story" versus "storyteller" is made, it also raises questions of ownership and responsibility.
It is a slippery poem inspired by a slippery world. In the beginning the speaker describes them as "two girls," then later in the poem an "I" appears; the speaker becomes one of those two girls. And the other girl? The other girl is "gotten gone...an inside job." There is grief in the book and there is guilt, both heightened by the other. How do we reckon with our own culpability—real or imagined or both—in a world saturated with violence?
Bo Schwabacher's Omma, Sea of Joy and Other Astrological Signs
Reviewed by Claire Wahmanholm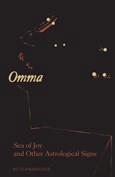 My rice is watery.
          Associative of Addition: (a + b) + c = a + (b + d)
          I looked this up on yahoo.com: 당신을 사랑합니다
So begins the opening poem of Bo Schwabacher's debut collection, Omma, Sea of Joy and Other Astrological Signs (Tinderbox Editions, 2021). As the book's anchor, "Confessions of an Adopted Asian American" promises bluntness, directness, honesty. It promises vulnerability, a strong voice, self-awareness. Confidence in both senses. We get all this and more from Omma. We lean closer, even though this book is hard to read, is not interested in making trauma (sexual, domestic, racial) palatable. Schwabacher's voice is punchy, lean, and dross-less. It leads us through both figurative and literal journeys as the speaker reckons with alienation (from an ancestral homeland, an ancestral language, a body, a self) and abandonment. In "Junnam Province, My Birthplace," one of the book's early poems, Schwabacher writes, "I am only beginning to fold/ my birth records into paper airplanes."
This reckoning is slippery. In poems like "Geometry," the speaker admits that "[t]he moon shifts with integral calculus/ as does my understanding// of what it means to be loved," and asks "[w]hat is the volume of a childhood//where you heard I love you/ but did not feel seen? What is the area of a house with leaks?"
The speaker realizes that untangling these knots will require turning both backward and inward; will require connecting to her past in a way that had previously been denied to her. This enterprise is bittersweet. The speaker acknowledges that "less than 3% of adopted Koreans find their mothers" ("Rice Cake Idioms"), but reconnecting to her ancestral customs and rituals allows her mourning to become productive: "now, I'm/starting to//see my/options—//how making/red bean paste//for sweet red/bean buns is//like making/room for my//dead, a séance" ("An Adopted Korean Girl Plans Out Her Future Feelings—A Ritual").
The poems themselves become a way to suture the sores of abandonment and betrayal; their lines function as threads, flung out relentlessly across a wound to draw the edges together into something stable and honest and secure. This is, ultimately, a book of healing, even if that healing is incremental and uneven. It is a perpetual, hopeful project. There is both love and sweetness at the end: "Rest easy, mother," Schwabacher writes in "Rice Cake Idioms." "I have been offered seconds,/ you could love the sticky rice steamed in lotus leaves,// the sweet-jewels I eat in bed."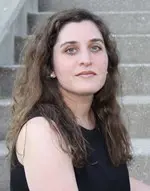 Mary Ardery is originally from Bloomington, IN. Her work appears or is forthcoming in Missouri Review's "Poem of the Week," Fairy Tale Review, Prairie Schooner, Poet Lore, and elsewhere. She holds an MFA from Southern Illinois University-Carbondale, where she won an Academy of American Poets Prize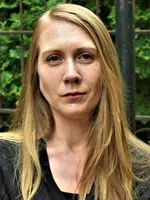 Claire Wahmanholm is the author of Night Vision (New Michigan Press 2017), Wilder (Milkweed Editions 2018), Redmouth (Tinderbox Editions 2019), and the forthcoming Meltwater (Milkweed Editions 2023). Her work has most recently appeared in, or is forthcoming from, Ninth Letter, Blackbird, Washington Square Review, New Poetry from the Midwest 2019, Good River Review, Descant, Copper Nickel, and Beloit Poetry Journal. She is a 2020-2021 McKnight Fellow, and lives in the Twin Cities.