Netting Beauty: A Review of Nazifa Islam's Forlorn Light
by Amie Whittemore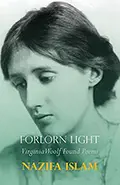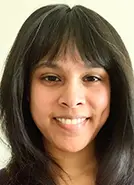 I read Nazifa Islam's Forlorn Light: Virginia Woolf Found Poems (Shearsman Books, 2021) with an open and eager heart: Virginia Woolf is one of my favorite writers and I was curious about Islam's approach to her work. Drawing from Mrs. Dalloway and The Waves, Islam has crafted a beautiful collection. Often when reading Woolf, particularly The Waves, I have gotten weighed down by the density and complexity of Woolf's prose. Islam has netted beauty from these two texts, not so much simplifying but crystallizing Woolf, homing in on some of the central motifs from both texts to create something that is at once its own as well as in conversation with its origins.
Divided into three sections, the collection explores the meaning of self, particularly in relation to others, as well as in relation to its own growth, shaky foundation, and even its obliteration: there's a way in which, by crafting this "self" through erasure, the constructed, and thus unstable, nature of self emerges in these poems. Most of the poems are from The Waves and rely on a first-person speaker, whereas the ones from Mrs. Dalloway are in third person, exploring a seemingly romantic relationship between a man and woman. And, while there is some forward momentum across the book's sections, its energy is certainly more recursive than linear—demonstrating an affinity for Woolf's own disruption of linear plot.
The poem "Where They Sat" illustrates some of these central themes:
          He left her years ago. He had expressed
          being with her as unending suffering
          so his coming back
          in this moment is puzzling
          and her voice is not laden with honey.
          He had been her future.
          He was delight itself.
          A reluctant intimacy—in recollection
          of the past glides into her heart
Here, we see the tension between the masculine and feminine voices that inhabit some of the poems and their problematic "reluctant intimacy." Throughout the book there is a sense that their affinity is fraught, and the poems convey the relationship's end. The female speaker must discover who she is outside the bounds of relationship. In a later poem, "Cast Down," the speaker notes:
          I will my sense of self to me
          before it perishes.
          Grasping my glass heart tightly
          I emerge among the others
          exultant as chaos.
I see these fragments of narrative as a foothold to larger existential questions: How do we maintain a sense of self "before it perishes"? How do solitude and companionship shape this sense of self? Like the sourced novels Islam draws on, these poems are invested in how language—and perhaps a desire for beauty, for beautiful language—shapes these questions and the self.
Thus, another way to read the collection is as an ars poetica. Throughout the collection, the poems directly reference poetry: "The morning they parted he scolded her / for having the pink makings of poetry in her"  ("Never Eternally"); "How strange, this poem / how whirling" ("I Know Permanence"); and "I am a bright wild poem" ("To Clasp Flowers") are just a few examples. These references reinforce the idea of the self as something structured, though wobbly; as something "exultant as chaos" that must, somehow, be contained, or face its own vanishing—all issues, and qualities, that seem at the heart of poetry (or at least, this poet thinks so).
The collection suggests that the self is something susceptible to erasure, which particularly comes across in the third section of the book. For instance, in "With Anticipation," Islam writes, "I have lost the appearance of / somebody whole and only feel // a prickly blankness." And, later in "Separate," she writes "I am bone and paper and green hours. / I am nothing. I grow / afraid because there is no end in view." In these moments, the young, heartsick self we meet in the first section has been transformed by experience, has come to doubt identity as reliable—has come, in some ways, to be erased.
Erasure—of other's work, as well as of the self—is tricky business. In "Absent Things As if They are Present," Jeanine Vanasco writes, "if plagiarism is to steal the style or expressed thoughts of someone else, then erasure is a psychological lobotomy of personal identity. The erasurist can change another's work until it is no longer itself." By transforming The Waves and Ms. Dalloway into Forlorn Light, Islam has conducted such a lobotomy (though I am of two minds about the violence that word suggests) of the texts as well as of the characters that inhabit them—in a way the speakers in Forlorn Light are fragments or echoes of Mrs. Dalloway and the sextet of friends who narrate The Waves.
Solmaz Sharif examines the violence inherent in erasure poetry in her essay "The Near Transitive Properties of the Political and Poetical: Erasure." In this essay, she suggests that while there are aesthetic and political motivations for erasing another's work, these erasures are uncomfortably aligned with the erasures/redactions of political documents: a voice is being silenced through restriction and manipulation. Sharif lists both political and aesthetic/poetic reasons for erasure, and of these, to "Care for what is left behind so that erasure has an additive or highlighting effect" and/or to "Render incomplete a text to invite collaboration between reader and text" seem the most applicable to Islam's work, which amplifies themes from Woolf's texts and invites collaboration; indeed, Islam states in her afterword that these poems "feel like an homage to this writer I so admire as well as a way of authentically expressing my lived experience."
Any discussion of erasure is a discussion of authority: Who owns a text? Who has the authority to change it, to make decisions about it? Does erasure, by making the inherently appropriative and palimpsest nature of writing more explicit, make it, somehow, more authentic? These questions lead to more questions: Does Forlorn Light silence Woolf, even if it is also an act of homage (are these necessarily mutually exclusive)? Is erasure always problematic, as Sharif suggests, or if done well and thoughtfully, as Vanasco asserts, might erasing be writing, that "style is the consequence of a writer's omissions and the writer is always plural." And how does gender, race, and ethnicity play into all of this?
Discussion of erasure is the discussion of power and, in many ways, that is at the core of Islam's collection: Who has power over us, and how is such power—permeable, shifting, gratifying as it might be—also detrimental? While on the surface, this collection feels like a series of crushingly beautiful lyrics, I believe there's something sharper and seething at the core, something like, as Islam writes, "rage screwed up in a knife" ("While I Breathe"). Here, I'll return to "Separate," one of the last poems of the book, where Islam writes "I have no beauty. / The shock is endless." The search for beauty seems aligned with the search for self, for meaningful identity; erasure calls into question this premise, complicates it. Forlorn Light is an experiment in poetic craft, in creative reading, and the pluralistic nature of writing; it raises more questions than it answers, in its green hours and red hauntings.
---
 

Nazifa Islam is the author of the poetry collections Searching for a Pulse (Whitepoint Press, 2013) and Forlorn Light: Virginia Woolf Found Poems (Shearsman Books, 2021). Her poems and paintings have appeared in publications including The Missouri Review, Blue Mesa Review, Gulf Coast, Entropy, The Believer, and Beloit Poetry Journal.

​

 
Amie Whittemore is the author of the poetry collection Glass Harvest (Autumn House Press), Star-Tent: A Triptych (Tolsun Books, 2023), and Nest of Matches (Autumn House Press, 2024). She was the 2020-2021 Poet Laureate of Murfreesboro, Tennessee, and was named a 2020 Academy of American Poets Poet Laureate Fellow.