His Chorus Gathers Itself: Review of Matt Morton's Improvisation without Accompaniment
by Sam Ross

Reviewed: Improvisation without Accompaniment by Matt Morton (BOA Editions, Ltd., 2020)
The back copy for Matt Morton's debut collection Improvisation without Accompaniment describes a book that traces "the rhythms of life for a young man growing up in a small Texas town." A reader might expect poems in this vein to tend toward the austere, sun-bleached, or washed out. Yet Morton has produced something different: more opulent, saturated, and crowded. "Again the chorus gathers itself on stage," the book's opening poem "Republic" begins, and motifs of stagecraft and performance continue to appear throughout: jazz, pageants, masters of ceremony, parade elephants, parties. One imagines the book's trains—another motif—upholstered in crushed velvet, packed with passengers on their way to a masque. "I have been to the circus on only one occasion," Morton writes in a poem, unconvincingly.
But Improvisation is neither stagy nor kitschy, navigating the entrances and exits of emotions without performativity. The speaker's associative imagination continually breaks through the container of its environment, often driven by an internal struggle between patience and restlessness, as in the beginning of "Wavelength":
          That feeling won't fit in a tackle box.
          It won't sit still in a safe. Impossible,
          you'd think, for a single dream to reopen the wound
          cauterized by years, until the figure emerges
          cinematically from the tree-line swept with fog.
and later in the same poem:
          Soon we'll be leaving this city for good,
          Though it seems we just arrived.
This sense of momentum permeates Improvisation's poems, their seemingly off-the cuff pronouncements guided less by representational realism than a kaleidoscopic but familiar dream logic and emotional coherence. Morton has a great skill for the objective correlative, which I understand as the conjuring of complex feelings through images, as in the nearly elliptical elegy "Pinwheel Floating on Water": 
          Bluebonnets overwhelm an overpass. A charred field,
          a swan. For years, the smell of vanilla may remind you
          of a large hole in the earth. Little far-flung black star.
The vitality and frequently startling beauty of these images is present throughout Improvisation, particularly in the book's third section (out of five), which is comprised entirely of "Elegy for My Brother in the Wilderness." This long poem weaves familial elegy, the myth of Actaeon, and the speaker's vivid dreamlife, which is populated by Charlie Chaplin and Josef Stalin (among others) at a garden party. If that sounds contrived, even twee, it isn't. In the myth, a hunter is killed by his own hounds after being transformed into a stag by the goddess Dianna, whom he glimpsed bathing. "Even in the myth the dogs had names," Morton's speaker notes, continuing, "he had raised them as pups, / hunting with them so often he no longer recognized them as his own." Morton continues to build energizing lines such as these with an assured confidence that propel the poem up to and through its devastating climax.
I think Improvisation is also interested in the place of the individual and the imagination when set against the social, the familial, and even the historical, as in another of the collection's standout poems, "Self-Portrait as Oswald's Ghost Addressing the Warren Commission." A dramatic monologue stripped of punctuation, the poem guides the reader through an anxious accounting of Texas boyhood and an adult's sense of life lost to the forces of history's swelling tides: 
          "…all of it a life
          connected by a pattern drawn on the land a code
          as if planted there some time before me conspiring
          to lead me through a life that wasn't mine at all"
The poem's voice recalls both the vulnerable opening chapters of Don Delilo's Libra and the noir elusiveness of Gary Oldman in Oliver Stone's JFK, yet its affecting humanity strikes a particularly interesting—perhaps frightening—contrast to our current era in which the appeal of conspiracy has devolved from the juicy metaphorical pulp of early 90s X-Files into an altogether bleaker and more nihilistic nightmare imaginary, one devoid of even the idea verifiable truth (see Nick Drasno's haunting graphic novel Sabrina).
"Let us not forget to play" Morton reminds the reader in another poem, so that we might "skillfully escape the handcuffs // of solemnity." Morton's book is playful and unsolemn, but it is most certainly of substance. Indeed, it delivers both the unfussy ease promised by its title and the most profound consequences of real life: grief and beauty.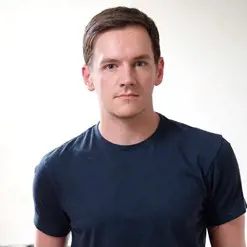 Sam Ross is the author of Company, selected by Carl Phillips for the Four Way Books Levis Poetry Prize and winner of the 2020 Thom Gunn Award for Gay Poetry.