The Meter Reader: Two Reviews
by Nina Murray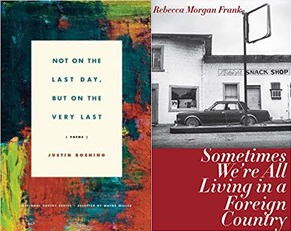 I read two collections back-to-back, and perhaps for that reason, feel caught in a dialogue between them. Justin Boening's Not on the Last Day but on the Very Last (Milkweed, 2016) is a book-length act of brinkmanship—in relationship to time, emotion, and self.  The speaker skirts—rather than inhabits—time; savors the temptation on the edge of authenticity, belief, commitment.  The realms of his own imagination, sentiment, or memory are also prone to sliding into (negligible?) multiplicity:
"This story is not the story
I'll tell my children,
but more like a bowl
of water divided into bowls,
more like tilting
porcelain stacked
in a sink."
The constant play of approach to and retreat from ownership and meaning can make readers fear they are being trapped. The trap is virtuosic, to be sure, but it is also made of cynicism, reflections of self upon grinning reflections of self. What ultimately saves the book is the elegiac magic of the moments in which one begins to forget oneself and knows it. 
In contrast to Boening's spectacle of balancing, Rebecca Morgan Frank's Sometimes We're All Living in a Foreign Country tests the physics by which the masses are measured.  Frank's lines find their own cadences, take ownership of foot-falls, the flapping of wings, the tedium-pacing noise made by a traveling car's tires on the seams of a long bridge. She is in the business of measuring—measuring out time, but also measuring up—against built environments, memory, habit.  Frank's speaker finds, "I want no part of their world, nor they, mine." Faced with the daily routine's autotelic march, the speaker—and with her, the reader—finds the deepest [MOU4] kinship with a heart that wants to be "among books / untouched."
by Nina Murray

 Nina Murray is author of Minimize Considered (chapbook, Finishing Line Press, 2018) and Alcestis in the Underworld (forthcoming, Circling Rivers Press). Her poetry has appeared in numerous journals, including Ekphrasis and The Harpoon Review. Her translations from Russian and Ukrainian include Peter Aleshkovsky's Stargorod, and Oksana Zabuzhko's award-winning The Museum of Abandoned Secrets. She grew up in Lviv, in Western Ukraine, and holds advanced degrees in linguistics and creative writing. As a member of the U.S. diplomatic corps, she has served in Lithuania, Canada, and Russia.