Tending to Volatile Lives: A Review of Kate Durbin's Hoarders
By Sunni Brown Wilkinson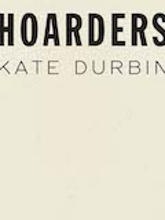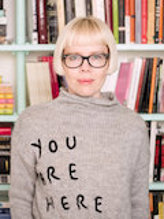 hhh
Kate Durbin's Hoarders (Wave Books, 2021) introduces the reader to 15 different hoarders, each with their own backstories, crises, and fetishes. While each shares the same coping mechanism, and each poem lends itself to the same form, both Durbin's craft and the subjects themselves are surprising and rich.
From the first poem, Durbin creates a form she uses throughout the book: a fragment of dialogue completed by a list of hoarded objects. Those objects range from cats to books to plants to dolls, and the hoarders themselves are as varied: men and women in geographically diverse locations, couples, divorcees. Ronnie of Las Vegas, the first neurosurgeon of Nevada, is rich and collects in order to be remembered. Hannah of Bothell, Washington literally saves shit and piss thanks to her "septic problem." Craig's hoarding, like many hoarders, appears trauma-based, and stems from his father's violent neo-Nazi ideologies.
I'm Craig, I'm 58 years old, and I'm tattered American flag next to a boot
Later,
At dinner one day he asked me how I liked his food and I said, it was good Dad, and he goes, I'm glad you liked it because that was your pet rabbit wind blowing through a hole in the ceiling
The homes themselves are like the casings of memories, traumas, mental illnesses, longings each person holds within themselves, as if the home is the body.  
And though Hoarders is based on the TV show of the same name, this is no voyeuristic, finger-pointing reality show. What grows from each story are snapshots of trauma and pain, a microscopic view into 15 worlds and their catharsis in tending to objects, or at least giving them a home. It humanizes the spectacle.
By the end of the book, it feels impossible not to empathize with each person. They cease to be "other." Even the title Hoarders seems to turn in on itself. "Hoarders" is a label we've given people, but the book really gives voice to the disenfranchised people society has collected and used up or ignored in any number of ways.
Gary of Franklin, Indiana, a former paramedic who was forced to retire early, admits that collecting plants helps him feel like God. He recalls memories from his job he wants to forget:
Lifting a skinny kid in a Cinderella nightgown who drank her parent's medication they use to help with their addictions dead orchid held to a stick with gauze, reflected in a glass gazing ball from Home Depot
And later,
This is your job, you should be tough, you should be able to manage kitchen table filled with cooking pots of water and ivy; tiny gnats swimming in the shade of parlor palms
The objects in each poem can be both literal and metaphorical, witnesses to what simultaneously heals and breaks each person. Gary keeps a hospital gurney in his home to transport his cacti carefully. He respects their complex, volatile lives and shows a tenderness for them. Durbin does the same for her subjects. This collection is as compassionate as it is honest.  
| | |
| --- | --- |
| | Sunni Brown Wilkinson's most recent work is featured or forthcoming in Missouri Review, Terrain, On the Seawall, New Ohio Review, Western Humanities Review, Sugar House Review, and South Dakota Review. She is the author of The Marriage of the Moon and the Field (Black Lawrence Press, 2019) and The Ache & The Wing (winner of Sundress Publications' 2020 Chapbook Prize). Her work has been awarded New Ohio Review's NORward Poetry Prize, the Joy Harjo Poetry Prize, and the Sherwin W. Howard Award. She teaches at Weber State University and lives in northern Utah with her husband and three sons. |
| | Kate Durbin is an artist, writer, and filmmaker from Los Angeles, California. Durbin's books include Hoarders (Wave Books), E! Entertainment(Wonder), The Ravenous Audience (Akashic Books), and ABRA (1913 Press). Kate's work has been featured in The New York Times, The New Yorker, The Atlantic, Art in America, Art Forum, The Believer, XO Jane, Nylon, Casa Vogue, Yale's American Scholar, NPR's Morning Edition, The Creator's Project,  Public Art Dialogue, and elsewhere.  |