The Broad Scope of Contemporary Poetry: Review of Ashley M. Jones's dark / / thing and Julia Guez's In an Invisible Glass Case Which is Also A Frame
Amie Whittemore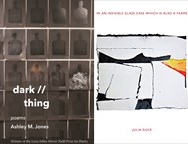 Reviewed: Ashley M. Jones's dark / / thing (Pleiades Press, 2019) and Julia Guez's In an Invisible Glass Case Which is Also A Frame (Four Way Books, 2019)
If one could choose their poetic parents, I'd want to be the lovechild of Elizabeth Bishop's acuity, Dean Young's irreverence, and Lucie Brock-Broido's bewildering lyrics. While I'll spend a lifetime trying to achieve that trifecta, I was fortunate enough to spend the last weeks of summer with two poets who speak to my capacious desire for clarity, humor, grit, allusion, and enigmatic leaps. In Ashley M. Jones's dark // thing and Julia Guez's In an Invisible Glass Case Which is Also A Frame, both poets are in conversation with the past and its complicated inheritances, with current sociocultural trends, as well as with the self as a site of discovery; yet, their explorations are structured in remarkably different ways, making the act of reading them together marvelously evocative.
Jones's poems are preoccupied with issues of race, gender, pop culture, place and the historical contexts in which these concerns are embedded. She moves from incisive indictments of white supremacy to loving tenderness toward herself, her family, and pop culture icons such as A Different World's Dwayne Wayne, weaving humor and tragedy together deftly. Jones is an accomplished formalist; not only does she work in established forms, both recent (there's a couple partial golden shovels) and historical (sestinas, a villanelle, and an ode for instance), she invents forms herself (geometric theorem as poem, for instance, and a 'slurret," a sonnet-ish form, which Jones conceives as a "retaliation against the literary canon." This interplay between inheritance and invention, between freedom and confinement, not only calls to task the literary canon and the ways it has been complicit in white supremacy and patriarchy, but also rebels against these oppressions: the caged bird, after all, sings fiercely of freedom.
Several poems use black manhood as a site to explore these themes. For instance, in a poem early in the collection, "My Grandfather Returns as Oil," the speaker considers the complications of direct and indirect knowledge: "I only knew my grandfather / through stories, through the darkness / seeping out of my grandma's tender eyes," whereas her grandfather's children "knew him / as the throbbing print of his hand on [my grandmother's] cheek, on her nose, just soft enough to break." This handed-down knowledge of her grandfather's abuse, makes the speaker question what she's inherited: "is that your blood creeping through my heart— / rage viscous and unyielding, crude and dangerous as oil…?" This clear-eyed curiosity about—and often indictment of—history, and the negative repercussions it has on self, family, and community, is present throughout the collection; however, Jones also offers moments of celebration and triumph as counterpoint.
For instance, in another poem focused on black manhood, "To the Black Man Popping a Wheelie on Interstate 59 North on 4th of July Weekend," the speaker celebrates this audacious motorcyclist:
I move my car to your lane, just to catch
a speck of your sweat, glean some of the cool
from the air passing over your helmet,
under your billowing shirt.
I wonder, does this make us more free?
You, the empty road, your blackness
making room for itself here, taking up space
By the end of the poem, the black man moves from "taking up space" to entering it: the speaker imagines him as he slips "onto the runway / and take off into the air, / sprout black feathers and eclipse the setting sun—[.]" In this ending that doesn't end—no period stops this line, the poem's final sentence—Jones's speaker points towards a vision of blackness that "eclipses" the "glossy shadow[s]" of "My Grandfather Returns…;" this vision is one of expansive, exclamatory power that moves beyond rage into the sublime without losing its sociocultural context, without ignoring the many forces that attempt to make this man, and Jones's speaker, 'less free.'
While these gestures toward the sublime are often associated with black men in the collection ("Songs of My Muhammed" is another example), Jones's speaker also shares in these moments; the sonnet(-ish) crown "(Black) Hair" offers one of these moments in its final section. Here, the speaker, who in early sections of the poem feels limited by her hair, now characterizes it as "a little black crown, a circle, one curly arm reaching out to grab itself, unbent by the wind or the tourniquet of a pink foam roller or the hungry teeth of the hot, hot comb….When I finally cut it off, I was bigger than my hair, bigger than the curls weaving into themselves atop my head. When hair goes, the spirit doesn't go with it." Here the speaker claims this expansiveness she witnesses in others for herself.
Indeed, one of the things I admire most about this collection is how participatory the speaker is; while sometimes engaged in acts of witness to both the humorous and the horrifying, she is also a participant, for instance, by personifying history (she enters the voice of Harriet Tubman), or examining her own complicity, as in "Imitation of Life." In this poem, the speaker thinks she sees an animal in the road, though it turns out it was "just a lifeless sheet of polyethylene." This is what "scares me most," she writes, "that I didn't even swerve / to avoid it, / its body, real or not, / inching across the asphalt." In this quotidian moral dilemma, we are shown that "the only difference / between living and dead / is a trick of the light." Here, the slender space between grief and joy, freedom and confinement is shown to be illusory: grief overlays every joy, and every freedom is defined by what attempts to confine it; we must live here, together, in this palimpsest, Jones's book suggests, asking us as it does so, to be better, to be deserving of these smart and gracious poems.
While also smart and gracious, Julia Guez's poems inhabit a vastly different ecosystem from Jones's. Whereas Jones's poems are grounded in place (particularly her home of Alabama), Guez's poems seem to reside in, as the title suggests, "an invisible glass case." They are of this world, but removed from it. They are brainy. They are difficult; my multiple readings leave me feeling as if I can only approximate understanding of this project, of the movements across the book's three sections. Still, the beauty of the language, the intelligence guiding it—I trust these. These poems allow me to be pleasantly bewildered.
Guez evokes this comfortable discomfort through a speaker who is at once enigmatic and straightforward. In "What It Might've Been Like to Come of Age in the South," the poem begins, "the truth, I want to say, is as follows. / But I can't," immediately assuring us that the speaker is as uncertain, even perplexed as we are by the poem, its conditional premise: why "might" this be a coming of age story? Why isn't it one? The rest of the poem is a single sentence distributed across multiple lines, where the speaker suggests that the struggle (of coming to age?) is (?) a matter of "not finding // enough // gentleness and/or humor / to go on," creating problems for even "the nimblest / interpreter." Here we receive a partial ars poetica for the collection as it navigates anxiety, despair, and a pervasive sadness, with gentleness, humor, and a sense that any language used to describe being alive is an act of translation and interpretation and thus fallible and partial.
Like Jones, Guez relies on formal structures to heighten her thematic concerns; both poets put their own twist on these formal constraints/guides. For instance, Guez includes two Epithalamiums, or wedding poems, in section II, but they are destabilized interpretations of the form; while, historically a "song of praise for the bride and bridegroom," there is only a vague sense of praise in the first "Epithalamium:"
Moon over Massachusetts, you are so civil.
You exceed expectation.
We can do without a week in Martinique,
Glenlivet and cunnilingus:
this is not a film.
As this excerpt suggests, this poem is not particularly exuberant in its praise; consisting of four couplets, three of the six verbs are "to be" verbs, the rest are "exceed, can, and need," suggesting that the action associated with a wedding exists in the tension between being and striving. However, those actions are not characterized with much hope: within the poem's six sentences are three negatives: "without," "not," and "no." The poem even begins with "Leave the lily alone" (emphasis mine). This restraint, this queering of expectations surrounding marriage and poems in celebration of it, renders visible the "invisible glass case which is also a frame:" we are shown how our expectations around form limit form's possibilities (just as, our expectations around marriage may also limit our experience of that state…). The poem, if it praises anything, praises inhabiting this liminal space, this geography where expectation is confounded by the fundamental weirdness of living.
The final section of Invisible Glass Case… is half the length of the prior two, consisting of only six poems (rather than twelve). It is also the most hopeful section, its slimness, perhaps, evoking the precarity of that hope. The opening poem of the section, "Ambiguous Gifts, As What the Gods Give Must Be," begins by listing why this "must be" the way with the gods' gifts, which "owe much, in our case / to Kalder and Brahms, // Kistler's Cuvee // Elizabeth and sex with the same person // over a period of many years—" and transition into considering "every last schism between // our physical wills and our actual / capacities." Thus, Guez sheds some light on the collection's poems, which are also ambiguous gifts: the poems themselves inhabit the "schism" between the physical and the abstract, between what can be said and what can be only 'framed.' And, yes, anxiety, exists in this liminality, as much of the book contends, but so does epiphany (as in "Katabasis"), awe, and, even, sometimes, despite ourselves, joy.
To read these books side by side is a celebration of the broad scope of contemporary poetry. I loved reveling in Jones's nods to Family Matters and A Different World as much as I enjoyed looking up many new-to-me words in Guez's collection. Through Jones's narratives and Guez's lyrics, both poets accomplish what I most relish in poetry: they help me understand the human condition by reminding me we harm ourselves when we harm each other, that we each are culpable and complicated, that we all reside in some measure of ambiguity, in the boundary waters of the (un)knowable.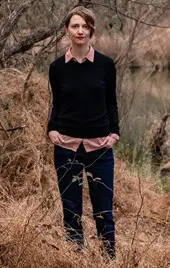 Amie Whittemore is the author of the poetry collection Glass Harvest (Autumn House Press). Her poems have won multiple awards, including a Dorothy Sargent Rosenberg Prize, and her poems and prose have appeared in The Gettysburg Review, Nashville Review, Smartish Pace, Pleiades, and elsewhere. She teaches English at Middle Tennessee State University.