Every poem is arguably an ars poetica: Review of Joshua Jennifer Espinoza's I'm Alive. It Hurts. I Love It.
Dorothy Chan

Reviewed: I'm Alive. It Hurts. I Love It. by Joshua Jennifer Espinoza (Big Lucks Books, 2019)
Every poem is arguably an ars poetica. In poetry, the speaker is trying to reach the emotional core and understanding of the subject(s) at hand. While the speaker embarks on this journey towards emotional clarity, the poem itself not only transforms in content, but it also transforms in definition. Poetry is constantly being reshaped, and the book-length long poem is perhaps the greatest display of this idea, as the reader is taken through countless transformations in lines. If every poem contains a volta, or some kind of turn in thought or argument, which moves us towards the poem's emotional core, then perhaps the mark of a good poem is that it contains multiple turns, mirroring the complexity of human experience. Multiple turns also indicate the speaker's honesty and vulnerability: it's never one direct answer. This process of emotional discovery co-exists with the process of poetic discovery, and Joshua Jennifer Espinoza's newly re-released I'm Alive. It Hurts. I Love It. exhibits this idea to the extreme. Espinoza's speaker contains multitudes, and the reader is taken through her raw feelings.
First off, I want to emphasize several structural points that frame this collection. Espinoza's book is comprised of one long poem that spans 56 pages, followed by a shorter poem that works in conversation (and response) with the preceding piece. Importantly, the entire collection is center-aligned, thus placing the queer trans woman's voice at the very forefront—at the very center. We need to honor more queer voices prevalent in today's literary landscape. We need more queer love. We need more queer joy. We need more queer stories. We need more queer centering. Finally, while the speaker uses "i" throughout the layered moments of the book, the letter "i" is interestingly excised from some words that traditionally have "i" in them, for example, "figure" becomes "fgure" and "five" becomes "fve." One of the most curious omissions is how the "i" is omitted from the word "selfies" in "i take so many selfes." We may think about how "I" refers back to the self, and throughout, the speaker questions facets of herself while remaining true to her feelings. 
I'm Alive. It Hurts. I Love It. is a masterpiece. Espinoza's speaker interweaves her confrontations of poetry and gender identity. After all, studying the history of poetics inevitably leads to a confrontation of the problematic and patriarchal interpretations of art. Her speaker calls out the heteropatriarchy, for instance, with the lines "the men sneer 'confessional poetry' / laugh the blood off their hands." Yes, poetry is always evolving. And yes, a major part of this ever-changing landscape is ending these patriarchal norms. Confessional poetry is powerful because the poet not only reaches within themselves, but also projects this vulnerability outwards into the larger political and social issues of the moment. Here, the speaker purposely puts "confessional poetry" in quotations. As the speaker knows, in reality, all poetry is confessional, at least to a degree, because every speaker is revealing something personal. But, importantly, Espinoza's speaker frames confessional poetry because of gender dynamics. Simply put, the men "sneer" because it's "confessional poetry" written by a woman. In addition, these cis males "seize permission to draw the voice / from outside their own bodies," thus asserting not only a binary system, but also a system that steals from bodies that do not belong to them. They also don't ask for permission. They "seize permission."
Again, in good poetry, there is an evident projection outward, delving into poetic issues that actually reflect larger societal issues. Espinoza's collection brings up many questions related to the ars poetica, and the following stanza builds on the problems of gendered coding of confessional poetry:
all I ask for is night sky,
extra clouds,
feeling in my hands,
mania that isn't
only another poem about itself.
I love how the speaker asks for "mania that isn't / only another poem about itself." This stanza is then followed by these lines on the next page, "I don't want to necessarily tell you my name." The critique of the "poem about itself"—the poem that does not use its interiority to confront larger, exterior issues—is then followed by an answer and a reveal: "I don't want to necessarily tell you my name." And there's the volta: right on the next page. The speaker gives us an even deeper reveal. The speaker's feelings are multi-dimensional and stem from the heteropatriarchal governing of women's and trans women's words, bodies, and even names. People with more privilege may casually ask "What's in a name?" or link naming to a casual manner, but Espinoza's speaker, instead, reflects on the emotional significance and ties of a name, of how it rests at the intersection of the interior and exterior, of the self and the world. Another response comes from the speaker, regarding her name:
it was given to me like yours was you
            on the edges of a shock wave
riding its way through spaces we occupy.
how does it feel escaping your lips?
(i don't actually want to know)
if i say my name i name you implicitly
With the discussion of naming also comes the discussion of womanhood and female desire. I admire how Espinoza gets to the core of these desires. I love how she names her desires. I also admire the book's basic framing structure of the violence of men on women's bodies, or as the speaker confesses:
i've noticed when I write about god
with an antagonistic slant
i tend to use he/him pronouns
and when I talk about god
as something more subtle or possibly benevolent
i always use she/her pronouns.
on a daily basis i fnd myself
becoming less and less concerned
with other people's idea of what poetry is
and also with my own idea
of what poetry is.
i am like mark Wahlberg in boogie nights
but instead of having a giant penis
i have a giant heart
and when it metaphorically unfurls from my chest
i am sitting cross-legged on my bed
Once again, the internal self and external world work together to create a larger poetic meaning. The move of "i always use she/her pronouns" when referring to a more benevolent god resonates throughout the book-length poem, from lines like "i was fve different girls at once" to the climax of "my whole day is making myself feel / more like a 'real' girl / and less like a disintegrating one," to another culminating line, "there is a place called woman," and to the ending line of "it's all a part of me and i am in love with it." 
Again, Espinoza's speaker identifies the benevolence of the she/her god rather than the he/him god, and this distinction makes way for landscapes such as a "place called woman" and the multitudes of emotions and characteristics that the speaker unravels. The speaker gets to the root of desire of her queer womanhood, and the book-length poem becomes ars poetica with the turns in the above stanzas, moving from the female god, to the discussion of poetry. The speaker becomes "less concerned / with other people's ideas of what poetry is," along with her own ideas. I believe this rawness of "less concerned" relates to the speaker's acknowledgment of poetry as reveal. The more we learn about our own truths, the less the prescribed rules of poetry apply. The craft of poetry accelerates and evolves in this way. We remake poetry as a reflection of the self. 
Espinoza's speaker's questioning of herself and how she embodies her own womanhood is raw, real, and striking. I admire this book so much—for its questions, such as "where is the woman in me?" and for its queer love and joy:
our love is radical.
our love fucks shit up.
our love storms.
our love breathes.
And I love the epiphany, and I want to emphasize another turn that comes near the end: "i feel like god the day she rejected / prescribed masculinity and started painting / her face with the remnants of stars. // give me a 'I feel alive.'" This move echoes the female god. This move also echoes the "place called woman." In her poetry, Joshua Jennifer Espinoza delves into the internal by moving through the ars poetica—she allows poetry to guide her questions of self. And with these questions of self, the poet then opens up the confessional into the larger societal landscape: questioning modes of heternormativity and prescribed masculinity, thus reclaiming what's rightfully female. In stating that there is a "place called woman" and in asserting that she feels "like god the day she rejected / prescribed masculinity," the speaker celebrates the power of the female voice to its fullest degree. Furthermore, the poet creates her own universe within the work, both internally and externally. The queer voice is placed at the very center, and in the words of Espinoza, this voice is "radical." This voice "fucks shit up." This voice "storms." And this voice "breathes."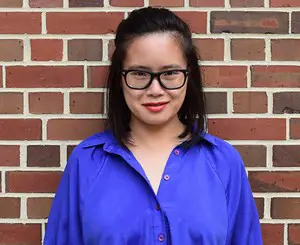 Dorothy Chan is the author of Chinese Girl Strikes Back (Spork Press, forthcoming 2021), Revenge of the Asian Woman (Diode Editions, 2019), Attack of the Fifty-Foot Centerfold (Spork Press, 2018), and the chapbook Chinatown Sonnets (New Delta Review, 2017). She is a two-time Ruth Lilly and Dorothy Sargent Rosenberg Poetry Fellowship finalist, a 2020 finalist for the Lambda Literary Award in Bisexual Poetry for Revenge of the Asian Woman, and a 2019 recipient of the Philip Freund Prize in Creative Writing from Cornell University. Her work has appeared in POETRY, The American Poetry Review, Academy of American Poets, and elsewhere. Chan is an assistant professor of English at the University of Wisconsin-Eau Claire, poetry editor of Hobart, book review co-editor of Pleiades, and founding editor and editor in chief of Honey Literary.