First graduates from USI's MACJ program presented with career-advancing opportunities
by Aubrey Swart '22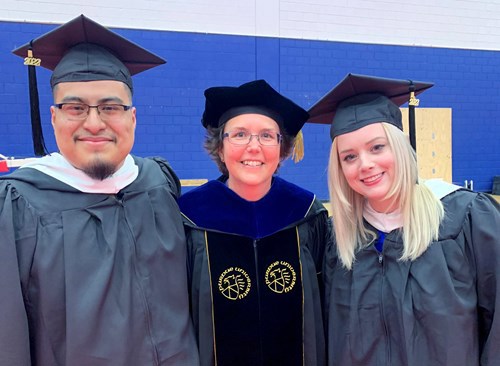 August 2022 marked a pivotal moment in USI's history, as Danny Beckman, Carlos Cruz Luis, and Serena Gravil were the first three students to graduate from USI's Master of Arts in Criminal Justice Program (MACJ). Carlos and Serena, alumni from USI's undergraduate program, were able to walk at the commencement ceremony back in May of this year. Daniel, an alumni from Purdue Fort Wayne (PFW)'s undergraduate program, was unfortunately unable to walk at commencement, however, he is equally as thrilled about being the first to graduate from the program as his fellow graduates.
"We are very excited to have our first MACJ graduates just one year after beginning the program in Fall 2021," explains Dr. Melissa Stacer, Professor of Criminal Justice, and Director of the MACJ Program. "Earning a master's degree is a huge achievement and earning one in just a year is even more so. These students have worked extremely hard to complete the program in the accelerated format while also working full-time. They are already working in the field, so earning a MACJ from USI will help increase their opportunities for advancement."
The MACJ program is designed for individuals who want to advance their careers and knowledge within the field of criminal justice. Due to the 100% online format of the 36 credit hour program, students are able to complete the program at their own pace; the university even offers an accelerated option, where students can complete their degree in one calendar year.
Danny graduated with a bachelor's degree in public administration from Purdue Fort Wayne University. He hopes to use his new MACJ degree along with his current work experience to better his chances at getting a special agent job for a federal law enforcement agency. Recently, Danny turned down a federal probation job and is in the running for a special agent position.
"It definitely feels exciting to be in the first graduating class and hopefully we were able to give the program a good name and show its worthiness to the school," Danny states. "I thought it was a great experience and I am glad I chose USI. I learned a lot from some very knowledgeable professors and was able to connect and learn from other criminal justice professionals around the state."
Serena graduated with a bachelor's degree in criminal justice from USI and currently works at the Vanderburgh County Department of Child Services as a Family Case Manager.
Carlos graduated with an associate degree from Ivy Tech and bachelor's degree in criminal justice with a minor in psychology from USI. Currently, he works at the Vanderburgh Sheriff Office as a Confinement Officer and enjoys the professional experience he is gaining in this position; however, in the future, he hopes to use his MACJ degree to either move up in the ranks or move back to his hometown of Los Angeles and pursue a federal position.  
"For those undergraduate criminal justice majors who are considering pursuing a master's degree, don't hesitate and do it," Carlos prompts. "The MACJ program at USI is the best place to accomplish it…The MACJ professors are incredible and are willing to work with you and set the classes to where you can still interact and learn from other students. The opportunities that you will get with a master's degree are tremendous, so if you are thinking about pursuing a master's degree, don't hesitate and do it!"
For more information about the Master of Arts in Criminal Justice program, contact Dr. Melissa Stacer at mjstacer@usi.edu.


---

USI's Archaeology Field School makes dreams come true at Fort Ouiatenon
With lifetime dreams of becoming an archaeologist and a passion for ancient history, Emily Willis, Spring '22 graduate and anthropology major, wanted to get her hands dirty in an actual archaeological dig. This summer, her dream came true when she and four other USI students were given the opportunity to attend a field school with Dr. Michael Strezewski, USI Associate Professor of Anthropology, and Dr. H. Kory Cooper, Associate Professor of Anthropology at Purdue University. Read more...


---
Faculty Recognition
At its Fall Meeting for employees, the University of Southern Indiana recognized the following College of Liberal Arts faculty members as award recipients. Learn more about their contributions to USI here.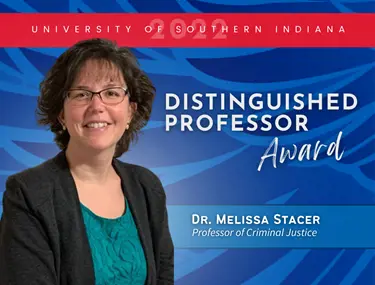 ---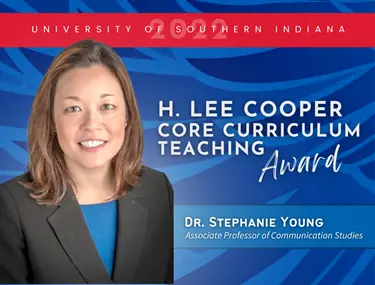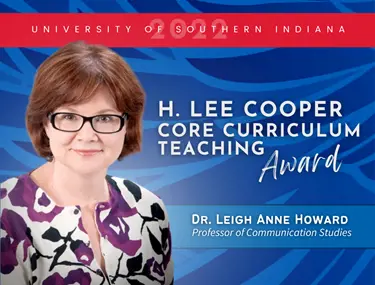 ---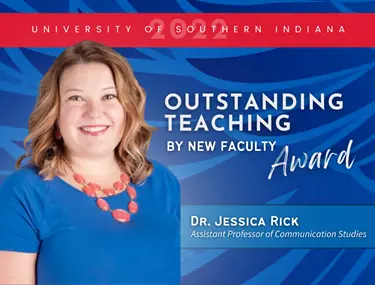 ---

A Word From the Dean
Last month, as I was getting underway at USI, someone asked me, "Do you have any goals for the College of Liberal Arts?"
"I do," I said.
"What are they?"
"Well, I want this to be the best place to study the liberal arts in the Midwest."
"What's that gonna look like?"
It was an excellent question. "I don't quite know yet," I said. "That's something that we need to figure out—the 'we' being all of us: faculty, staff, students, community."
And that's the truth: I have no pre-determined idea of what it looks like, but I do know that I want this place to be the first choice for people to study, learn, and grow. As far as I can see, we're starting with some significant assets: an inspiring faculty; a stylish campus (so much art); New Harmony; and a plethora of genuine, caring people all over, just to name a few.
One approach to becoming "the best" would be to consult U.S. News & World Report to find out who is currently considered the best and then to figure out how to better them using the publication's metrics. To borrow a line from the singer-songwriter Ben Folds, "That's alright, I guess."
A more interesting approach would be begin with the aforementioned question: "What would it look like for USI to become the best place to study the liberal arts in the Midwest?" As a starting point, that question requires an actively engaged imagination—many imaginations, in fact—coming together to do a little thinking from all parts of the brain. In my experience, that process can be a little messy and "inefficient." It's also not always easy because we become conditioned to believe that we don't have permission to think like that. Well, here we do have permission to imagine. You have permission to imagine. I hope that you will, that you'll do so as part of our community, and that we'll all enjoy the process as well as the end result.
​Del Doughty, Ph.D.
Dean, College of Liberal Arts
Learn more about the new dean of the College of Liberal Arts! Getting to know you: Dr. Del Doughty
---
September Events
Social Justice Activism Fair
September 19, 12 - 2 p.m. CST
On The Quad

Global Salon Series
September 21 at 11 a.m. CST
LA 2028
"Peace Corps Information Session with USI's Peace Corps Recruiter Erica Ward"
Liberal Arts Faculty Colloquium
September 23 at 3 p.m. CST
Zoom ID: 983 7038 8951
"Anticommunism as a Tool of Racist Oppression" presented by Dr. Denise Lynn.
---
Save the Date
Your Reproductive Rights after Dobbs
PART ONE: 3p.m. October 4
Zoom ID: 916 8597 1938
What the Indiana Abortion Law Means for Me

PART TWO: 3:30 p.m. October 19 
Zoom ID: 916 8597 1938
The Pregnancy Police: Conceiving Crime, Arresting Personhood
Center for Communal Studies Lecture Series
9 p.m. Thursday, October 20, 2022
Kleymeyer Hall in the Liberal Arts Center
Seeing Like a Commons: A Conversation with Joshua Lockyer
Click here to learn more
USI Theatre Performance
October 20 - 23, 2022
USI Performance Center
The Importance of Being Earnest
Get your tickets here
Liberal Arts Faculty Colloquium
3 p.m. October 21
Zoom ID: 983 7038 8951
"Failure to Appear: A Poetry Reading" presented by Dr. Rosalie Moffett