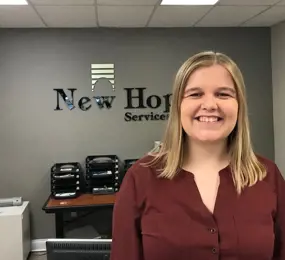 Alumni Spotlight
---
Meet Hannah Kernodle, BS, CLS
Clinic Manager, Health Professional/Nutritionist, New Hope Services, Inc.
USI Degree: Bachelor of Science in Food and Nutrition - Nutrition and Wellness, 2019
From: Columbus, Indiana
Currently lives in: Columbus, Indiana
What is your current occupation?
My current position is the clinic manager and health professional/nutritionist at my local WIC office, New Hope Services, in Columbus, Indiana.
What brought you to USI?
I wanted to be at a campus that felt like home. USI was big enough to get the college feel but small enough for me to feel comfortable. 
Please tell us how the College of Nursing and Health Professions prepared you for your career.
The College of Nursing and Health Professions prepared me for my career by offering the nutrition classes that were required to work as a health professional. It also gave me the opportunity to practice counseling and team building exercises that have been helpful in my current position. The professors were very helpful at USI in helping me find my direction and what I was passionate about. 
Were you in any clubs, organizations, athletics?
I was a part of the Food and Nutrition Student Organization for two years. I was also part of Campus Outreach, a ministry on campus.
What has been your favorite memory of your time at USI?
My favorite memory of my time at USI was the annual Springfest. I would get with my friends and walk around campus to do the different activities and grab the freebies. I also enjoyed the cooking labs in my nutrition courses that helped with teambuilding.
What would you tell someone who is thinking of coming to USI?
If you are thinking about coming to USI, you will definitely enjoy your time there and have a great education experience. I look back at my time there and it was the best time of my life!