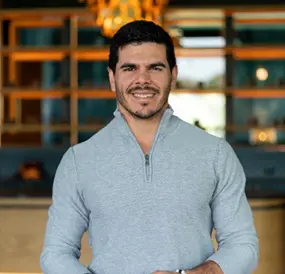 Alumni Spotlight
---
Meet Andres Ayesta, MS, RD
CEO of Planos Nutrition
USI Degree: Bachelor of Science in Food and Nutrition- Dietetics in 2012
From: Caracas, Venezuela
Currently lives in: Tampa, Florida
What is your current occupation?
I am CEO of Planos Nutrition, a nutrition and lifestyle coaching company helping women improve their health and their weight through education and support with registered dietitians.
What brought you to USI?
The Nutrition and Dietetics program. Originally from Venezuela, I was looking for opportunities in the U.S. and after applying for numerous scholarships, USI gave me an incredible opportunity to complete my studies.
Please tell us how the College of Nursing and Health Professions prepared you for your career.
The support and the education I received from CNHP and the Dietetics Program under Dr. McCullough shaped the foundation of my career as a dietitian. From the leadership opportunities as part of numerous organizations to the learning from incredible professors, I developed the necessary skills to become a successful professional in the field of health.
Were you in any clubs, organizations, athletics?
Food and Nutrition Student Organization, Intramural Soccer and the International Student Club
What has been your favorite memory of your time at USI?
My times at the library on a snowy January with a cup of warm coffee from Starbucks looking out the window in the quiet room! That was my favorite memory.
What would you tell someone who is thinking of coming to USI?
USI is the perfect educational environment to not only thrive as a student in academics but also to meet incredible people from students to professors and advisors. USI being a smaller university compared to other major schools around the country makes you feel like you are just not another student among thousands. You feel cared for, particularly in careers within the College of Nursing and Health Professions. I would recommend to anyone that USI is a place you can call home. I am a proud USI Alum!