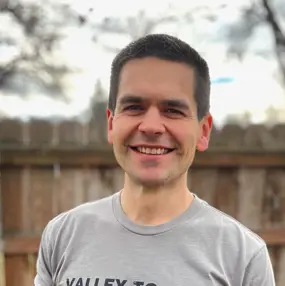 Alumni Spotlight
---
Meet Kyle Kamp, RDN, LD
Owner of Valley to Peak Nutrition
USI Degree: Bachelor of Science in Food and Nutrition - Dietetics in 2013
From: Evansville, Indiana
Currently lives in: Boise, Idaho
What is your current occupation?
I currently own a nutrition consultation business with a focus on helping people to prepare for and perform optimally in the mountains. The name of it is Valley to Peak Nutrition. Right after completing my dietetic internship, I spent a good number of years as a clinical dietitian in a hospital in Boise, Idaho covering general surgery, cardiovascular ICU/Cardio-thoracic ICU, and Telemetry before coordinating an outpatient nutrition program at the same hospital. 
What brought you to USI?
Initially, it was proximity to my hometown (I'm from Evansville). Comfort kept me there. It was very obvious that the professors were patient about the topic of nutrition and genuinely cared about us being successful. It was easy to show up from there on out.
Please tell us how the College of Nursing and Health Professions prepared you for your career.
It prepared me in two ways: First, the intensity of the dietetics program and how to create organization for myself to get it all done still serves me in my current role. Owning your own business requires a lot of self-direction, and that was a skill I developed at USI. The second way was the emphasis on preparation for the required dietetic internship by our professors. There's an ambiguous black hole of unknowns with the internship when you're an undergrad student. You don't really know what it takes to get in, but you know you must do everything possible to make it happen. Dr. McCullough did a fabulous job zeroing in on what I needed to achieve to be accepted into an internship – a good GPA, participation in volunteer opportunities, etc.   
Were you in any clubs, organizations, athletics?
I was a member of FNSO (Food and Nutrition Student Organization) every year I was there – I loved it!
What has been your favorite memory of your time at USI? 
This is easy - the nine ladies in my graduating dietetics class. You spend so much time together the deeper you get into the program that it's impossible to not develop a bond and root each other on. I truly have nothing but great memories of my time at USI. Sure, there were times that were very difficult with the workload (here's looking at you metabolic map!), but in retrospect, it was one of the greatest time of my life. 
What would you tell someone who is thinking of coming to USI?
Regarding USI I would say: "it's a great campus with a university feel, community college class size, and is loaded full of professors who care." As far as the Food and Nutrition/dietetics program itself, I would absolutely tell them to do it. It's easy to think that a small university like USI won't provide the same knowledge base you get at a larger university like Vanderbilt or Ohio State, but that assumption couldn't be more wrong. In my dietetic internship, we had very bright people from all over the country, and there were several topics I was familiar were through the didactic portion of my training at USI that others had never heard of.  USI will equip you more than enough to take on whatever the next step is.