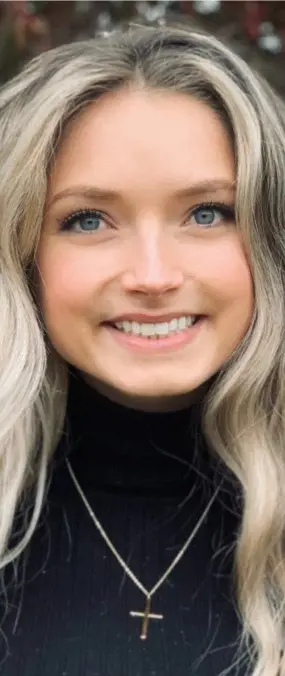 Alumni Spotlight
---
Meet Molly Gilles
Operations Manager/Nutritionist, Profile
USI Degree: Bachelor of Science in Food and Nutrition- Nutrition and Wellness in 2020
From: Newburgh, Indiana
Currently lives in: Nashville, Tennessee
What is your current occupation?
I am a Manager/Nutritionist at a facility called Profile located in the heart of downtown Nashville, TN! I work with 40+ clients during the week to help them achieve their health goals, whether it is losing weight, maintaining weight, or gaining muscle. I also work with mothers who are looking to become pregnant, already pregnant, or breastfeeding. When I have some free time on my schedule, I grocery shop with my clients or go out to get coffee with them. My job is so rewarding, and I love it. I handle business development, so I travel all around Nashville to different businesses and form relationships to create partnerships with Profile. I also work with a lot of doctors to gain referrals of their patients over to Profile. In addition, I have an office at a local country club where meet with my clients. 
What brought you to USI?
I am from Newburgh, IN. It was about 30 minutes away from my home, which I loved because I am super close to my mom. I also loved how pretty the campus was and how friendly everyone was. I actually moved into an apartment with all random roommates, and we are still best friends to this day. The college definitely gave that hometown feel! 
Please tell us how the College of Nursing and Health Professions prepared you for your career.
Without my Nutrition and Wellness degree, I would not be in the career I am today! It definitely provided lots of knowledge about nutrition but also gave me insight into the restaurant industry and a little bit of knowledge with exercise science. I loved my professors, and still use a LOT of what they taught me in my everyday work life!
What has been your favorite memory of your time at USI?
Being able to go to USI for college was an honor because I was able to experience a lot of things that people never get to do in their entire lives. I LOVED doing all of the body fat tests, like the bod pod, and the underwater weighing in the Human Performance Lab. I took the cardiovascular fit test, as well as take a tour of a food factory to see how packaged foods are made. A fun memory that I have was participating in intramurals with my friends! They can get competitive, and it is a great way to meet friends. 
What would you tell someone who is thinking of coming to USI?
I 100% recommend going to USI. Looking back, there is nothing that I missed out on by going to a smaller school. USI gives you everything you need. I received much more hands-on help from the professors at USI than I would have at a bigger school. The great thing about USI and the location is that you are only a couple hours away from bigger schools, like IU, WKU, BSU, Butler, Purdue. If you are ever wanting to do a weekend getaway to experience the tailgate life or a ballgame, you can do that very easily!