Active Shooter Training and CAPS Town Hall
Join us as the College of Liberal Arts partners with Public Safety and the Counseling and Psychological Services Center in response to recent events. Resources will be available to aid in understanding how to respond to an active shooter event and how to get mental health help on or off campus. For questions about the event, please contact Julie Minnette at jminnette1@usi.edu or call 812-464-1735.


Two Sessions Offered:
Wednesday, March 1 & Thursday, March 2
3:30 P.M. - 4:30 P.M.
Kleymeyer Hall
Located in the lower level of the Liberal Arts Center
This event is intended for the USI Community and is not open to the public.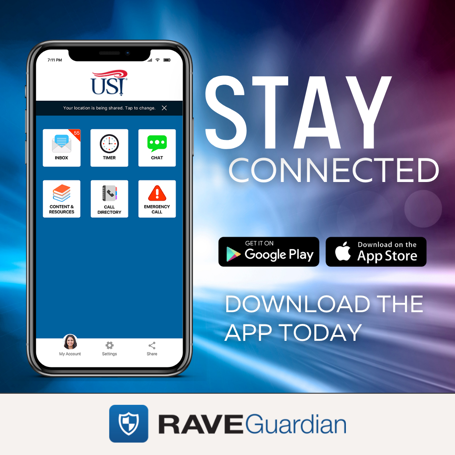 Active Shooter Preparedness Training
Active shooter incidents are often unpredictable and evolve quickly. In the midst of the chaos, anyone can play an integral role in mitigating the impacts of an active shooter incident. USI aims to enhance preparedness through a "whole community" approach by providing knowledge and resources to help you prepare for and respond to an active shooter incident. 
Contact Public Safety at 812-464-1845 to schedule a training for your department.
Anxiety/Fear is a normal response
Although it may seem as if you and your family are numb to headlines about mass shootings, it's very possible that you are not. Many people are likely feeling the stress and even distress tied to each event with every passing day. So, it's worthwhile to ask how we take care of ourselves and our loved ones during these emotionally brittle times.
In an Active Shooter Situation, what should you do?

1
RUN
Flee the scene if it is safe to do so. Leave behind personal belongings and encourage others to follow you to an evacuation route. 
2
HIDE
If leaving the area is not possible or safe, hunker down in a secure location. Block doors and create barricades. 
3
FIGHT
As an absolute last resort, fight back using nearby objects as makeshift weapons. Work together and use surprise to your advantage.
Tips on how best to care for ourselves and others during these times:
Normalize our fears
Find Opportunities for connections
Know your facts
Pay attention to your information intake
Don't skip the good stuff
Get involved in positive change
Getting here
Kleymeyer Hall is located in the lower level of the Liberal Arts Center, next to the McCutchan Art Gallery, on the west side of campus.