Each fall, the College of Liberal Arts engages a speaker for the Community of Scholars presentation aimed at drawing attention to one or more of the disciplines within the liberal arts, to appeal to the general public and to faculty and students by illustrating high intellectual achievement. Programs are of general humanistic appeal with interdisciplinary topics. The speaker is asked to make one public presentation and one presentation to students.
---
Upcoming Events
---
Friday, October 27 from 12:30 to 1:30 p.m.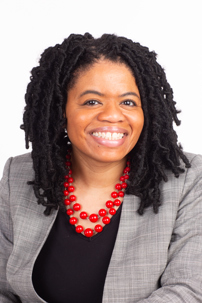 Biography
Tracie Marcella Addy, PhD, MPhil (she/her), is the Associate Dean of Teaching & Learning at Lafayette College in Easton, Pennsylvania where she is responsible for working with instructors across all divisions and ranks to develop and administer programming related to the teacher-scholar model from classroom teaching to the scholarship of teaching. She received her B.S. from Duke University, MPhil from Yale University, and PhD in Science Education at North Carolina State Education. She is the Director of the Center for the Integration of Teaching, Learning, and Scholarship. Her center's many initiatives include a highly rated academy focused on inclusivity for instructors that integrates students as partners.
In addition to these roles, she performs scholarship on teaching and learning and educational development, primarily focusing on learner-centered practices including active learning and inclusive teaching. Her work has been featured in a variety of academic journals as well as other venues such as Inside Higher Ed and University Business, and she has been an invited guest on a number of podcasts such as Teaching in Higher Ed, Tea for Teaching, Teaching for Student Success, and Dead Ideas in Teaching & Learning.  
Dr. Addy is a co-author of the bestselling book What Inclusive Instructors Do: Principles and Practices for Excellence in College Teaching (2021). Her forthcoming book, Enhancing Inclusive Instruction: Student Perspectives and Practical Approaches for Advancing Equity in Higher Education, is set to be released in 2024.
She is a frequently invited keynote speaker and workshop facilitator.
Tracie Marcella Addy, PhD, MPhil 
She/Her
Associate Dean of Teaching & Learning
Director of CITLS
Chair-Elect, POD Network Small Colleges SIG
Co-Author, What Inclusive Instructors Do
101 Hogg Hall 
610-330-5969 
CITLS website 
@CITLSLafCol @TracieAddy