Before You Apply
What to consider when choosing a study abroad program? Choosing a study abroad program that will be the right fit can be difficult. While you are researching the opportunities, keep in mind some of these questions.
Watch a 

study abroad information session

. Attending a study abroad information session will help you get started in planning a study abroad experience. Information sessions are designed to help you narrow down your choices according to courses offered, time frame, finances and interest. After attending an information session, you will have an opportunity to set up a meeting with a study abroad advisor to discuss your plans further.
Research Funding Options: USI is working hard to make study abroad affordable through a variety of scholarships. Other funding options are offered through program providers and other organizations promoting international education.
Review the USI Study Abroad Travel Policy to determine where travel is allowed. USI's student study and travel abroad policy is based on the U.S. Department of State (USDOS) Travel Advisory System and the Center for Disease Control (CDC) Travel Notice Definitions.  The USI Center for International Programs and other responsible departments also monitor information from the Overseas Security Advisory Council (OSAC), NAFSA: Association of International Educators, and other resources.  Program approval may change based on recommendations of these regulatory bodies. 
You've Chosen a Program. Now what?
Make an appointment with a Study Abroad Advisor: After you have attended an information session and narrowed down your program choices, schedule a meeting with a study abroad advisor to discuss your next steps.  
Make an appointment with your Academic Advisor to discuss course offerings and overall academic schedule. If you do not know who your advisor is, log in to myUSI, click the Self Service icon, then Student, Student Records, View Student Information, then select the current term and click OK. Your advisor's name should appear on that page under Primary Advisor.
Make an appointment with Student Financial Assistance to determine how your current financial assistance will apply towards program costs. To set up an appointment call 812-464-1767.
Make an appointment with the Student Financial Success Center to plan your finances and save for a program that is affordable for you.
Throughout the process, discuss plans with parents and other important people in your life.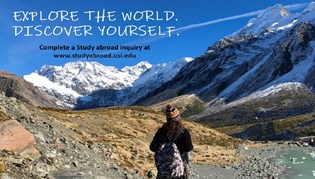 Watch our information session to learn more about studying abroad.