Author and entrepreneur Andrew Newman was our Entrepreneur's Perspective Speaker before an audience of students, faculty, staff, and administrators. His presentation, "Why the last 20 minutes of the day matter," was a message that the last few minutes before bedtime is when we can reset from the chaos of the day in order to create a positive start to tomorrow. He encouraged mindfulness and embracing silence, which many of us don't experience much of in today's fast-paced environment.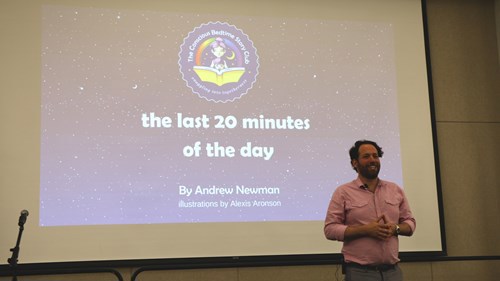 Newman has created his business based upon telling stories that can be geared to any age group and applying concepts that are universal. He is looking for new outlets for his stories, including bookstores, podcasts, and other media.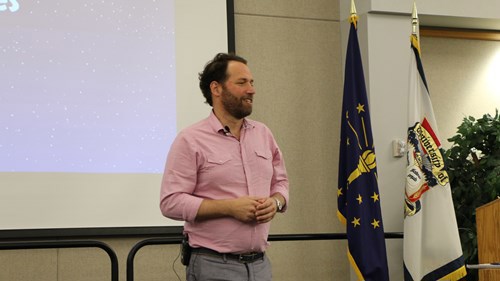 Newman is a graduate of the Barbara Brennan School of Healing and has followed his deep longing for connection and his passion for spiritual development in a 12 year-long study of healing.  In addition to his therapy practice and his conscious stories, Andrew has published over 1500 donated poems as the PoemCatcher and served as a volunteer coordinator for Habitat for Humanity in South Africa.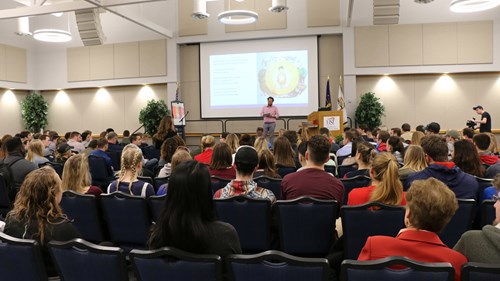 The Entrepreneur's Perspective Speakers Series highlights speakers who provide insights on entrepreneurship and the connection between education and entrepreneurial outcomes.
Additional photos are on our Facebook page>>
Published April 12, 2018