On November 15, Omicron Delta Epsilon (ODE) held its annual initiation in the University Center on the USI campus. ODE is one of the world's largest academic honor societies, recognizing scholastic attainment and honoring outstanding achievements in economics. The international honorary society hosts 696 chapters in the United States and across the globe.  The Lambda Chapter in the Romain College of Business has been active since 1987.
Congratulations to this year's ODE initiates:
Renee Ann Bullock
Guilick Dervis
Taryn Dissett
Reid A. Edwards
Nathan Hall
Macy Holtz
Katelyn Knoll
Ryan Pell
Morgan Sparks
Abigail Suddarth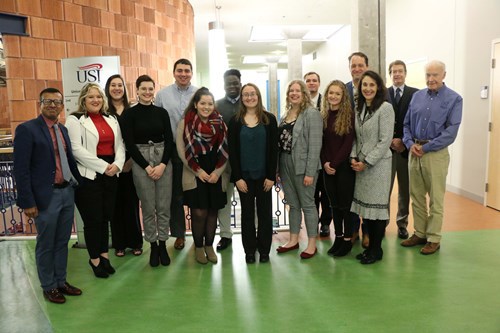 The 2018 distinguished speaker was Mr. Chris Robinson '07. Robinson, sales manager with Pacific Press Technologies in Mount Carmel, Illinois, gave students advice for preparing for their future careers. He discussed creating your 'Rolodex' and using your connections, developing and defining your "why" statement, and creating your own personal brand awareness. He advised students that if they do these, they will set themselves up for success.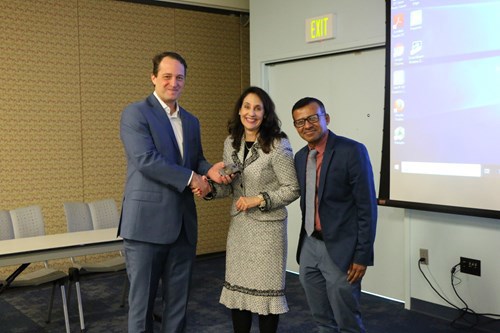 Dr. Marie Bussing, instructor in economics and ODE faculty advisor, and Dr. Sudesh Mujumdar, chair of economics, presented Robinson with the ODE medallion.
Published November 19, 2018