A team of Computer Information Systems and Computer Science majors from the University of Southern Indiana's Romain College of Business placed second in Project Competition at the seventh annual Information Systems Project and Case Competition. The event was hosted by the Miller College of Business at Ball State University in Muncie, Indiana. This is the fourth year students from USI have entered the competition.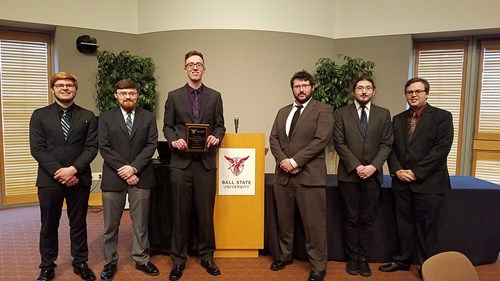 The competition allows students majoring in a technology discipline to utilize their skills by solving a live case analysis, as well as showcasing senior projects and projects completed earlier in their undergraduate careers. The USI team entered their senior project, which was a web platform assessment and re-launch of The Evansville Museum of Arts, History & Science's website. Team members included Nathan Bashor, Nick Biever, Joe Deuerling, Brian Eddmenson, Farhan Fowzer, Eli Goforth, Ian Stamm, and Marcus Jaurequi. Dr. Sudesh Mujumdar, chair of economics & marketing and professor of economics, is a board member of the Evansville Museum. He introduced the opportunity for students to engage with this important community institution.
Faculty advisors to the team are Dr. Dinko Bačić and Dr. Gongjun Yan. Twelve universities participated in the competition, including Ball State, Indiana University, and University of Indianapolis.