This year's Alumni-in-Resident speaker event was a collaborative effort co-hosted by Romain College of Business, College of Liberal Arts, and USI Alumni Association. Welcomed back to campus were Antone (Tony) Greubel '92 and Izumi Mochizuki Greubel '94. Both spoke to audiences of students, faculty, administrators, alumni, and community members.
As a part of their visit to USI, the Greubels spent time with USI students in Global Studies, Global Economics, and Comparative Politics classes to share their experiences working in other countries. Izumi talked about the story behind her book "A Promise to Live For," a true story based on her mother's childhood experience during a 550 km (340 mile) trek across Manchuria, post-World War II. Tony presented the topic "Indo-Pacific strategy that the US government is implementing in the region" speaking from his experience as a member of the U.S. Department of State.
Both also recorded live interviews at the College of Liberal Arts for social media:
Their open presentation titled, "Life in the Foreign Service," was held in Kleymeyer Hall of the Liberal Arts Center. They discussed their experiences living abroad. They talked about how their lives and families have been impacted by being frequently reassigned and assimilating into new cultures and different countries. Tony noted the career opportunities for students considering the foreign service and how many majors have relevant skills: computer science, computer information systems, management, communications, nursing, global studies, political science, and world languages.
Tony Greubel assumed his position as Deputy Chief of Mission at Embassy Apia, Samoa, in August 2017. Previously Tony was the Senior Pacific Islands Desk Officer in the East Asia Pacific Bureau's Office of Australia, New Zealand, and Pacific Islands Affairs. He managed bilateral relations with five Pacific island countries—Fiji, Tonga, Kiribati, Nauru and Tuvalu.
Izumi Mochizuki Greubel was born and raised in Shizuoka-city, Japan. She obtained her bachelor's degree in English with a minor in secondary education from Tokoha Gakuen University in Japan. She received her master's degree in secondary education from the University of Southern Indiana in 1994. Beginning in 1991, she taught Japanese at USI as a part-time and full-time instructor for 11 years until her husband, Tony, was hired by the U.S. Department of State. Since then, the Greubels have lived in Washington D.C., Indonesia, Canada, Pakistan/Japan, China and Samoa.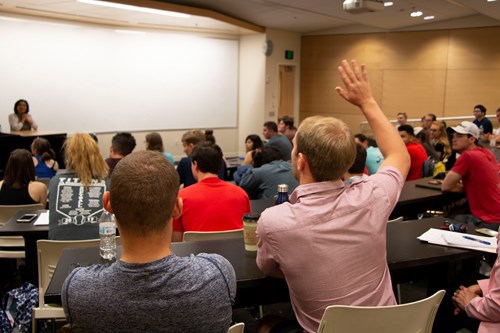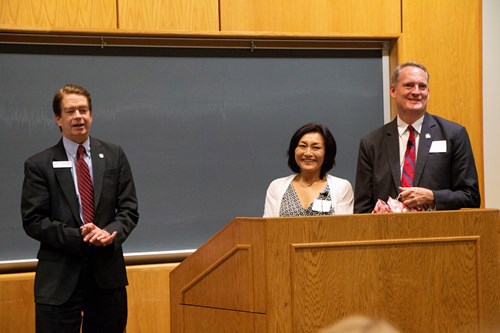 Antone and Izumi Greubel with Dr. Brian McGuire, interim dean of the Romain College of Business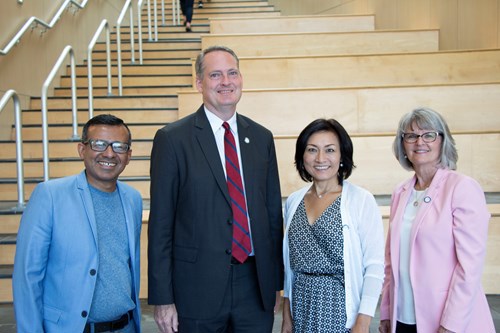 Antone and Izumi Greuel with Dr. Sudesh Mujumdar, Chair of Economics and Marketing Department and Professor of Economics, and Janet Johnson, director of alumni relations and Volunteer USI