Tori Pasley, accounting and professional services, graduated from USI in April 2019. But just a few months into her senior year, she'd already taken what she considered "a step in the right direction" toward her future career in private accounting by passing the first half of the Certified Management Accountant (CMA) exam. "USI opened my eyes to the CMA exam," Pasley said.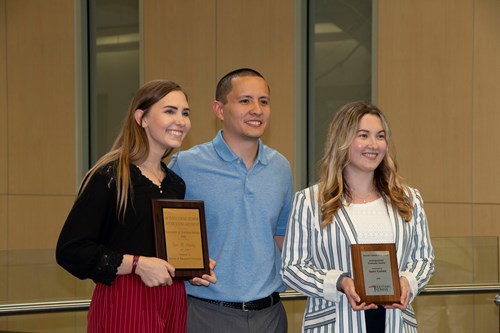 New data from the Institute of Management Accountants (from the start of 2016 through the end of 2017) shows Pasley's CMA exam success mirrors that of other recent USI students. Among IMA-member universities in the United States. with at least 10 candidates taking the exam, USI's overall pass rate ranked among the top five at 92%—well above the overall pass rate of 58%.
Only Cornell University (95%), University of Wisconsin-Madison (94%) and University of Michigan-Ann Arbor (93%) earned rates higher than USI. University of Pittsburgh (90%) rounded out the top five as the only other university with a 90% or greater pass rate.
Interim dean Dr. Brian McGuire is Pasley's advisor and was the faculty advisor for Beta Alpha Psi, an honorary organization for financial information students and professionals, when Pasley joined her freshman year. He helped her get a scholarship to cover both parts of the CMA exam as well as study materials.
"I am so grateful because without the scholarship I don't think I would have been as motivated to take the exam," Pasley explained. "It costs quite a bit of money, so having a free pass at it was amazing and really took some of the stress off the whole experience."
Pasley pointed to several courses that benefited her CMA exam preparation, including Cost Accounting, Advanced Cost Accounting and Auditing Theory. "Auditing Theory was very helpful because I already knew the terminology and some of the regulations before even studying for the exam," she said. "It made me feel more confident when I took the exam, like I was more prepared than others because I was getting extra studying through my courses at USI."
As Pasley prepares to take the second part of the CMA exam, she recognizes that the experience helped prepare her for her next challenge: the CPA exam.
"This [CMA] certification is only two parts, where the CPA is four, but I think it allowed me to get a feel for what the CPA exams will be like and taught the discipline of studying for hours," Pasley said.
See the full CMA exam pass rate data from the IMA.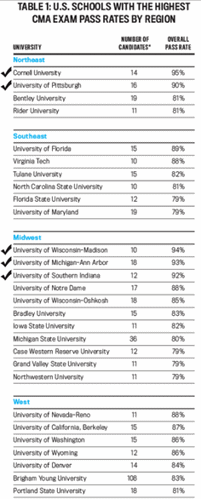 Written by Erin Meyer, University Communications.
Chart from Strategic Finance Magazine online.