Service Learning Program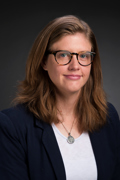 Dr. Monica O'Neil
Director of Service Learning Contact: 812-465-7141
University Center East 2232
Email
Faculty Resources for Online Service-Learning
Resources for teaching during COVID-19
Indiana Campus Compact COVID-19 Resources
Resources for Community Engaged Teaching & Learning during COVID-19
Community Engaged Learning: Reimagine and Recommit to Community
Service Learning Projects in Online Courses
Welcome to Service Learning at the University of Southern Indiana. Whether you are a faculty member looking to integrate service learning into your courses, a student looking for a service-learning site or a community organization looking to form a partnership, here in this website you can find information and resources on Service Learning at USI.
What is the USI Service Learning program?
What does the Service Learning program Do?
Faculty - Students - Community Partners
---
"Incorporating service learning allows information to turn into action. Students learn faster and at a higher quality."

Faculty member

"I think that students really enjoy when they get to participate in hands-on work. I also believe that the students learn better and remember more if they can make a connection to something in real life."

Student

"Service learning is based off a real life project and gets you ready for the real world."

Student

"Service learning also inspires the students to be better writers. Students have had ideas as good as many real-world professional writers. The students' originality, education and practice with a variety of clients help them become employees that stand out in the workforce."

Faculty member

Service learning classes have given me a lot of hands-on experiences. I feel that now have both street smarts and book smarts."

Student