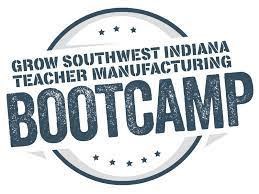 ---
The annual Grow SW Indiana Teacher Manufacturing Bootcamp is an initiative created from I-69 Innovation Corridor's Brainpower committee geared toward educating high school teachers and counselors about the job opportunities available to their students in manufacturing.  Promoted in several southwestern Indiana counties, Teacher Manufacturing Bootcamp provides an insightful two-week, paid experience to participants annually.  This experience allows teachers and counselors to see first-hand the benefits of working in manufacturing and provides them with the information necessary to educate their students about this potential career path.
The participants learn about the benefits of the manufacturing workforce through intensive, hands-on activities and learning exercises.  Bootcamp participants spend multiple days visiting sponsoring manufacturing companies such as Toyota Motor Manufacturing Indiana, Inc., Alcoa/Kaiser, Sabic and Berry Global.  In addition, the participants tour Ivy Tech Community College and the University of Southern Indiana to best understand the educational resources available post high school. 
All participants receive a summer stipend and Professional Growth Points (PGPs) or Continuing Education Units (CEUs) towards their licensure renewal for completion of the bootcamp.
2023 Teacher's Bootcamp

2022 Teacher's Bootcamp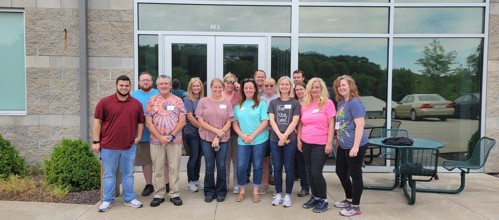 2021 Teacher's Bootcamp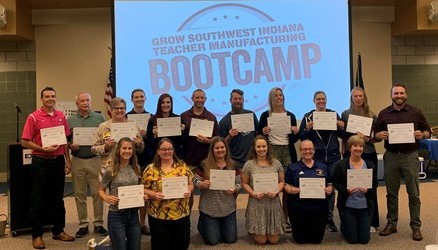 On June 11, 2021 USI Outreach and Engagement hosted 17 teachers and counselors.  The group toured the Business and Engineering Center's engineering labs, learned about degree and certificate programs and participated in hands-on activities at USI's Applied Engineering Center (AEC).  They worked on the CNC milling machines, the Precision Measuring machines and learned what the AEC's capabilities are in USI's very own "learning factory".  As part of this experience, they assisted in making their very own Teacher Bootcamp keychain as a memento. 
---