The programs in the College of Liberal Arts lead graduates to exciting, fulfilling and, oftentimes, unexpected places in their lives and careers.

Experience the unexpected with a degree in Liberal Arts!
SHARE A STORY
Know a Liberal Arts alumnus who is traveling on an unexpected path? Let us know!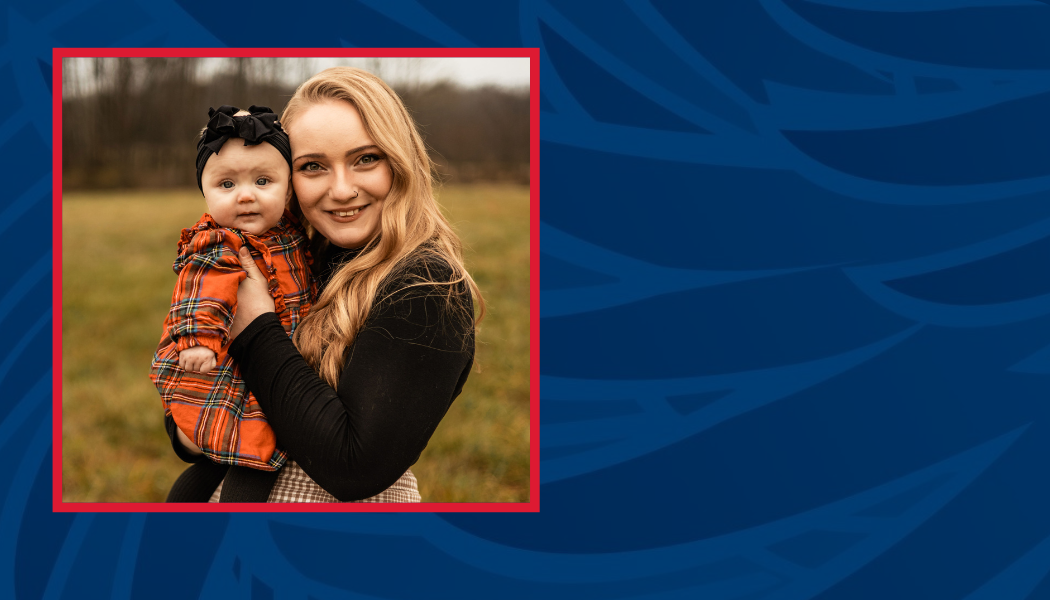 Kennedy Salts

Class of 2019
Kennedy Salts came to USI from nearby Newburgh, IN, as a first-generation college student. At first, she drove the Lloyd Expressway to-and-fro every day, listening to classic rock, before taking residence in a sorority house. Starting out, she thought that she would go into nursing and then switched to respiratory therapy. One day, one of her respiratory therapy professors asked her if she was enjoying the program. She said it was fine. Then the professor mentioned that he had happened to see one of her posts in a pop culture blog to which she contributed and said how much he liked it. Kennedy thought that she possessed a "knack" for writing, but her professor's comment put in her mind a notion that perhaps she should consider switching majors again to English. In time, she did, and she did enjoy herself.
What happened next? You might say that Kennedy's journey exemplifies that oft-heard advice to "do what you love" or "follow your passion." After college, Kennedy got a job as a content writer for Shoe Carnival, a national retailer headquartered in Evansville that does over $1 billion per year in revenue. As a content writer, Kennedy wrote product descriptions for the website. When the pandemic struck in 2020, Kennedy was elevated to copy writer, one of two in the company, where she became responsible for social media, maintaining key company web pages, and customer relations management—in other words, doing all the things one needs to do to run a successful e-commerce enterprise. Sales soared to record levels. "My English degree taught me to be creative," she says, "to learn how to grab a consumer's attention and make our message stand out." In 2022, Shoe Carnival sponsored Day 11 of  Ellen's 12 Days of Giveaways, raising the company's profile even higher. Kennedy's "knack" for writing and her decision to follow her passion have paid off well.
---

Carlysle Garland

Class of 2020
After high school, Carlysle Garland '20 knew that she wanted to work in film and television as an actor, and for a while, she was successful in moving from goal to goal, studying musical theatre at Florida School of the Arts and touring with the Missoula Children's Theatre.  But there came a moment when she realized that, without a bachelor's degree, her earning power would always be a little "lesser than."  So she decided to transfer to USI to finish her theatre degree.  She had been recruited by Professor Eric Altheide upon graduating from FloArts but had been putting it off because, in her words, she had "never really liked being in school all that much." After visiting campus twice and asking Professor Altheide "a million questions," she was won over by the genuine care and compassion she could already gather from the professors in the theatre department.
Once here, she applied herself, taking 19-20 credit hours per semester so that she could finish her degree quickly and get back on the market.  Things were going well.  Her senior year, she auditioned for—and got—a leading role in Shakespeare's Midsummer Night's Dream, a play that she loved.  And then, as opening night was nearing, her sister suddenly died.  Carlysle was devastated and missed a lot of rehearsals.  She wondered if she would be up for the performance, physically and emotionally, and at her lowest point, she remembers calling on her professor and director, Professor Elliot Wasserman, and expressing her doubts, even offering to bow out of the production.  Professor Wasserman told her to take the time to do what she needed to do but that he and the cast still wanted her in the role.  Feeling supported, Carlysle remained in the production and, in fact, performed so well that she was nominated for an award by the Kennedy Center American College Theater Festival!  Looking back on that time, Carlysle remembers learning something not just about her craft, but about herself:  "If I can get through this," she told herself, "I can get through anything." 
These days, Carlysle is living and performing theatre in Atlanta, GA. She recently completed a project with Tyler Perry there and is currently a part of the Stranger Things Experience.
---

Ryan Hadley

Class of 2015
Ryan Hadley '15 is presently the Chief Energy Officer of the State of Indiana. He was appointed by Governor Holcomb to advise him on energy matters, which might pertain to economic development or production and distribution through the grid. He regularly meets with lobbyists and testifies before the state legislature. His office will have a lot to say about the way that both the massive federal Infrastructure Investment and Jobs Act and the Inflation Reduction Act of 2022 will impact Hoosiers. It's an important role. In a way, he is what people now like to call "an influencer," because the work that he's doing shapes the decisions that the governor and legislatures make around vital questions for the state.
Hadley didn't set out to attain this position. When he showed up at USI as a freshman coming from a small high school outside of Indianapolis, his main concern was overcoming some shyness and reinventing himself in a larger, more active social environment. He began to make friends, and his second year he joined a fraternity and got involved in student government. He thought that he might want to become an attorney. His father was a police officer, his mother was a dispatcher, and a career in law seemed like an interesting path for him. He majored in political science here and did well, but when he took the LSAT and didn't get the score that he wanted, he experienced a shock. "If not law, then what?" he asked himself. A week later, while walking through the Liberal Arts Center, he noticed a flyer that read, "Legislative Internships Available." He asked himself "why not?" and applied. He was accepted, and the experience next semester in Indianapolis turned out to be life changing. Through his classes, he had built up a broad store of knowledge about the workings of government. But on the floor of the State House, that knowledge came to life. Every two weeks he would meet with his professor to discuss the behind-the-scenes action that went on in regard to the Religious Freedom Restoration Act, which dominated the session. When he returned to campus at the end of the semester, he gave a presentation on his experience. People listened with great interest.
Today, people are still listening, of course, more than ever. "That internship was a turning point in my life," he reflects when asked about it. "I had a very narrow point-of-view of where I was going in life. My education allowed me to be flexible and adapt.
---

Kenya Santiago
Class of 2016
When Kennya Santiago first arrived at USI in the fall of 2016, her main concern was fitting in. She was a first-generation student whose family had immigrated from Mexico when she was 4 years old, and she was undocumented until she was 17. "Make sure that you're meshing," she was told, and she recalls spending a lot of time making sure that her campus apartment was just-so. "I cared a lot about what it looked like," she remembers. "I really cared about what others thought."
She was also told to be practical—"linear," she says—when it came to choosing a major, i.e., to choose something like accounting, nursing, or engineering. She tried the first two options and didn't like either. Then she took a Shakespeare class. "I had such a good time!" she says. "I got to pick apart words with other people and argue passionately with people about interpretations. It wasn't even like I was in class."  She changed majors and thought that she might become an English teacher—"linear enough," she says.
Eventually, she switched to creative writing. "Not linear at all," she says, "but I loved it and decided my life was my life."
These days, Kennya is the Guest Experience & Programs Coordinator at the Indianapolis Motor Speedway, where she manages non-profit fundraising and oversees events for high-end brands like Porsche and Ferrari. She also runs the College Program for Penske Entertainment, which involves recruiting and managing students to work at the track during peak-season. When she assumed leadership of that program, it employed about 150 students. Now it employs over 300, and she has transformed it into more of a high-touch experience for them that enriches their professional development and general betterment.
What did she learn from studying English at USI that makes her so successful in Indiana's iconic sporting venue?  "Everything I do at work involves people, and a lot of the people I work with are very intelligent. My degree allows me to understand them. It taught me how to be open-minded, to read a room, to connect." And, of course, she learned to be herself, and good with words.
It's also nice to know that Shakespeare has a place at the Brickyard.
---

Zach Martin

Class of 2003
Zach Martin '03 had dreams of playing golf at the highest level possible. He grew up living next door to a PGA TOUR professional and caught on to the sport quickly. When he received a scholarship offer to play division one golf, it seemed like the next step towards realizing his dream. He accepted the scholarship and declared a major in business administration.
But things didn't quite click the way he thought they would. The everyday stressors of balancing an NCAA athletic schedule and managing academics soon became overwhelming for Zach. He felt like he needed a mentor, someone to help him navigate. After a brief period of struggle, he had a talk with himself. He realized he was not enthusiastic about the course of study he originally selected and needed a change. Zach looked back to his grade school years to recall what courses brought him the most joy and fulfillment. Drawing, painting, jewelry, and sculpture classes had always been his passions and he knew then he needed to shift his focus back to art. This is where USI comes in.
Zach learned that USI had an excellent art program with several courses to choose from with great facilities and professors, so he transferred. He soon fell in with a faculty member and a couple of fellow students who would gather between classes to draw, challenge each other and discuss art styles and composition. Those relationships gave him the structure and the navigational aid he had been seeking to get his academic career back on track. But it was an assignment in one of Professor Chuck Armstrong's graphic design classes that really woke him up.
The assignment was to create a complete brand identity for a fictitious company, starting with a corporate logo. Zach got into it, spending hours in the drawing lab or sitting in front of a computer obsessing over details like color saturation, symmetry, and precise edges. "It was the first time I felt I could use my creativity and mesh it with business," he said. "And that creativity became ingrained in me."
Today, Zach is the Vice President of Development & Construction at Woodward Commercial Realty, where he continues to draw on that creativity every day, whether he's engaged in the architectural design of a multi-million-dollar project, creating proposals and bid packages, or overseeing the construction of a new commercial building. Zach also uses his creativity to provide a customized mentoring approach for students and young business professionals in our community.
---

Christina Harlow
Class of 2010
When Christina Harlow '10 came to USI from a small town in the late 1990s, her college career could hardly have gotten off to a better start. She liked her classes and did well in them, even going so far as to publish some research as an undergraduate with one of her psychology professors.
Like many students, she worked part-time while attending school; one day, she got offered a full-time leadership position that paid $9.51 an hour. She was so excited that she called her mom – she had arrived! Soon after, she put her education on permanent hold while she worked and started a family. For a while, her career progressed and she was afforded many opportunities to grow and develop, learn new things and contribute to the company in different areas of focus. However, it did not take long to come to the realization that she had topped out without formal education and the career expectations she had set for herself would not align to opportunities available with a high school diploma.
So she returned to school, taking classes on her lunch hour and in the evenings. It was challenging, but her professors encouraged her, and in 2010, she graduated with a psychology degree. "I could have finished faster with a general studies degree, but I really wanted to understand industrial org—perception, organization, motivation: everything directly related to leadership and engaging with people and teams."
Soon after graduation, she transitioned to human resources. Today, she is the Vice President of Human Resources at CenterPoint Energy. Headquartered in Houston, Texas, CenterPoint Energy provides gas or electric service to more than 6 million customers across 6 states. The company employs nearly 10,000 people, and it is Harlow who oversees their talent acquisition and employee and labor relations areas. "I have a lot of opportunities to talk about talent pipeline development and succession management, both internally and with external candidates," she says. "My psychology degree is the best education I could have pursued to prepare me for my current role. I apply that learning every day in my organization: in leadership, team building, people development, project management, in resilience…the list goes on and on. I never asked myself 'what can I do with a liberal arts degree?' It was more like, 'what couldn't I do with a liberal arts degree?'"
---