The Center annually sponsors lectures on topics related to Communal Studies. The lectures typically take place in the fall and spring semesters on the campus of the University of Southern Indiana.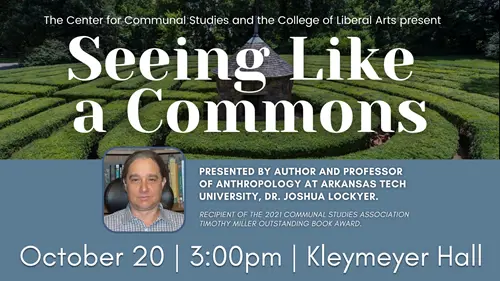 Seeing Like A Commons
3:00 p.m. | October 20, 2022|  Kleymeyer Hall 
In Seeing Like a Commons, Joshua Lockyer demonstrates how a growing group of people have, over the last eighty years, deliberately built Celo Community, a communal settlement on 1,200 acres of commonly owned land in the Appalachian Mountains of North Carolina. Through the story of the oldest existing non-sectarian intentional community in the United states, Lockyer shows how community members have cultivated the cultural practices and worldviews to become better stewards and citizens of both local landscapes and global commons. Using Elinor Ostrom's "commons design principles" as a heuristic framework, and acknowledging the hard work and long-term commitment required, he suggests that Celo may offer a rough framework for other groups who may wish to be good commons stewards.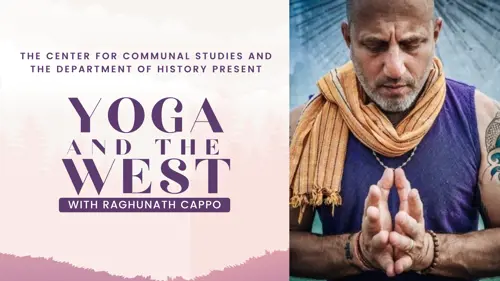 Yoga and the West
April 2022 
Raghunath Cappo is a founding member of Krishnacore punk bands Youth of Today and Shelter and is a practicing Bhakti Yogi (Hare Krishna) in the Gaudiya Vaishnava tradition who spent many years as a monk in Vrindaban India before returning to the States. This lecture will cover topics related to Yoga and the West as well as community building in the modern global era through his partnership with Senior Educator of the Bhakti Center of NYC, Kaustubha Das, on their podcast and yoga community, Wisdom of the Sages.
See a TedTalk with Raghunath Cappo.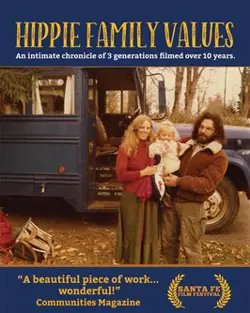 Hippie Family Values
March 2022 
Hippie Family Values is a feature-length documentary about three generations at a back-to-the-land community in rural New Mexico. Shot over a period of ten years at a remote communal ranch, Hippie Family Values is an intimate chronicle of a handful of hippie elders, along with their adult children and grandkids. The film counters dismissive stereotypes with stories of real people whose worldview was forged in the 60s counterculture, and who remain motivated by those youthful convictions. The founders of this back-to-the-land experiment are slowing down and facing declining health. Will the next generation be able to sustain the community into the future? Fifty years after the Summer of Love, the don't-trust-anyone-over-30 generation now dotes on their grandchildren and faces the challenges of advancing age. The elders profiled in the film continue to defy convention as they pursue communal alternatives to commercial retirement facilities and nursing homes. Hippie Family Values won the Grand Festival Award for Documentary at the Berkeley Film Festival, the Outstanding Project Award for 2019 from the Communal Studies Association, and the award for the Outstanding Documentary Feature at the University Film & Video Association 2018 Annual Conference. The film continues to screen in community and campus venues across the country. This event is sponsored by the USI Center for Communal Studies.
A special thank you to Dr. Casey Harison (former Director of the Center for Communal Studies) for making this lecture possible.
See the Hippie Family Values Q&A session!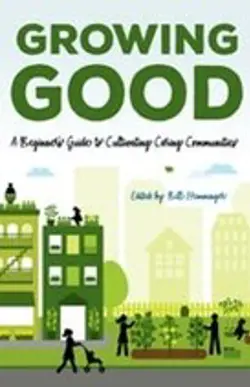 Growing Good: A Beginner's Guide to Cultivating Caring Communities
Growing Good: A Beginner's Guide to Cultivating Caring Communities shows how ordinary people have transformed themselves into volunteers and activists. Centered mostly in the Midwest, this collection of essays brings together the stories of normal people who have rolled up their sleeves to make their community a better place by serving nonprofits such as Gleaner Food Bank in Indianapolis, Indiana; Migration and Refugee Services in Louisville, Kentucky; and Patchwork Central in Evansville, Indiana, along with national organizations like CASA. For instance, a teacher and his student started a native plant garden to help local insects thrive in a disused corner of their school property. A woman saw a billboard and was moved to become a voice for children in need. A professional photographer offered his services to people experiencing homelessness in order to help others witness their humanity. Editor Bill Hemminger also writes of his own extensive experience with community gardening to feed hungry neighbors.
PRESENTATION AND BOOK SIGNING BY DR. SILVIA RODE (Professor of German & Chair of Department of World Languages & Cultures) -- March 13, 2019 from 2-3 p.m. in Kleymeyer Hall (LA 0101)

"Utopia Explored: George Rapp's Thoughts on the Destiny of Man, Particularly with Reference to the Present Times; by the Harmonist Society in Indiana. A.D. 1824."

Dr. Rode will be available for a book signing: George Rapp: Thought on the Destiny of Man, Particularly with Reference to the Present Times by the Harmony Society in Indiana A.D. 1824: A Critical Study (2018)
| | |
| --- | --- |
| | Laura Johnston Kohl, "Jonestown Survivor – Evolution of People's Temple in the 1960s and 1970s" (April 2017) |
Center for Communal Studies 40th Anniversary Colloquium (October 2016)


Jaya Priya Reinhalter, "Kashi Ashram, A Community in Transition: Becoming an Intentional Community after 40 Years" (April 2016)


Don Janzen, Exhibit and Talk on Shiloh Community (October 2015)


Artistic Group (Maidens), "Shavasana Project for a Harmonist Farm: Maidens of the Cosmic Body Running, Vibrating the Fabric of Time and Fanning the Glowing Coals of the Ascending Flames of Love in the Play of Wisdom (Dedicated to a Contemplative Society)" (March 2014)
Read More...
Carol Medlicott, "Branches of One Living Tree: Advancing Shakerism Across the American Frontier" (November 2013)
Read More...
Stephen Zehr, "The Place of Villages in Sustainable Development" (March 2013)
Read More...


Dawn Bakken, "Monroe County's Own New Harmony: An Owenite Experiment in 1826 Bloomington, Indiana" (October 2012)
Read More...

Donald Pitzer, "New Harmony Then and Now" (March 2012)
Read More...
Don Janzen, "A Photographic Tour of America's Intentional Communities" (April 2009)