The Applied History Series is brought to you by the USI Department of History. This series is about traditional and non-traditional historians discussing their work as it relates to historical events, people, and places. Founded in 2016, the series considers local, national, and global issues, providing students and the community with an opportunity to hear about nuanced and innovative interpretations of the past. It is comprised of one to two lectures per year.
Theory to Praxis at a Moment of Human Crisis

Dr. Autumn Quezada Grant
4 P.M. | April 10 
Join the conversation about the Latin American refugee migrant crisis in the United States, and the role of historians acting as expert witnesses in asylum cases.
About our presenter:
Dr. Quezada-Grant applies her historical expertise in helping with asylum cases and acts as subject matter expert in removal proceedings. She is also a cultural competency expert as well as an external consultant with Protocol 67, supporting their Asylum and Convention Against Torture cases.
Raghunath Cappo is a founding member of Krishnacore punk bands Youth of Today and Shelter and is a practicing Bhakti Yogi (Hare Krishna) in the Gaudiya Vaishnava tradition who spent many years as a monk in Vrindaban India before returning to the States. This lecture will cover topics related to Yoga and the West as well as community building in the modern global era through his partnership with Senior Educator of the Bhakti Center of NYC, Kaustubha Das, on their podcast and yoga community, Wisdom of the Sages.
Raghunath Cappo (raghunath.yoga) is a founding member of Krishnacore bands Youth of Today and Shelter as well as practicing Bhakti Yogi (Hare Krishna) who spent many years as a monk in Vrindaban India before returning to the States where he runs a yoga community and ecocenter at Supersoul Farm in upstate New York. He regularly takes students on pilgrimage to trek in sacred Nepal and to the Govardan Ecovillage in India as well as numerous Bhakti yoga retreats worldwide. Of interest to our discussions of building community as well as the history of yoga in the West, in January 2020 Raghunath began the Wisdom of the Sages podcast along with the senior lecturer of the Bhakti Center in NYC, Kaustubha Das (wisdomofthesages.com) On their podcast they regularly interview devotees of Prabupad and discuss the long history of the Hare Krishna movement as well as providing insight into the sacred text, the Srimad Bhagavatam. This community has offshoots of recovery groups, reading groups, kirtan lessons, etc., all provided for community members who subscribe to the podcast.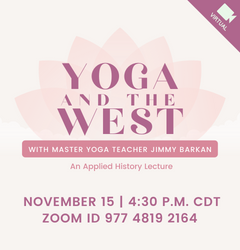 Yoga and thJimmy Barkan, Master Yoga teacher and teacher trainer
November 2021
Jimmy Barkan is a much esteemed and beloved Hot Yoga teacher and teacher trainer with over 40 years of experience in the field. Join us on Zoom for this Applied History lecture to hear Jimmy speak about his experiences and the history of Hot Yoga in the West as a graduate of the Ghosh Yoga College of India trained by Bikram Choudhury and as a disciple of Kriya Yoga via the Self Realization Fellowship founded by Paramahansa Yogananda.

Joshua Claybourn, Editor of Our American Story: The Search for a Shared National Narrative.
---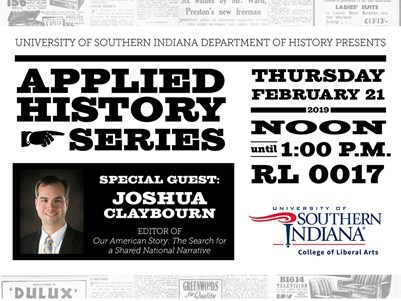 Former USI student, Clint Vaught, owner of local tattoo studio, Cross & Crown
This presentation was the first in the Applied History series. Vaught's talk focuses on the history of tattooing practices in Southern Indiana and the surrounding areas, with a focus on tattoo artists working in Evansville from the 1920s through the 1950s.



A roundtable discussion moderated by USI faculty Dr. Stella Ress and Dr. Kristalyn Shefveland on the importance of historic buildings and districts to the health and prosperity of a community.
This event highlighted the ways in which preserving the built environment can have environmental, cultural and economic benefits, and answered the question, "What is the role of civic engagement, community activism and grassroots funding?"
Speakers included Evansville community leaders Philip R. Hooper and Joseph Engler, who were instrumental in saving the Owen Block and the Peters-Margedant House as well as a discussion of USI student Lucas Neuffer's efforts to save the Henry E. Cook House, the 19th-century west side home of the vice-president of F.W. Cook Brewing and new directions for historic districts in the city.