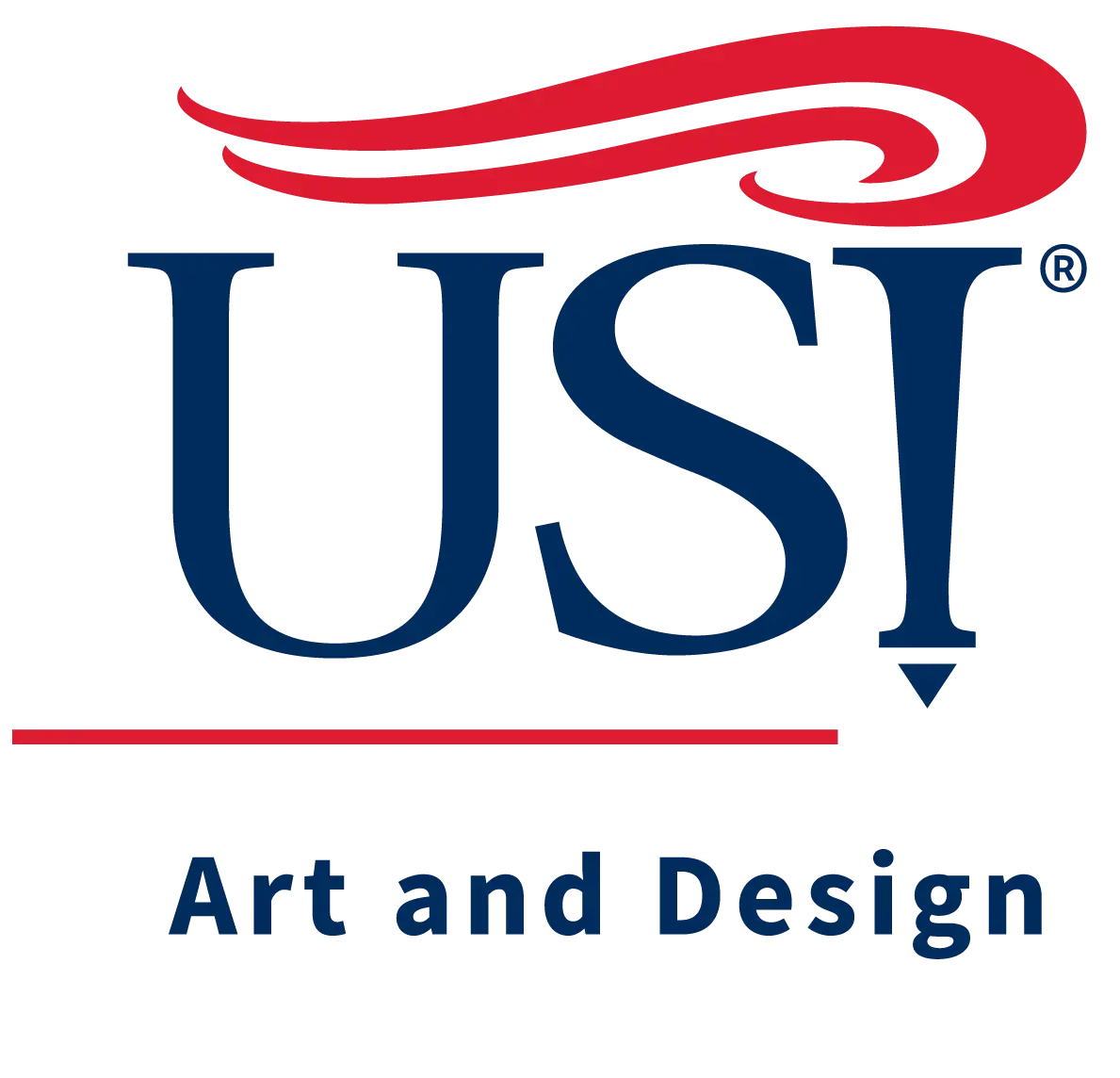 USI 53rd Annual Juried Student Art Exhibition
2022 Exhibition Dates: November 7 - December 9
The University of Southern Indiana Annual Juried Student Art Exhibition is a presentation of selected student artworks from the past academic year, held at the McCutchan Art Center / Pace Galleries in the lower level of the Liberal Arts Center. The works are chosen by an expert in the field of art, invited by the Art and Design faculty for his/her expertise and understanding of undergraduate art works. This independent juror is brought in to assure an objective selection of artworks and awards, and to provide an educational experience for students in preparation for professional careers in art. Juried exhibitions are standard procedure in group art exhibitions at universities, museums, and art associations. See the 53rd Annual Juried Art Exhibition page.
This year's Juror is Brian Harper.  
The University of Southern Indiana Annual Juried Student Art Exhibition is open to all current students who are art majors or who are enrolled in or completed an art course during the 2022-2023 academic year. May 2022 art graduates and graduates with an art degree currently enrolled in an art course may enter the exhibition but will only be eligible for the postgraduate award.
The artwork submitted to the juror must have been completed within one academic year from when the exhibition is being held, artworks completed during Fall of 2021 up to the present. Works included in previous exhibitions at the McCutchan Art Center/Pace Galleries cannot be resubmitted.
All artwork submitted for jurying must be the student's original artwork. Copies of other artists' work are not acceptable. Consult a faculty member if in doubt.
Entries are due by Monday, October 10, 2022.
Each student may enter up to 4 works in any combination of media.  An art faculty member must approve an art "series" before it can be submitted for entry into the show. 
To enter a 2-dimensional work on paper, it must be mounted or matted in a neutral colored mat. If the work's surface is fragile, it must be protected with acetate. Framing of 2-dimensional entries is optional. No wet work will be accepted for exhibition.
If a 2D artwork is accepted, the piece must matted or mounted piece must be framed under glass or Plexiglas in a simple frame to be hung in the exhibition.
All 2-dimensional works must be wired with picture wire for hanging.  
Paintings on canvas or panels should be lattice framed. There will be matting and framing workshops held in the print studio and woodshop before the framed work is due for the exhibition. If financial constraints do not allow you to frame your work in this manner, please talk with an art faculty member. 
3-dimensional works must allow handling without special equipment. Pieces requiring special assembly or having gross weight over 150 lbs. must be cleared with the art faculty before being juried.  (Wall assembling must be noted; multi-pieces must include an image of the assembled artwork.)
The art and design faculty retains the right to remove any work deemed not original or that does not meet the above specifications. All works must be ready to hang and delivered to the McCutchan Art Center/Pace Galleries by 4 pm. on Tuesday, October 1, 2022.  There will be no exceptions.
Area companies and private individuals generously provide funds for awards presented at the USI Annual Juried Student Art Exhibition. Awards are given in the form of Art Scholarships, Merit Awards, Purchase Awards, and certificates for art supplies.
Awards are given for the quality of student artwork and are awarded at the discretion of the juror.
Merit award, scholarship, and gift certificate winners retain possession of their work.
Art Scholarships are based on the overall merit of the student's work and are applicable to the University of Southern Indiana only.
Purchase awards become part of the University Art Collection.
Art graduates are only eligible for the Postgraduate Award.
The 53rd Annual Juried Student Art Show Schedule
Monday, October 3 - Monday, October 10
digital entries accepted - McCutchan Art Center/Pace Galleries
Wednesday - Friday, October 12 - 14
show judged by juror, Brian Harper, from digital submission
Tuesday, October 18
Email notifications of accepted work

TBA
Matting workshop, AC 237
TBA                                                                           
Framing & frame building workshop, AC 110
Friday, March October 28 - Tuesday, November 1
10 am - 4 pm: Framed and matted works accepted for installation at Mac/Pace
(Sunday hours 12 pm – 4pm)
ALL ACCEPTED WORK DUE to McCutchan Art Center by 4:00 PM on Tuesday
Monday, November 7- Exhibition opens
TBA
Juror's lecture
Brian Harper: Mr. Harper will give a presentation about his career path, he will also describe his approach to jurying an art exhibit. The public is cordially invited to attend.
Sunday, November 13. Awards Ceremony, 2:00 – 4:00 p.m.
Friday, December 9, Show closes
Monday – Wednesday, December 12 - 14
10 am – 4 pm: Exhibited work pick up
Exhibit work must be picked up December 12, 2022, through December 14, 2022, between 10:00 a.m. to 4:00 p.m.
The McCutchan Art Center/ Pace Galleries has established specific pick-up dates for this exhibition as stated on the entry form. If you are unable to pick up your artwork between the times listed above, you must schedule an appointment (812-228-5006).
It is the policy of the McCutchan Art Center/ Pace Galleries, in accordance with insurance guidelines and for the protection of your artwork, that art left 30 days after the close of an exhibit is abandoned property. Artwork that is not picked up or does not have an alternative appointment scheduled by midnight on Monday, June 10th will be considered abandoned. Abandoned work will be assessed and disposed up accordingly. The Art Center will retain the right to use, discard, or gift any abandoned artwork, as it deems appropriate.
About the juror
Brian Harper is an Associate Professor of Fine Art and Head of the Ceramics Area at Indiana University Southeast. He holds a BFA from Northern Arizona University and an MA and MFA from the University of Iowa. His work has been exhibited in over 100 national and international exhibitions, including 7 solo exhibitions. In addition to his studio practice, he is the Founder and Executive Director of Artaxis Organization Inc., a 501(c)(3) non-profit arts organization with over 900 members in over 50 countries worldwide. Widely used as a resource by the general public, gallerists and curators, art centers, universities, students, and professional artists, Artaxis.org promotes the professional pursuits of artists, while providing visitors to the website a wide array of peer-reviewed artwork relevant to the critical discourse in contemporary ceramic art. He was awarded tenure and promotion to Associate Professor at IU Southeast in 2015 and has been the recipient of two IU Trustees Teaching Awards, as well as four Summer Faculty Fellowships to pursue his creative research.