Child Welfare Scholars Program
If you are interested in working with children and families in the child welfare system, there is opportunity for you to get the experience you need, along with possible financial benefits your last year in the BSW program. The state of Indiana Department of Child Services (DCS) recognizes the critical need to recruit and retain well trained, committed social workers to join their team to work with at-risk families and serve children who have been abused or neglected.
DCS has contracted with several universities across the state to enhance the recruitment and retention of social worker students to join their team of qualified employees for DCS. The program offers students the opportunity to attend their senior year of the BSW program tuition free (limited to the in-state rate).  Students will have access to in-depth course content about child abuse and neglect and child welfare practices, while completing their internship working with children and families. All of this is provided while having the support of DCS staff and other professionals.  At the successful completion of their internship and earning their BSW degree, DCS offers students employment with a competitive salary within two months of graduation.
Tuition
Students selected to participate in the BSW Child Welfare Scholars Program can choose to receive full in-state tuition and mandatory fees for two semesters of their senior year in the BSW program.  Students must maintain a 12-credit hour minimum enrollment with a 2.5 overall GPA and a 3.0 GPA in their social work classes.

Stipend
Each student can choose to accept a stipend to assist with the cost of training expenses during the program, for a maximum of two semesters.

Employment
Program participants will have a commitment to work for the agency for a pre-determined number of months post-graduation.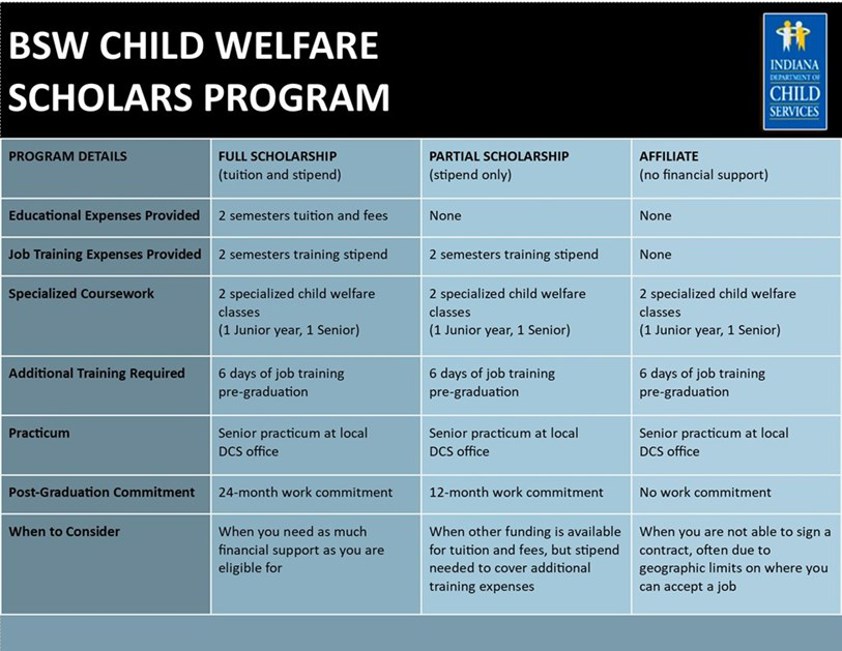 Admissions Process
Applicants are required to submit an application. Minimum requirements for admission include:
Overall GPA of 2.5 or better and a social work GPA of 3.0 or better
Interview for the program with social work faculty and representatives of the Department of Child Services. DCS makes all final selections for participation in the program.
Applicants will be evaluated on:
A written application describing the student's interest in the BSW Child Welfare Scholars Program
Three professional/academic references
Academic performance
Verbal and written communication skills
Volunteer experience
Applications for the DCS Child Welfare Scholars Program are due 10/13/23 to be submitted via email at jldillingh@usi.edu or turned into the social work department. You will be contacted after your application is submitted and interviews will be scheduled in November, with a preliminary decision on acceptance by the end of the fall semester. There is a mandatory class that must be taken in the junior year (Spring semester).  There is a second mandatory course offered in the fall of the senior year.  Internship placements for all participants will be in local Department of Child Services offices. 
For more information, please contact: