Contact the department chair, Dr. Andrew Buck, for more information about these scholarships.
A full list of College of Liberal Arts scholarships also is available.
---
The Anne and Bettye Statham Community Engagement Award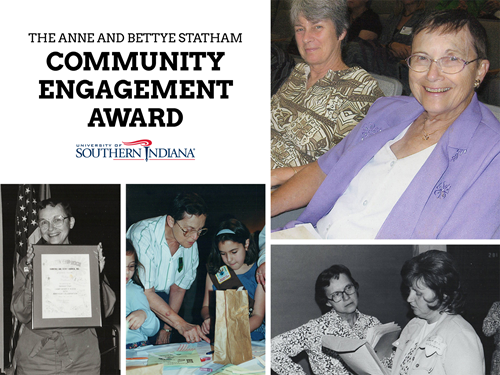 The Department of Sociology is pleased to announce a student award to recognize and support community engagement in Evansville and the wider region. The award is intended both to recognize a student's past community service and to support an ongoing community project. Loosely defined, community engagement is working collaboratively with groups of people affiliated by geographic proximity, special interest, or similar situations to address issues affecting the well-being of those people. For the purpose of this award, community work is recognized as volunteer (not-for-pay) labor and could have be done as part of a class a student has taken. 
Annual award of $1,000 maximum to one recipient.
The award is open to all College of Liberal Arts majors who are in good academic standing and will be enrolled in the 2022-23 academic year.
Make yourself eligible to receive a scholarship from the USI Foundation in the 2022-2023 academic year by completing the AwardSpring application. Click on the AwardSpring icon through myUSI to complete an application. Applications must be submitted no later than January 30, 2022.
After the AwardSpring deadline, the Department of Sociology will contact eligible applicants for a one-page statement detailing their past and/or ongoing community engagement and its significance to the community.
Anna Ardelean, political science major, is our first recipient of the Anne and Bettye Statham Community Engagement Award.
Background: This award is established in honor of a mother/daughter who have made contributions to our local community. Anne Statham is Professor Emerita of Sociology at USI; she launched the Service Learning Program during her tenure as a faculty member and has done many community projects of her own. Her mother also has a BA in sociology, and spent much of her adult life working as a volunteer and paid staff member for the Girls Scouts of Southwest Indiana. In that capacity, she contributed significantly to the lives of many young women, and also to efforts to advanced diversity and social justice in the local community.
---
Additional Sociology Scholarships
| | | | | | |
| --- | --- | --- | --- | --- | --- |
| Name | Selection Process | Criteria | # of Awards | Amount | Cash Award |
| Duffus-Melvin Academic Achievement Award in Sociology | Faculty to select | Full time sociology student with highest academic success. | 1 | $500 | ✓ |
| Duffus-Melvin Recognition Award in Sociology | Faculty to select | Outstanding achievement in sociology. Not renewable. | 1 | $500 | ✓ |
| Petranek Non-Traditional Scholarship | Faculty to select | Award to a non-traditional student who is at least 25 years old who is majoring in sociology, psychology, political science or history and has a minimum 3.0 GPA. Scholarship to be used during junior or senior year and is not renewable, but may be applied for and awarded for a second year. Preference will be given to students with financial need. May not be awarded to a graduating senior. Recipient must be enrolled during the upcoming academic year in order to receive this scholarship. Student Financial Assistance must validate need. | 1 | $700 | |
| Wallace C. & Kathleen Wardner Memorial Scholarship | Admission to select | Recipient must be a resident of Southwestern Indiana, have a high school minimum cumulative 3.5 GPA, a record of participation in extracurricular and community activities and whose majors falls within the social sciences (psychology, sociology, political science or philosophy). May not be awarded to a graduating senior. Recipient must be enrolled during the upcoming academic year in order to receive this scholarship. Renewable with a 3.0 GPA. | 1 | $1200 | |