Most Efficient Path to BSN
IVY TECH STUDENTS - Get a Head Start on your BSN!
Apply by 06/09/23 | Start Class 06/26/23
Accelerate Your Career Path with our Dual Enrollment ASN to BSN Degree for Ivy Tech Students.
Are you currently enrolled in the Associate of Science in Nursing program through Ivy Tech, and interested in dual enrollment in the Bachelor of Science in Nursing at USI?
Offered by the College of Nursing and Health Professions at USI, the 100% online ASN to BSN will allow you to earn credits for a BSN degree while simultaneously completing your ASN degree through Ivy Tech. 
Our affordable and convenient program gives you control over your schedule. Expand your knowledge from your ASN education, and gain credits toward a BSN degree before you graduate from Ivy Tech. The demand for baccalaureate-prepared nurses is higher than it has every been - get ahead of the game!
What Can You Do With a Bachelor of Science in Nursing?
Upon completion of your ASN from Ivy Tech and your BSN from USI, you'll discover new opportunities to careers such as: 
Requirements for initial admission to the A2B program:
Completion of the USI A2B Undergraduate Application.
Submission of official transcripts from all colleges and universities attended. May need high school transcripts depending on the number of transfer credits.
Recommendation letter from an Ivy Tech faculty in semester 3 of the associate degree program.
At least a B in the first nursing classes NRSG 100 Fundamentals and NRSG 115 Nursing Lab. Other courses may be considered by the RN-BSN Program Chair on an individual basis.
Cumulative grade point average of 2.3 on a 4.0 scale in associate degree nursing program. Students with a 2.0 – 2.29 GPA will be considered on an individual basis.
Non-native speakers of English must meet English proficiency requirements as established by the USI Center for International programs.
Zachary Law Compliance Policy*
Requirements for continued admission to the A2B program:
A second official transcript upon completion of the associate degree program.
An unencumbered RN license (No action or pending action against license) to enroll in 400 level courses (NURS 457, NURS 487 and NURS 492).
Employed by or have access to a healthcare work environment to complete course projects in 400 level courses.
Official Transcripts:
Electronic transcripts may be sent to enroll@usi.edu
Mailed transcripts can be sent to the following:

Undergraduate Admissions
University of Southern Indiana
8600 University Boulevard
Evansville, IN 47712
Zachary Law Compliance Policy
*To comply with the state and federal regulations, potential and current students and faculty in selected programs within the College of Nursing and Health Professions, will be required to have a criminal records check relating to sexual and violent offenses against children.
In accordance with the state of Indiana's revisions of Zachary's law made in January of 2003, the College of Nursing and Health Professions will verify if the student is registered with the registry for convicted sexual and violent offenders against children, and will continue to do so at least annually for as long as the student remains in the program.
Should the student's name appear in the sex offender registry, the student will be denied admission to or progression in the undergraduate nursing program. If the listing is the result of an error, it will become the student's responsibility to correct the error before admission or progression in the program will be permitted.
Courses within the ASN to BSN Program are offered entirely online using a learning management system. Access to a reliable computer with internet access is required. 
Accredited by the Commission on Collegiate Nursing Education (CCNE).
Flexibility – All courses offered through distance education giving you control of your schedule.
8-week classes
Standard plan of study – one class at a time OR Expedited plan of study – two classes at a time
Program Curriculum for the ASN to BSN
120 credit hours are required for the BSN degree. Total requirements can be met by transfer credit from a two or four year college or additional elective courses. We will create an individualized plan of study that integrates your previously earned college credits, which will guide you toward degree completion of a BSN from USI! The BSN is only one additional year after your associate degree.
Required Support Courses - Transfer In or Take at USI
Ethics
Math
Statistics
Nutrition 
Global Health
World Language Culture
Required Nursing Courses (30 credit hours)
NURS 267 - Health Assessment for Registered Nurses 
NURS 327 - Transition to Advanced Nursing Practice 
NURS 331 - Care Coordination in Professional Practice 
NURS 333 - Nursing Informatics
NURS 337 - Population Health and Professional Nursing Practice
NURS 367 - Application of Evidence Based Practices 
NURS 457 - Population Based Care for Registered Nurses (4 credit hours)
NURS 487 - Leadership in Nursing and Healthcare Organizations (4 credit hours) 
NURS 492 - Clinical Synthesis (4 credit hours)
All courses listed are three (3) credit hours unless designated otherwise.
Go Further with an Accredited Bachelor of Science in Nursing Online Program.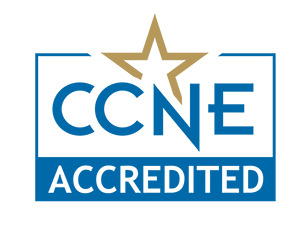 The University of Southern Indiana nurse practitioner programs and clinical nurse specialists' online programs are accredited by the Commission on Collegiate Nursing Education (CCNE). We have a proven track record of positive student outcomes, and our program meets the highest educational standards.
The Baccalaureate in Nursing degree, Master of Science in Nursing degree, Doctor of Nursing Practice and post-graduate APRN certificate at the University of Southern Indiana are all accredited by the Commission on Collegiate Nursing Education, 655 K Street NW, Suite 750, Washington, DC 20001, 202-887-6791, 202-887-6791.
Earn Your Degree on Your Time
The ASN to BSN offers courses on an accelerated basis so you can complete your degree in a timely manner See our program calendar for admission dates. 
| | | | |
| --- | --- | --- | --- |
| Course Start | Application Deadline | Document Deadline | Registration Deadline |
| 06/26/23 | 06/09/23 | 06/16/23 | 06/23/23 |
| 10/23/23 | 10/06/23 | 10/13/23 | 10/20/23 |
| 03/11/24 | 02/23/24 | 03/01/24 | 03/08/24 |
| 06/24/24 | 06/07/24 | 06/14/24 | 06/21/24 |
Get Started Today: 100% Online ASN to BSN
Take the next step toward earning your online Bachelor of Science in Nursing online at the University of Southern Indiana. Start your application or request more information today.